Brixton's Pure Vinyl grooves hard with Straight Pocket jam session
Alex Hayward
Monday, September 16, 2019
Alex Hayward steps inside the south London record shop that hosts the capital's freshest weekly jam session that's all about digging deep into the groove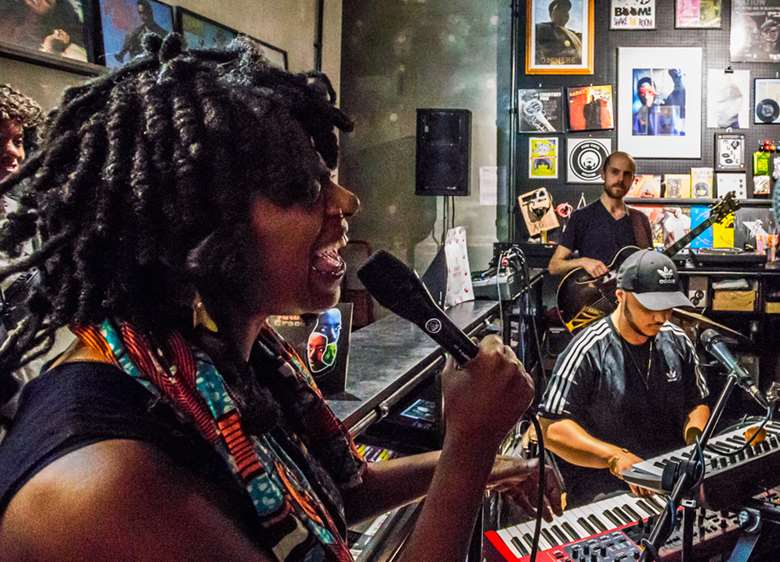 Something's happening up the road. A small crowd is forming on the street, where teenagers wait with instruments slung over their backs, and passers-by stop with curiosity and amusement. Drawing closer you can hear why. It's a hot night in the city, and the band have only just got started.
For Pure Vinyl, it's just another Monday night. Originally situated in Brixton's Reliance Arcade, owner Claudia Wilson (pictured below with DJ Trevor Nelson) was offered a premises for her record shop behind the newly refurbished Department Store. The trendy restaurants and workspaces may signal an area undergoing very visible gentrification, but Pure Vinyl represents something different.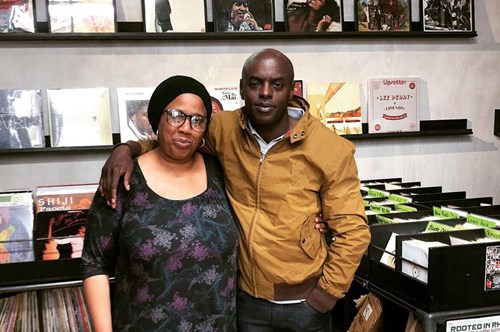 Every Monday evening, Pure Vinyl hosts jam sessions. People are encouraged to come along, hear some tunes and join in if they fancy. The doors stay open until late, and because the shop is handily close to the main road, you're more than likely to hear the music if you're passing through. There's no entry fee, no dress code, and no ego. Just music, freely expressed and openly enjoyed.
This spirit of openness is very much part of Pure Vinyl's ethos. "It's homely, I hope" Claudia says, "it's something I hope anybody can walk into and feel comfortable. Anybody can come in and find something that they want. And that's what music is about to me, it's about everybody and anybody. It's not about being selective or clique-y. And however you want to play it – that's down to you."
The jam sessions, named Straight Pocket, have been going since May. "There was five of us here the first few weeks," Claudia says, "we kept the door open so it was almost like a busk. And every week it got bigger and bigger." The band leader, Renato Paris (pictured at the keyboards below), has been enjoying the growing popularity. "It's been quite quick," he says, "now people are saying to me 'are you going to Straight Pocket' and I'm like, yeah, that's the session I run!"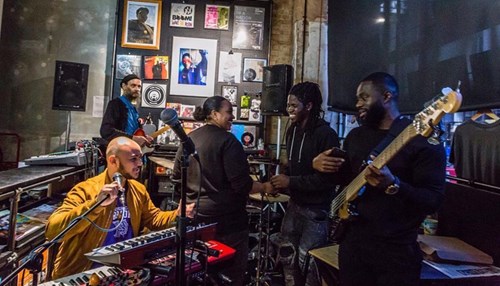 The sessions came about after Renato was booked by Claudia for a series of shows at the Ritzy. She loved his style of playing, and Renato was similarly taken with both Claudia's warmth and willingness to provide new spaces for people to listen to music. "I've always felt that improvised, groove-based jam sessions were needed in South London," Renato says. "I grew up in South London and have lived here all my life, but I've always had to travel to somewhere central like Ronnie Scott's to see a jazz jam. Loads of my friends wouldn't do that trip, you know?"
Jazz music, and UK jazz in particular, has exploded in popularity over the past few years. The scene is notable, not only for the youth and energy of its players, but also for its strong sense of community. Straight Pocket serves as a great example of such collaboration, and as a space for learning.
"Playing this kind of music you can't just shred for yourself on a sort of egotistical tip," Renato says. "It has to be an appreciation of the music that's happening and its impact on everyone. And you see that happen organically each night. I feel like that's the essence that needs to be maintained. Because it's very important to be playing music and not just feeling like you have to do it for yourself."
"It's about everybody's input," Claudia agrees, "no man is an island. No one can do anything on their own. It's not about the money, it's about sustainability. That's my motto. I'm always saying I want to be sussed and I'm able. I know what's going on around me, I know my community and I know my impact."
As Straight Pocket grows, there is a possibility that it may have to move to a bigger venue. It's something that Renato understands, even if he isn't quite ready to think about moving. "I love everything the shop's about," he says. "Whenever you see a shop doing something like Pure Vinyl is doing you've got to look at who's making those decisions. That's Claudia Wilson. She's the reason Pure Vinyl is what it is. It's a very special place run by a very special person who deserves a lot of props."
Straight Pocket returns 16 September at Pure Vinyl in Brixton.
For more info visit www.facebook.com/purevinyllondon/
(Photos by Ana Lira/Chama – 'Experiences on images developed on music/party of black diaspora in London/UK', 2019)