Coming with two separate rows of wire, the brush has a relatively wide rubber grip (we would have preferred something a little thinner), with three spread positions on the pull out rod for maximum flexibility.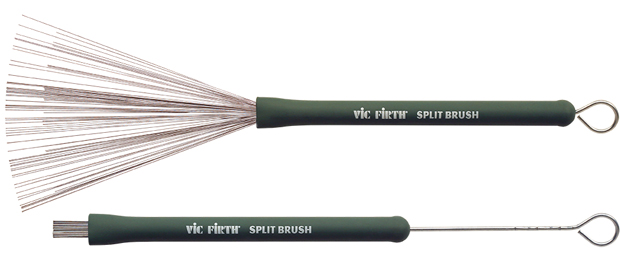 Angling the brush to the drumhead creates two contact points made by the long and short wires, a combination that offers a wealth of colour and effect.
When sweeping, we found that the longer brush has a brighter high-end sound when compared to the short wires, which produce extra volume and a mid-range tone.
"The creative possibilities are almost endless"
With the three settings on the pull rod producing differing lengths of wire, the creative possibilities are almost endless.
The sweep volume is enhanced by the design and this is significant on the snare and toms, where you simply get more sound – ideal for the big band arena.
And with all the control options there are plenty of creative effects to be tapped into – bouncing the grip on the rim worked well.
These brushes took some getting used to, but we think the resulting sound will see the split brush becoming an essential part of any drummer's arsenal, and not just a mere gimmick.
For more information visit www.vicfirth.com