But instead of the 'B Band' electronics, it comes loaded with Yamaha's new SRT sound modeling system.
Turning up in what looks like a soft case for a bass clarinet, the SGL200N, like its sister models, has a fixed lower body outline with an added thigh rest and a detachable upper body outline that is set into the body of the instrument by way of two screw-locked lugs. The rosewood and maple outlines make up a body that is approximately the size of a 'parlour' guitar and give the instrument a surprisingly solid feel.
The body of the guitar itself resembles a shaped flat formed continuation of the neck with an attached black nylon pick guard. The traditional one piece neck with slotted headstock is bolted onto the body at the 12th fret, while the classical flat rosewood fretboard with its 50mm nut (behind which is a truss rod cover), comes with 19 medium frets. The bridge is a standard classical tie bar and sits secured to the body just above the SRT sound-modeling unit.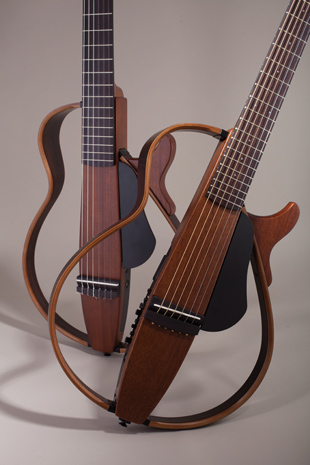 Powered by two AA/LR6 batteries which slot into a compartment to the front of the SRT unit, the main body of the unit comprises the control panel with its on/off button – for which a 1/4 second depression is required, a digital tuner, a volume knob above a pickup/mic blend knob, bass and treble knobs, an auxiliary knob and an effects knob with Reverb1/Reverb 2/Chorus. The top panel is then finished off with a mini jack socket for headphones. Behind the unit is the angled 'a la Stratocaster' ¼–inch jack; while to the base of the unit is a DC in socket and an auxiliary socket for MP3/CD use.
The SGL200N is not an electrified classical guitar, but rather an instrument that although taking its lead from the classical model, has a completely individual sonic palette. The sound sampling has been taken from Yamaha's top of the range acoustic instruments recorded through quality 'high end' mics and the results are certainly impressive, with a plethora of sonic colour that can be creatively fused by blending the pickup with the mic and utilising the various effects settings i.e. Reverb 1 – room, Reverb 2 – hall and Chorus. There is however one drawback, you can't mix either of the two Reverbs with the Chorus. Also, the 'hall' setting tends to move too quickly to the ethereal as you dial it in – but I guess that's more down to personal preferences.
Playing along to a CD while using the headphones was an interesting experience, and there is no doubt that the SGL200N is a good way of practicing without disturbing those who don't wish to listen. But this guitar is also great for live performance – although we would recommend using an external sound modeling system as opposed to that offered by the on–board SRT unit. The SLG200N also makes the perfect travelling companion. – David Gallant
For more info visit www.uk.yamaha.com