Beats Undercover: how drummers are finding new ways to make music in lockdown
Christine Hannigan
Monday, July 13, 2020
From shoebox bass drums, playing with cotton buds and livestreamed collaborations, Christine Hannigan discovers how a new generation of musicians are using tech, innovation and determination to survive and thrive in lockdown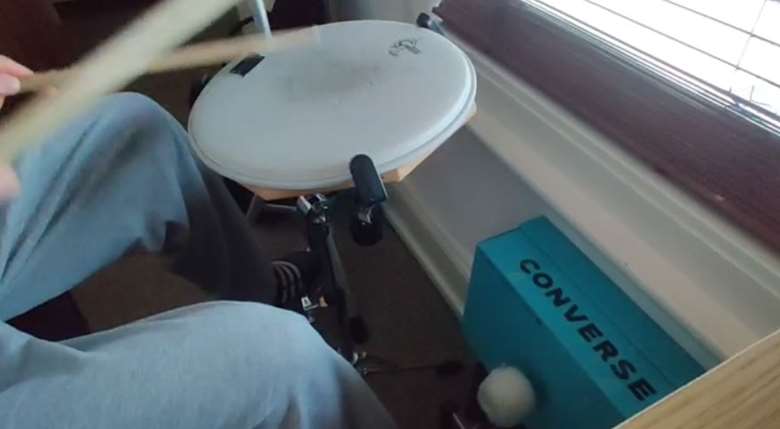 Professional musicians were already long-accustomed to self-structured days and solitude prior to the Covid-19 lockdown. However, the instrument perhaps least-suited to playing quietly, alone, in confined spaces – the drums – demands clever adaptation amid the cancelled gigs, tours and festivals, and uncertainty of the music industry's immediate future.
Drummers maintain neighbourly bonhomie by modifying their practice and proactively communicating. In Bristol, Paolo Adamo assembled a makeshift set that repurposed an empty shoebox as a kick drum. Finn Booth, in Leeds, adds: "No other instrument relies on your feet as much. A pad or a snare drum doesn't give the full mental workout. You need a kick drum."
"Practice kits are not very inspiring," says Matt Davies, based in North London, who recently recorded himself hitting a cymbal with a cotton swab at an acceptable volume to keep the neighbours at bay. Edward Wakili-Hick and Tash Keary, both based in South London, have been using brushes instead of sticks. "I always found brush practice tedious, but now I'm a convert," said Keary. Her bandmates, plus a sound engineer, are her housemates, and together they've live-streamed three shows from their living room. "I'm probably one of the luckiest musicians in the world right now," she says.
Davies expresses reservations over the enthusiasm for streamed gigs and video collaborations, given their inability to replicate the acoustics and convivial ambience of live music. However, he sees promise in The Room Studio's virtual jams, (sardonically named the Isolationcy Sessions) for which musicians send audio and video feeds to a centralised hub that synchronises output and sidesteps finicky internet connections. The south London studio co-owner Kwake Bass spent a month refining the digital infrastructure. The results sounded so good that Wu-lu, the other owner, produced a mixtape from the first jam. It features Oliver Palfreyman, James Daoud, Cameron Dawson, and Harvey Grant.
"
I'm condensing down the time spent making noise to be as least disruptive as possible and limit the number of takes
Abbi Phillips
Unreliable Wi-Fi renders online lessons a "nightmare," as described by Adamo. Teaching via teleconference requires accommodating young students' attention spans and improvising for available equipment, but he's been able to have productive lessons nonetheless: "I tasked my six year-old student with finding three kitchen pots of different pitches to replicate the same bass, tone, and slap as you would have on a Djembe."
"This is the time for creatives to get their ideas out," says London-based Andrew McLean (who's played drums with Grace Jones for over a decade - see the lockdown video for 'Pull Up To The Bumper' below), who's just recorded himself playing a solo with frenetic hits fending off menacing animated coronaviruses. His first instrument is piano, and he's been composing, including to an a capella drum track performed by fellow percussion star Kaz Rodriguez.
Wakili-Hick has also composed drum tracks. He'll debut several of these in a 23 May solo livestream as part of Festival2Funky, which has relocated from Leicester to the internet. He's been sharpening his recording skills out of necessity. He and saxophonist Marcus Joseph finished post-production on the latter's forthcoming album remotely the first week of lockdown.
"It can be a slower process, but also gives you more time to listen back rather than having to make decisions on the spot when you're paying for limited time in a commercial studio," he says.
"We have been given this opportunity to work on the things we haven't had time to previously," says Davies. Liz Exell, also in London, adds, "Just yesterday I changed my setup to accommodate my left handedness after 20 years of playing."

Several drummers have been trying new instruments (mostly bass), and updating their websites. Abbi Phillips is learning the digital audio workstation (or DAW) program Ableton after spending her career thus far on Logic. Much of her lockdown has been spent recording for various projects from home in Manchester. Her drum room is being used by a friend self-isolating away from elderly family, so recording now monopolises her shared house's living room, and has thus intensified her preparation: "I'm condensing down the time spent making noise to be as least disruptive as possible and limit the number of takes."
Despite staying engaged and occupied, the stress caused by the pandemic's unknown duration, the uncertainty of government assistance, and catastrophic loss of income is exacerbated by the jarring absence of togetherness borne of and demanded by music-making.
"I miss the community," says Wakili-Hick, who has spent much of the past few years touring. Booth's kit and bandmates are in another city altogether, and he works as a delivery cyclist to cover bills. He says: "for a drummer especially, and for me personally, the motivation to play drums is in an ensemble with other people in the room."
Kwake Bass says the motivation behind the Isolationcy Sessions was to keep the social element kindled, and spirits high.
"Above all else, we have each other to hang out and make music with. Much like the band on the Titanic, if this is all going tits-up, we might as well enjoy it on the way down."
This article originally appeared in the June 2020 issue of Jazzwise magazine. Never miss an issue – subscribe today!
Watch