Joe Lovano interview: "We have to emerge from this with a different perspective on the whole process of creating music, but not in a commercial way, in a spiritual way"
Stuart Nicholson
Monday, February 22, 2021
Joe Lovano's career to date has seen him gradually emerge as one of the most subtle and adventurous innovators of his generation. Stuart Nicholson spoke to this gentle giant of the tenor about his new Trio Tapestry album, Garden of Expression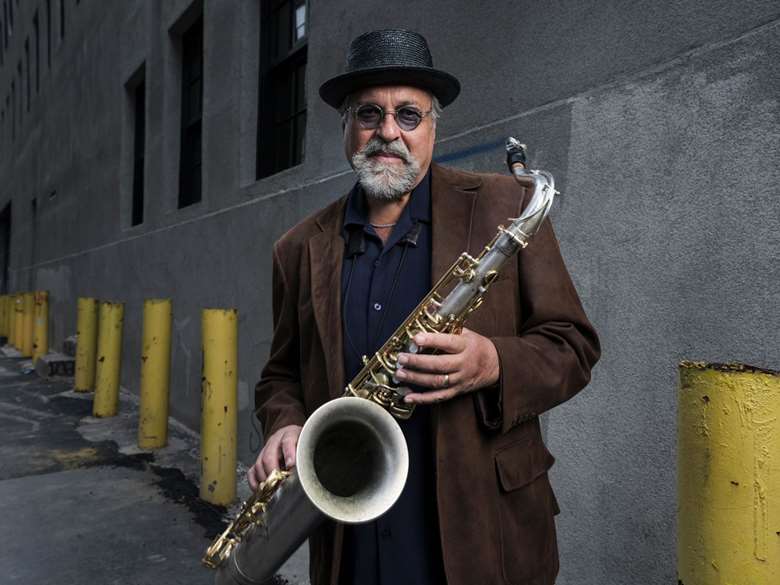 In 1969, just as Blue Note records was being taken over by the United Artists conglomerate, a tiny operation in Munich run by Manfred Eicher released its first album, Free At Last by the American pianist Mal Waldron. By the end of the 1970s, Blue Note was being phased out, while ECM was going from strength to strength, winning Grammy Awards and producing recordings that sold in millions. Then, in 1985, Blue Note records was relaunched as part of EMI Manhattan Records, both for re-issues and new recordings. In 1991, saxophonist Joe Lovano was signed by the label and he would go on to become one of the most prolific Blue Note artists of all time, releasing 26 albums as either a leader or co-leader until he left the label in 2014.
According to The Times, during this period, "Joe Lovano became famous for his exuberant, free-wheeling playing and passion for vintage modern jazz", and on albums such as Trio Fascination with Dave Holland and Elvin Jones, or Quartets: Live at the Village Vanguard it's hard to disagree. Yet there are also albums in his Blue Note discography where Lovano's musical personality was not so easy to pigeonhole, where he was willing to explore beyond the hard swinging roots of his younger days alongside organists Lonnie Smith (with whom he made his recording debut) and Jack McDuff, bandleader Woody Herman and drummer Mel Lewis, who led the Monday Night Orchestra at the Village Vanguard.
"

The music is becoming more of a springboard from the first Trio Tapestry record to more of a spiritual kind of expression

Joe Lovano
On Cross Culture, for example, he delved into the sounds of Asia, Africa, the Middle East, Eastern and Western Europe, and North and South America often using indigenous instruments; he explored orchestral concepts on Symphonica and immersed himself in 12 Tone techniques made famous by Arnold Schoenberg on Rush Hour. No doubt about it, Joe Lovano is a hard man to pin down musically.
There was a kind of symmetry, therefore, that ECM, the label that has been called 'contemporary music's Blue Note', should become home to the multi-faceted talents of Joe Lovano. In a career change at age 66 that was as unexpected as it was logical, a change that implied a realignment of concept and execution, he released his first ECM recording as a leader in January 2019, "It was always going to happen, I just felt it, even back in the 1980s", he said later.
Despite his long association with the Blue Note label, and with the history and tradition of the marque that comes bound up in that, Lovano quietly points out that, "When I first recorded for ECM it was 10 years before I recorded for Blue Note. It was on a Paul Motian recording called Psalm in 1981. Throughout the years since then, even through the time of my Blue Note contract as a leader I have been a part of a bunch of different sessions for Manfred and ECM, notably with Paul Motian and Bill Frisell as a trio, but also with John Abercrombie and Steve Kuhn: sessions which are really important in my discography. Yet I always felt that something could happen with Manfred and ECM. Manfred saw I had this relationship with Bruce Lundvall and Blue Note and he didn't want to get in the way of that, so timing was everything. I am so happy to be recording for ECM now and have the freedom to express myself about the way I am feeling about improvisation, the art of improvisation. Having had the embrace of Bruce Lundvall I now have the embrace of Manfred, which is really, really amazing".
In March 2018, Lovano entered the Sear Sound recording studio in Manhattan with his group Trio Tapestry with Marilyn Crispell on piano and Carmen Castaldi on drums to record the eponymous Trio Tapestry album. The group had grown out of the saxophonist's relationship with the late Paul Motian. Lovano had been a member of Motian's trio with guitarist Bill Frisell between 1981 and 2011, when the drummer sadly died. The trio wrote itself into the history of improvised music with a series of albums that are now sought after by students of the music, fascinated by the extraordinary depth and integrity of the music.
Yet listening to the almost exquisite subtlety and delicacy of Trio Tapestry it is hard to believe that Motian's trio with Frisell and Lovano should be an inspiration, but it was, as the saxophonist explains: "During the time I was in Paul's trio with Bill, Marilyn Crispell and Paul played a lot together also, and one of the first times I played with Marilyn I sat in with her trio with Paul and Mark Helias on bass at the Village Vanguard. That led to some quartet gigs around New York, we played Miller's Theatre at Columbia, had a really beautiful evening of music where we played some of my tunes, some of Paul's, some of Marilyn's and some of Mark's, and that was, in a way, a springboard into the stuff I'm doing with Marilyn now [with Trio Tapestry]. Having that connection of playing with Paul, and then my inspiration of playing with the trio with Bill [Frisell] and Paul with no bass, where I was in-between Bill and Paul, as an accompanying player as well as a lead player and soloist, our trio with Paul had a lot of dimensions, different things would be happening in how we played together, and I wanted to be in that role as a saxophone player between the drums and the piano with Trio Tapestry. In that respect Paul's trio was the initial idea of a trio with no bass with Trio Tapestry, all coming from my experiences of playing with no bass with Paul and Bill from the 1980s."
But that is just the starting point of the ideas that flow through Trio Tapestry that reflect Lovano's history. On an ECM promotional video on YouTube for Trio Tapestry, Lovano speaks of 12 sounds that influence his improvisational approach with the ensemble. It suggests that the 12-tone technique per se was playing a part in his compositional and improvisational thinking, something that has its roots in Rush Hour, his 1994 (released 1995) Blue Note album that was arranged and conducted by Gunther Schuller that made use of 12-tone techniques.

"Working with and playing under Gunther's baton and under his ideas and in his concepts was a deep study leading into Rush Hour, and from Rush Hour until today, that study of the 12-tone idea, not just a 12-tone row, but trying to develop within those 12 tones and try and be poetic and lyrical within those tonalities, to vibrate in those tonalities as a player, that has been a deep study." And those techniques and 12 tone scales resurface in Trio Tapestry, perhaps not so obviously in their first recording, but on their latest release together, Garden of Expression, recorded at Lugano's Auditorio Stelio Moto in November 2019.
It's on this latest album the influences and ideas Lovano brought to Trio Tapestry come into sharp focus. "Well, when you play together with folks and really have a relationship things happen," says Lovano. "We only played a couple of gigs prior to that first [recording] date, which had this energy and a spark to it that was totally organic for that moment. Now, since then we've been touring and doing all kinds of stuff together, and playing in some big venues and some clubs – we played the Vanguard – the music is becoming more of a springboard from the first Trio Tapestry record to more of a spiritual kind of expression. At Lugano we recorded at the radio recording hall, a recital hall, and Manfred's been using that space a lot. So we're playing in a small recital hall with no audience, it's a different feeling; it has a real quality, like 'Chapel Song' [on the new release] and some of those pieces, when we played in that room, this beautiful sound! It sounds just like the record, but just in the room itself, with no PA system or anything, it had a cathedral-like sound, a recital hall sound".
"

I was trying to write compositions that could be interpreted with a different attitude from night to night

Joe Lovano
When he was contracted to Blue Note records, Lovano produced all his albums himself, with the able assistance of his wife Julie Silvano. But moving to ECM, both his albums were personally produced by label boss Manfred Eicher, renowned as one of the greatest record producers in the world. So having been on both sides of the soundboard, what are Lovano's thoughts on the subtle art of record production? "If somebody embraces your music as you are playing, and has a bigger picture of what you are doing, it's beautiful. I have been on the scene long enough to have worked with a bunch of producers, sometimes they inhibit you not to play a certain way, but Manfred is very open – he wants you to play with your natural feeling and if it's a direction he maybe doesn't want you to go, he might say something, but with me, we work together and I have an idea of what I want to do, and it's beautiful communication.
"I know working with Paul and Bill in the studio with Manfred, Paul had a great relationship with Manfred. We would play, run through a theme and hit on it, Manfred's embrace would give direction to the way we might play, and the way we might play might be different to playing that tune that same night at the Village Vanguard. My dates with Blue Note where I was the producer, the big picture on those dates was to make maybe 65 minutes of music, which is longer [than ECM]. So you play longer takes, might not have as many tunes, you might stretch out in a certain way, things like that. When I had control, I stretched out a little more, I had longer solos, my Trio Fascination record with Dave Holland and Elvin Jones, we really hit on something and stretched out, I didn't have that concern of fitting within a 50-minute recording, if I did, then those takes would be totally different to the way they are on the recording.
"Manfred comes in with a lot of ideas; he gives direction if he feels he needs to. And you have to be accepting and be free and loose, so you don't have a rigid approach at the offset. Some cats come in with an arrangement that is set in stone, and every time they play through it, it's the same take. With us, if we did different takes, each take would have a different flow. But a lot of these takes we did on Garden of Expression were just one time through the tune."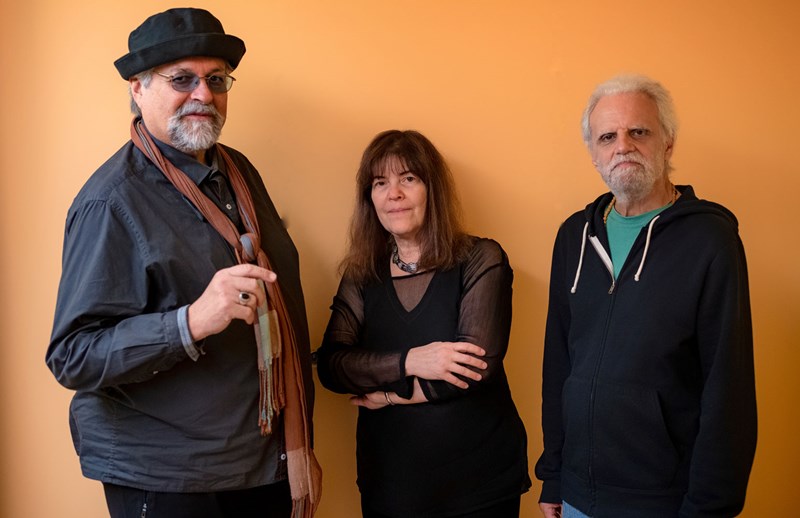 Trio Tapestry (L-R): Joe Lovano, Marilyn Crispell and Carmen Castaldi (photo by Caterina di Perri)

On the eight tunes on Garden of Expression, the techniques that are at work in the music do not command attention, rather they are used in ways that best serve the music, allowing it to reach its full potential. "'Night Creature' is almost between a modal sound and a minor sound, then it goes through some different keys but it keeps resolving as it makes its way from one harmony to another. A lot of things are cued just by a simple melody I might play, which would move Marilyn along. We try and let the harmonies create the momentum and with no bass it becomes a meditation of listening and following and leading each other – sometimes a bass might dictate momentum of the harmony but with no bass you have to listen and do it melodically, in the rhythm of what's happening, the rhythm can be transparent, but rhythm happens from the harmonic sequence a lot of the time, compositions like 'Night Creature', 'West of the Moon', 'Chapel Song' also, those first three tunes all have that kind of momentum that happens in the harmony and melody.
"I was trying to write compositions that could be interpreted with a different attitude from night to night. A lot of these pieces that are on Garden of Expression were written last year [in 2019], before the session. 'Sacred Chant' I wrote on the 13 May after sitting in a little cathedral – hearing these sounds in the cathedral in Vienna, it was afternoon, I was one of the only people in there but there was some music in the distance in this cathedral, I left there and I was vibrating on these tones that I was hearing in my head and wrote that simple little phrase when I went back to the hotel. So a lot of these pieces came together on the way to doing this session in November."
Moving into the here and now, and to the coronavirus crisis that engulfed the world in the first months of 2020, Lovano is philosophical, "For me it's been a time of reflection, projection and study and trying to communicate with your audience. I have a chair position, The Gary Burton Chair at Berklee College of Music, so I'm still doing teaching, online Zoom teaching and that's been really great to focus on, away from all these issues we're going through. It's about trying to be expressive in the music and keep the light on that you get from the inspiration of others, to live in the library of a thousand spirits, the music inspires you to be a part of that, it's bigger than you and what's going on right now.
"For me it's being a part of the legacy of the music, representing yourself and also the spirits and the inspiration from the masters, because they had been through some deep struggle in their lifetime, in different ways, and for us, this is a defining moment, we have to emerge from this with a different perspective on the whole process of creating music, but not in a commercial way, in a spiritual way."

Trio Tapestry's Garden of Expression is out now on ECM
This interview originally appeared in the February 2021 issue of Jazzwise. Never miss an issue – subscribe today!
Listen