Xhosa Cole and Young Pilgrims announce new albums on Stoney Lane Records
Mike Flynn
Tuesday, May 25, 2021
Award-winning young saxophonist and raucous jazz-rock brass band to release debut studio albums with Birmingham-based imprint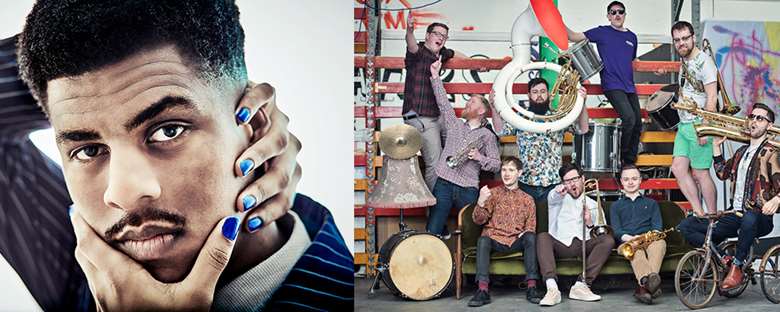 Xhosa Cole, the acclaimed 24-year-old saxophonist who won the BBC Young Jazz Musician of the Year in 2018, releases his much-anticipated debut album in July, celebrating the rich tapestry of music and heritage of great African-American composers and improvisers – formative influences on his life and music – through a contemporary black British lens.
The album, K(no)w Them, K(no)w Us (released 30 July) features special guest appearances from fellow Birmingham-raised musicians – MOBO-winning saxophonist Soweto Kinch and rising star pianist Reuben James – and takes its inspiration from words by the great Dizzy Gillespie about Louis Armstrong: "no him, no me". As Cole explains, "this album acknowledges the shoulders on which all of the musicians in the band stand as one. To understand me and my music is to understand all the amazing teachers and musicians who have helped me along this path – without the greats who helped to forge this journey over half a century ago we wouldn't be lucky enough to be walking in their footsteps today."
Growing out of the thriving Birmingham jazz scene, Young Pilgrims have found themselves drawing fans from across Europe and beyond with their intense live performances – from beer-soaked dance floors to London's South Bank, the Paris Jazz Festival to the UK's big summer event Love Supreme Jazz Festival. The Pilgrims' adventurous brass-heavy, rock-influenced sound is brought together by their powerful nine-strong line-up, featuring trumpets and trombones alongside baritone sax, sousaphone and two drummers who drive the band's high-energy rhythmic groove.
Citing their inspirations as "renegades, Scottish cities, skateboarding and even a brief and murky incursion into a local canal", the album We're Young Pilgrims (released 18 June) features eight originals from frontman Richard Foote alongside fellow Scots Kieran McLeod and drummer Jonathan Silk, with striking new arrangements of music from Vulfpeck, Elliot Smith and D'Angelo.
Following three successful online editions of the inventive Around The Houses streaming festival during the first lockdown of 2020, these will be the first releases from Stoney Lane since the onset of the pandemic, and will be followed with records from saxophonist Alex Woods, pianist Hans Koller and singer-songwriter Sara Colman later in the year.

For more info on Young Pilgrims and Xhosa Cole visit www.stoneylane.net