Thelonious Monk – Thelonious Monk with John Coltrane ★★★★★
Thursday, August 27, 2015
Riverside/OJC Remaster Thelonious Monk (p), Ray Copeland (t), Gigi Gryce (as), John Coltrane, Coleman Hawkins (ts), Wilbur Ware (b), Art Blakey and Shadow Wilson (d).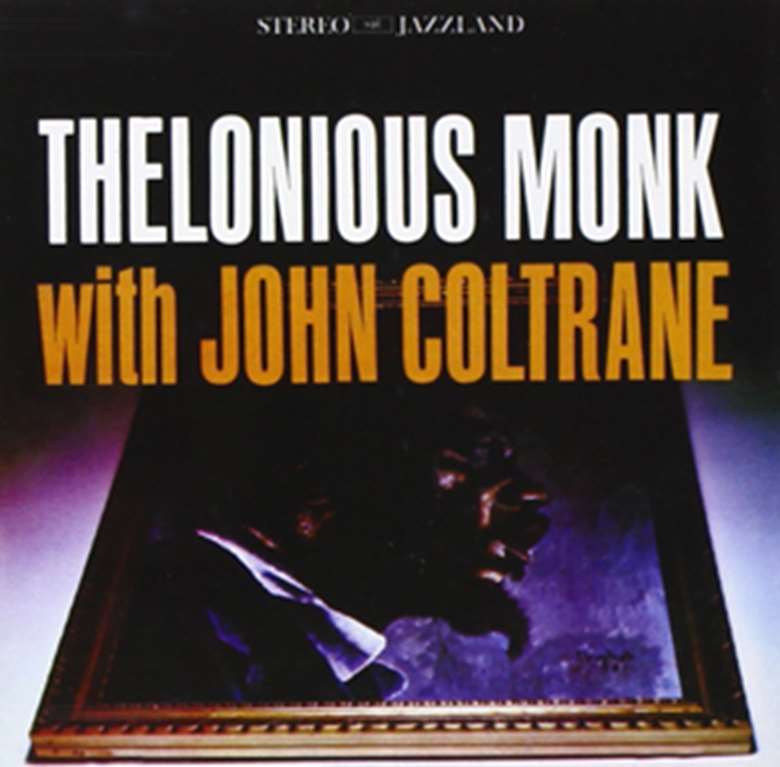 Rec. 1957
For decades these sessions remained tantalising evidence of what might have been. In 1957, Coltrane was trying to reconcile the world of the junkie with the world of a successful musician in the most high-profile sideman gig in jazz as a member of the Miles Davis Quintet. It wasn't working out and after a run at the Café Bohemia which ended on 28 April, Davis, exasperated with his sideman's unpredictability, unceremoniously fired him. Coltrane seized the opportunity of getting his life in order, and during a two-week period in May apparently won the battle against heroin. He had earlier begun to rehearse informally with Monk, and 'Monk's Mood' from 12 April included here was actually recorded while Coltrane was still with Davis. From that point Coltrane began to see more of Monk, rehearsing informally during the summer of that year. The June session with a larger ensemble includes Coleman Hawkins, with whom Monk first recorded with as a sideman in the 1940s and who was an early influence on Coltrane. According to trumpeter Ray Copeland, Coltrane was nodding off during 'Well You Needn't' and Monk called "Coltrane, Coltrane" to indicate his solo turn. Coltrane comes in immediately, surely more ready than Copeland thought.
Soon after, possibly 18 July, Coltrane joined Monk's trio making it a quartet at the Five Spot at 5 Cooper Square in Greenwich Village – a collaboration that has subsequently acquired the stuff of legend – in a residency that lasted for most of 1957. Lewis Porter, Coltrane's most lucid biographer, reports that most listeners present during this period were overwhelmed, citing quotes by J. J. Johnson and Francois Postif that only add to myths that swirl around this historic moment in jazz history. Coltrane has always credited Monk for the significant artistic growth he experienced during the latter period of 1957.
An indication of where he was headed can be heard on the quartet track 'Trinkle, Tinkle' from July 1957, albeit there were many months of nightly magic on the bandstand to pass under the bridge at this stage. During the tenure of the Five Spot gig, Coltrane's stature as a musician grew visibly with the result that he was in the recording studios an incredible ten times, twice as a leader for Prestige, once for a special session for Blue Note and the rest as a sideman. Yet for all the historic significance of these Riverside recordings, we get an incomplete picture of Coltrane's artistic development with Monk and for years jazz historians have yearned for elusive evidence of his final leap into greatness (something that was by no means apparent to contemporaneous observers at the beginning of 1957, including Orrin Keepnews who produced the Monk/Coltrane Riverside dates).
Over the decades writers have expressed exasperation that Riverside (who would later record Monk with Johnny Griffin live at the very same Five Spot club) did not document this incredibly important partnership with live recordings. As if in answer to a maiden's prayer, in 2005 Larry Apelbaum of the Library of Congress stumbled on a set of previously unknown recordings of a Carnegie Hall concert by this group from 29 November 1957. On the nine tracks issued on Thelonious Monk Quartet with John Coltrane at Carnegie Hall we finally get an indication of how far the rehabilitated Coltrane had travelled during this time, a snapshot more valuable than even these historic Riverside recordings, but that, as they say, is another story.
– Stuart Nicholson