Mama Sutra bring soulful jazz and high-octane improv to Ronnie Scott's
Jon Clay
Thursday, June 30, 2022
The drummer-led band played the mainstage and produced a dazzling Late Show set
Yet another alumnus of the Tomorrow's Warriors scheme – where he was a contemporary, and friend of, Shabaka Hutchings – drummer Pharoah Russell has been an in-demand sideman for more than a decade. His latest project, Mama Sutra, however, features him as a leader. Joined by keyboardist/arranger Jackson Baird, vocalist Sheena Ross, tenor saxophonist Anna Chai, guitarist (and Cassie Kinoshi associate) Tjoe Man Cheung and percussionist Clive Wales, Mama Sutra specialise in feelgood, early 1970s jazz/soul/funk grooves – think Roy Ayres at his funkiest, or a jazzier version of the Average White Band – which, as one might imagine, went down a storm with the late-night crowd at Ronnie's.
These grooves range from the skittering, drum 'n' bass-y 'Deep End', with its wordless vocalisations; to the fierce and meaty Hammond-led funk workout of 'Shell'; a fabulous 'God Bless The Child' and the light-hearted stomp of 'Woof', in which the audience were encouraged to participate (and they did). But this outfit also possesses some fearsome improv chops: the first set ended with up with a 'we're gonna make this one up as we go along' jam entitled, appropriately enough, 'Jam' which featured showcases for each of the musicians, with Baird's Rhodes solo and Ross' scatting in particular drawing enthusiastic cheers from the Ronnie's faithful.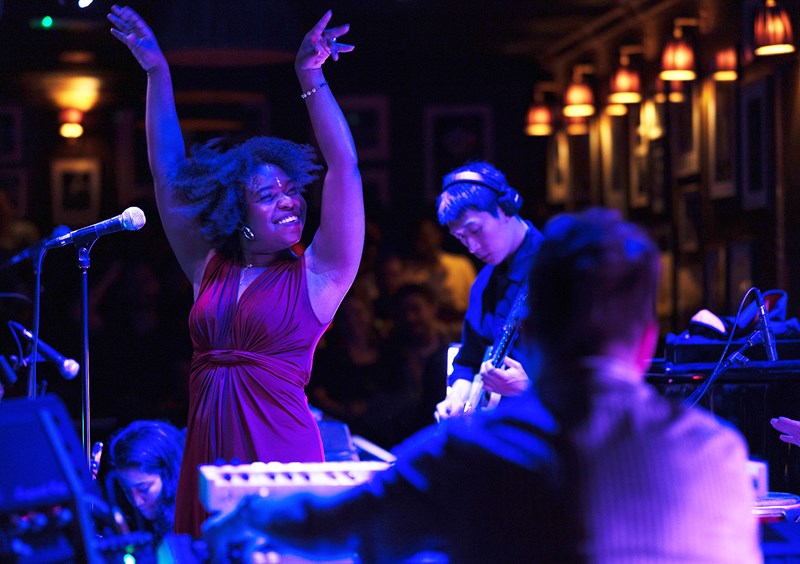 Highlight of the evening, however, is a song as opposed to a groove: a sparse and quietly furious cover of Nina Simone's 'Plain Gold Ring' in which Cheung's spacey guitar, Chai's soulful sax and Baird's thoughtful keyboard interventions provided the perfect foil for Ross' stunning and heartfelt lead vocal. Indeed, Mama Sutra aren't afraid to take things down a bit, leavening their sets with the occasional ballad, such as the tender 'Wild Child', which builds to a crescendo complete with some mighty soul hollering.
Russell, Baird and Ross are also members of Ese & The Vooduu People, and the trio were joined by chief Vooduu person Ese Okorodudu and Togolese percussionist Noel Dossavi for three numbers, including a powerful version of Gil Scott-Heron's 'Home Is Where The Hatred Is'.
Russell tells me after the show that Mama Sutra have been invited back to Ronnie's for more dates later in the year. On the evidence of this gig, one can see why. If you're looking for a great, good old-fashioned great night out, put Mama Sutra in your diary.