Montreal, The Champ Of Jazz Festivals, Hits Back!
Tuesday, August 2, 2022
Michael Jackson soaks up some incredible gigs and an enthralling atmosphere as this major jazz event returns after pandemic-postponements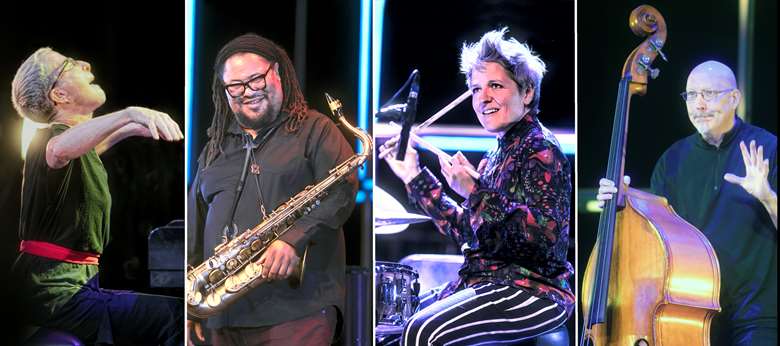 After the longueur and ennui of the plague years and notwithstanding the infuriating (but entertaining) Nick Cave exhibition that squatted a floor in the Maison Du Festival usually home to the exclusive press room and bar (aaargh!), plus the absence of Cirque Du Soleil jugglers, fire-eaters, stilt walkers and acrobats on the streets (great to photograph), Montreal surged back to full musical force this July, finally and resolutely.
Despite missing his three-night Invitation Series run at salle du Gésu, Jazzwise managed to catch drummer/producer Makaya McCraven in action at one of the free indoor shows at Le Studio TD (formerly L'Astral). McCraven's mallets were flying in perfect tandem with those of vibraphonist Joel Ross, under the aegis of marquee man Marquis Hill, one of our favourite trumpeters. Hill's chamber aesthetic is entirely his own but whiffs of the ballad prowess of Roy Hargrove. It felt like he might burst into the latter's infectious Strasborg St Denis at one point, since his crack quartet commands the requisite bounce and hep. Most of the material stemmed from Hill's recent 'New Gospel Revisited,' a live reimagining of his 2012 debut. Notable in this stellar ensemble was Junius Paul's uncompromising, exploratory electric bass.
McCraven had been set to end his Gésu series in trio with Jeff Parker and Ravi Coltrane, but Coltrane was snagged with infuriating flight delays that rendered him visibly weary at the stunning Maison Symphonique. The jazz musician announcement trope 'what are we going to play next?' and 'I can't recall the title,' felt real for Ravi. Lights were dimmed and the set, under the banner 'Cosmic Music: A Contemporary Exploration of the Music of John and Alice Coltrane', comprised trance-like classics from the back catalogue, including mum's 'Ptah, The El Daoud' (1970), dad's 'Satellite' from Giant Steps and one of his last compositions 'Expression' from February 1967. Bouncing off Dave Gilmore's trenchant guitar, the leader's sound was intermittently gritty and gravelly but his meditative mother's influence eases some of the 'agenda' in her son's playing.
After missing Eliane Elias at Monument-National due to the hypnotism of Coltrane's set and catching a smidgin of Swedish charmer Léon at Club Soda, Dayna Stephen's tenor, amidst Allison Miller's new iteration of 'Boom Tic Boom,' drifted melismatically to the ears from the large Molson stage 'La Traversée.' Miller's co-ed quartet killed it, despite noise pollution from the blues stage in the Petit Parterre directly behind (wary of skittishness about indoor concerts since COVID, festival organizers invested heavily in six concurrent outdoor stages). Her precise punctuations and compositional acumen mark Miller as a cut above; she was clearly having a blast playing on a more public stage with Stephens, Scott Colley and Myra Melford. The latter's rambunctious 'The Kitchen' elicited an abstract arco solo from Colley, and followed Miller's Monkish 'Beans and Rice' and 'Of Two Rivers Part 1' - the latter featuring a stellar exchange of 'eights' amongst the ensemble.
American Independence Day was a dark one for Canada's southerly neighbor, as news of yet another mass shooting, this one not too far from where this writer resides in Illinois, emerged. Montreal fest artist-in-residence Terri Lyne Carrington had ruminated somewhat on the auspicious day and elected to collaborate with poet/sound-artist/activist Moor Mother, riffing off Frederick Douglas' excoriating independence day speech from 1852. Carrington and Camae Ayewa (aka MM) had not met before their rendezvous at Gésu and their set together (except for the text fragments) was wholly improvised.
Carrington later told Jazzwise she had never fully improvised - sans preconceptions or theme sketches - until she jammed with pianist Kris Davis six years prior. She drafted Davis in for the final evening of her three night run in Montreal, presenting her Art of Living quintet boasting rising talents, saxist Morgan Guerin (who plays bass in Carrington's Social Science project) and trumpeter Lorra Casado (who's towering 'fro was as original and arresting as her flugelhorn soloing). They collectively tobogganed through several of Carrington's spiky themes based on diced and reassembled Charlie Parker compositions, the kind of prismatic structures that the protean Davis is so adept at navigating.
Betwixt collaborations with Ayewa and Davis, Carrington performed in duo with pianist Aaron Parks, her close Social Science associate, blending concepts from Grammy winning 'The Waiting Game' (2019) - Parks' 'Bells (Ring Loudly)' and Carrington's 'No Justice (For Political Prisoners).' Other material included Gerri Allen's 'Drummer's Song,' plus standards from erstwhile collaborators Herbie (Hancock) and Wayne (Shorter): 'The Sorcerer' and 'Infant Eyes.' Soliciting highlights from her visits to Montreal over the years, after the concert, Carrington had a hard time remembering them all "…with Stan Getz? Wayne? Esperanza and Herbie? Al Jarreau?" She did vividly recall, however, getting stuck in a basement room with a self-locking door on one of her first, pre-cellphone, visits. "I was with (music industry veterans) Joel Chriss and Paxton Baker and we were banging on the door for the longest time. A spinal tap moment where the drummer wasn't going to make the gig!"
Carrington has a laid-back yet workwoman-like attitude but she's critical of her own performances "I just performed at the Hollywood Bowl and it was not good," she admitted, claiming she'd rather not get paid if the show is sub-par. With that said, as her Gésu run demonstrated, she's willing to take chances and relinquish control of the moment. After her easy segues with Parks, ping-ponging a broad range of material they've worked on for years, she disarmingly offered "we hope you had as much fun as we did" - delivering the cliche with unforced sincerity.
Moor Mother threw down a spartan and brief forty-minute solo set after her hit with Carrington on July 4th (she built resonant layers of reverberant voices around dark, punchy pronouncements) and Jazzwise caught her later in an uncompromising, expressionistic jam with the band she co-leads, the delightfully titled 'Irreversible Entanglements' (trumpeter Aquiles Navarro from IE had joined MM and TLC for the Gésu set also).
The gratuit gigs at the TD studio proved to be 'freer' in conception, a welcome addition to a festival which has tended to book blue-chip performers who can guarantee ticket sales, before lesser-known experimentalists. Jamie Branch has risen from the underground through her successful association with International Anthem and brought her Anteloper duo with drummer Jason Nazary to bear. After intoning 'We are not the earthlings that you know' silhouetted in front of trippy background images, there was noticeable relief from the fairly conservative Montreal audience when the unpredictable Branch finally blew searing trumpet.

Another trumpeter made his triumphant return to Monument-National on July 5th, but Christian Scott aTunde Adjuah (above) emerged onstage holding his self-styled kora-like invention Chief Adjuah's Bow, 'a 21st century corollary to a 13th century instrument' as he described it. Adjuah is head honcho of New Orleans' Xodokan Nation (his uncle, saxist Donald Harrison, presides over The Congo Square Nation) and his Maroon heritage has become increasingly salient to his artistry in general. The rhythmic authority of the African diaspora has really flourished in his latest group which features high energy (and gigantic) young drummer Ele Howell, AfroCuban-savvy bassist Luques Curtis (a longtime Eddie Palmieri cohort) and intelligently restrained pianist Lawrence Fields, who share a serious pocket. Perhaps most remarkable however was the confidence and concision of flautist Elena Pinderhughes, who's become a bona fide musical partner alongside Adjuah, a very secure player rhythmically with succinct, strong ideas.
This mouldy fig has kept Adjuah at arm's length until now, deeming him a bit pretentious with outré fashion (why not?), wild custom instruments, lofty notions, and an overlong name that messes with editorial wordcount, but after a quality hang in Montreal getting to know him better, I'm latterly convinced he's a seer, devoted humanitarian and bona fide trailblazer. Whatever his theory of the Forecasting Cell of harmonic intent actually means, there's klaxon clarity to his phrasing and ideas. Notwithstanding the inevitable echo of Rhodes-egged electric Miles, the group slayed over 'Guinnevere' and left Monument begging for more. It had been a similar story the night before when the dynamic duo of pianist Bill Charlap and Dee Dee Bridgewater held forth. I confessed to Mark Ruffin on Sirius XM I'd never been DeeDee's number one fan, she's a great performer of course, but perhaps her smile was too electrifying, her patter too broad. Seeing this duo at the Detroit Jazz Festival last year changed that perception, yes she's a comedienne (Ruffin told me she did standup in Vegas for a while), but comic timing in miniature alongside Charlap was even more refined in Montreal, and their pitch-perfect counterpoint over exhumed chestnuts is stunning. A raucous 'Love for Sale' and funny yet complex 'Man I Love' were highlights; Ella, Carmen (McCrae), Billie and Nina were conjured sporadically and the wit and panache of Charlap's accompaniment was preternatural.
Less impressive shows included Robert Glasper, the sole concert I caught at Théatre Maissoneuve, which opened with a bland DJ, followed by a blasé Glasper, who's singing voice I can survive without. It was cute when he introduced his tiny daughter onstage, he just wasn't awed by the upgrade in venue (previously we'd seen him at the much smaller sale de Gésu) and seemed too casual after the slow kick-off. Brazil's Hamilton de Holanda, an astonishing mandolin player for sure, opened for Ravi, but his 'Bewitched, Bothered and Bewildered' failed to convince he felt any of those predicaments, and he seemed in love with himself. More fun was the Brunhilda-like Gunhild Carling, who's twittery tin whistle mastery and buttery, blowsy trombone belied her subtlety with a self-penned torch song; at Club Soda the fleet (slightly-nauseous-over-the-long-haul) whinny of the pig-tailed Domi's lightning right hand atop her groovy left hand (and organ pedal fed) basslines, stoked by JD Beck's breakbeats; the haunting beauty of Pakistani vocalist and 'neo-Sufi' Arooj Aftab and her resourceful trio including wild-mained violinist Darian Donovan Thomas.
One word, though, encapsulates this visit to Montreal: gratitude. Budgets may have been cut (several informative printed brochures and gig guides, a crucial resource for analogue journalists, were axed this year), but new program director Maurin Auxemery is innovative and on-the-ball and with principal sponsors TD Bank and Rio Tinto remaining steadfast, Montreal's 42nd was a harbinger of the Festival's continued global pre-eminence.