Quentin Collins Sextet Revs Up Road Warrior Album For Spin At Pizza Express
Peter Vacher
Thursday, September 5, 2019
Kyle Eastwood's trumpeter leads own cracking sextet for London showcase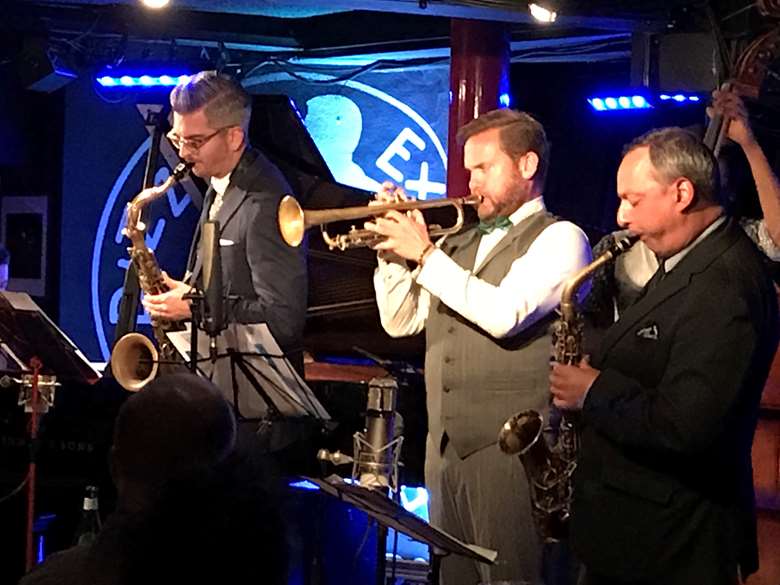 Trumpeter Quentin Collins is perhaps best known these days for his work as a sideman in Kyle Eastwood's popular band. Here, though, he was front and centre, faced with an enthusiastic full house, and leading his own cracking sextet.
In effect, this was the live re-run (and album launch) for Road Warrior his new and much-lauded release on the enterprising Ubuntu Music label. Satisfyingly for this audience, he had been able to reunite the album personnel, teaming the all-British frontline of himself, Leo Richardson on tenor and guest altoist Alex Garnett with a truly all-star US rhythm line-up sparked by the LCJO's Dan Nimmer on piano, Paris-based bassist Joe Sanders and the brilliant drummer Willie Jones III. Keen to let his companions take their turns, this was very much Collins' show, the focus on his compositions and on his own exceptional instrumental skills. He likes to build his solos with something of Freddie Hubbard's harmonic daring and direction, often ending with a brassy trill and high-note flourish. This was immediately evident on the album title-track, a hard-bop original with a Messenger feel which opened the set, a crunching Richardson solo, the first of many, and Nimmer's percussive, bluesy piano arousing whoops of approval.
Each piece, some composed for the album by saxophonist Tom Harrison, had its own story, as recounted by the trumpeter, with the persuasive and quite sublime 'Look Ahead' written by him for his young son, the standout piece on the night as it is on the album, Sanders, who doubles up vocally as he solos, a vital contributor. Garnett again excelled on the more lyrical 'Float, Flitter, Flutter', as did Nimmer, later, on his feature 'The Hill', the rhythm section locking in, Jones the perfect pro.
Quality musicianship allied to text-book ensemble cohesion made the whole session a joy, the album's many and varied tracks reiterated to advantage. As is the way of these things, commerce required frequent references to the album and its availability but Collins is an engaging communicator and doubtless prompted an array of purchasers. And rightly so.