John Coltrane
Thursday, January 21, 2021
John Coltrane had vision and unlimited amounts of soul: true soul, not the showbiz variety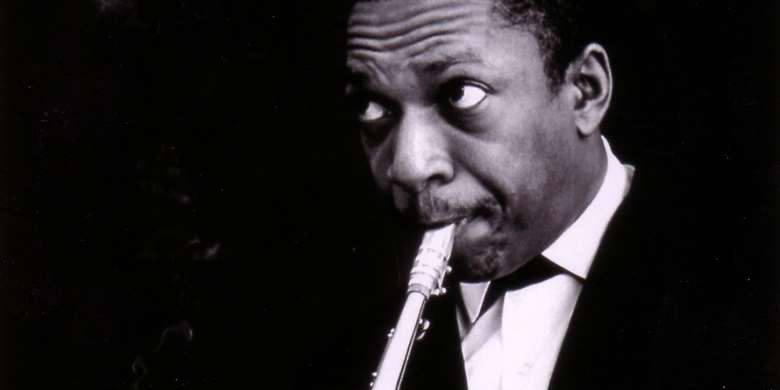 John Coltrane had less than 10 years at the top of his profession, but in that time he changed the face of the music not just profoundly, but unrecognisably. Miles and Bill Evans may have done the groundwork on modal jazz, and Sonny Rollins may have been his equal as an improviser, but Coltrane had vision and unlimited amounts of soul: true soul, not the showbiz variety. His sound, like Charlie Parker's, touched people in new ways.
Coltrane came late to fame, having started on sax at 18 and then served in the Navy before, in 1950/51, working with Dizzy Gillespie. This was followed by a stint with Johnny Hodges but already Coltrane had picked up a heroin habit which took him most of the decade to shake off.

Joining Miles's band in 1955 as a relative unknown, he joined a band of junkies (only Miles was clean at the time), and his chronic lack of confidence then shows in the first recordings he made with Miles. What also showed was that huge soul of his, already able to touch people uniquely.
Coltrane, a man with huge interest in all musics, became the deepest convert to modal jazz after a long and exhaustive look at hard bop and its dense chord changes (as heard on Blue Train, his Prestige albums and his stint with Monk), and the liberation it provided him shows on the string of classic dates he made for Atlantic between 1959-61, including the iconic Giant Steps.
He also made at this time the hypnotic soprano sax version of 'My Favorite Things' which brought him a huge popular success. By this time he'd formed the quartet which was to bring him his greatest musical and popular successes, a band founded on the intense and entirely new type of dialogue between sax and drums, in this case Coltrane and the revolutionary Elvin Jones.
For five years this quartet managed the uniquely difficult feat of playing cutting-edge music and carrying a huge popular audience with it on its thrilling odysseys: this amazing balancing act culminated in the perfect concept album A Love Supreme, recorded in December 1964 six months after his close friend Eric Dolphy's death and during a spiritual reawakening.
From then until his death from cancer in 1967 Coltrane was a driven man, pushing ever further into uncharted musical territory and bringing new and exciting musicians into his fold: Alice Coltrane replaced McCoy Tyner and Rashied Ali replaced Elvin Jones in 1965, while avant gardist Pharoah Sanders joined on sax. The music this group made is amongst the most demanding and soul-soaking experiences in music.
By the time of his death Coltrane was the most admired and imitated musician in jazz: As with Parker, his loss left an entire generation of players directionless. What is doubly tragic for jazz is that, unlike Parker, Coltrane remained intensely innovative right up to his untimely death.