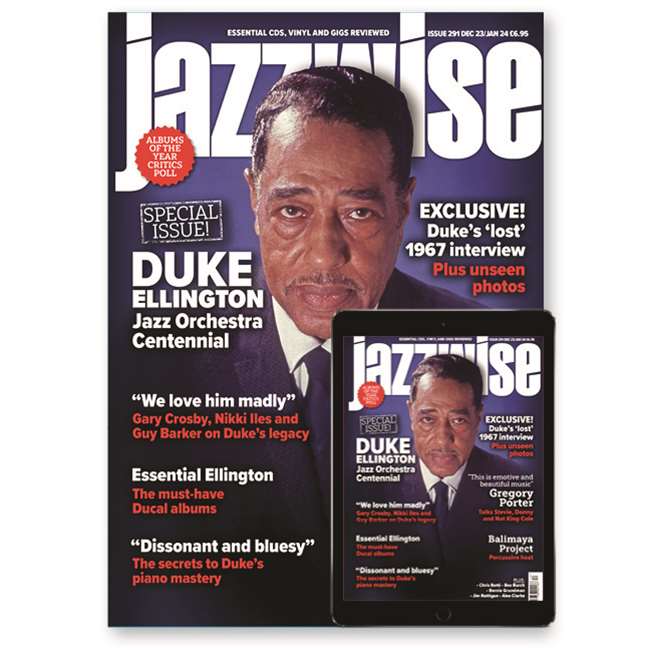 Jazzwise - December 2023/January 2024
The December 23/January 24 double issue of Jazzwise is on-sale now and is a special edition celebrating the life and music of iconic jazz composer and pianist Duke Ellington to mark the 100th anniversary of his Jazz Orchestra's formation.
In this special extended feature, we explore the roots of Duke's extraordinary and hugely influential music, with contributions from Grammy Award-winning singer Gregory Porter, bassist Gary Crosby OBE, and top British composer/arrangers Nikki Iles and Guy Barker. There's also an Exclusive 'Lost Interview' with Ellington himself, published in full for the first time since 1967.
Also in the issue are all the results of the Jazzwise 2023 Albums of the Year Critics Poll with the New Releases and Reissues Top 20s and all our esteemed writers' individual charts published.
There's also an interview with exciting percussion powered-jazz group Balimaya Project; Taking Off interviews with French Horn virtuoso Jim Rattigan and rising sax star Alex Clarke; an Album Interview with percussionist extraordinaire Bex Burch and jazz vocal mega-star Gregory Porter shares the 'albums he can't live without' in Takes Five.
All this plus the essential new, reissue and archival albums reviewed, plus live reviews, jazz news and a two-month gig guide…