John Surman
Stuart Nicholson

From 1979's 'Upon Reflection' Surman began a lasting association with the Munich based ECM label where much of his finest work is to be found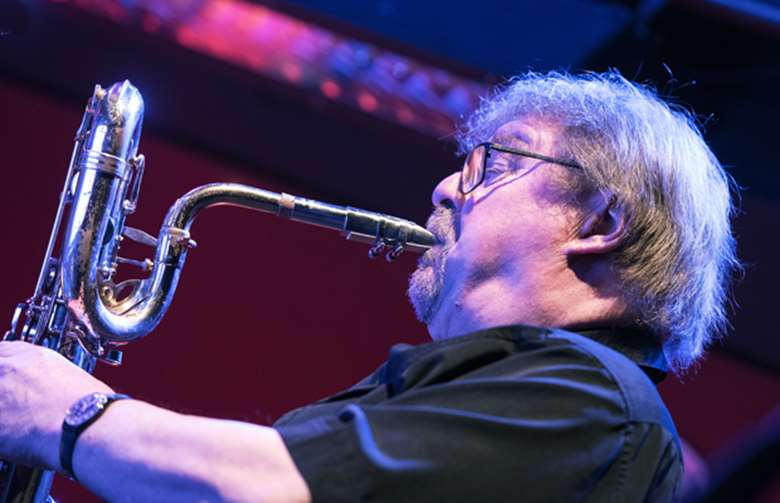 Surman, John Douglas (b. 30th August 1944, Tavistock, Devon). Began playing jazz locally; invited to join ensemble led by pianist and arranger Mike Westbrook; studied music at London College of Music; active in London freelance scene; first recording with pianist Peter Lemer, Local Colour; by now featured soloist in Mike Westbrook's Concert Band appearing on Celebration (1967); Release (1968); Marching Song (1969) and Citadel/Room 315 (1975), the latter written especially to feature his playing; member of Ronnie Scott's large ensemble on Ronnie Scott & The Band (1968), Chris McGregor's Brotherhood of Breath Septet (1969) and Chris McGregor's Brotherhood of Breath (1970); John McLaughlin's Extrapolation (1969), Mike Gibbs' Mike Gibbs (1970) and Tanglewood '63 (1971); Alexis Korner Both Sides (1970); debut as leader in own right John Surman (1968), How Many Clouds Can You See? (1969); Tales of the Algonquin (1971).
In 2011, a CD of a Surman ten piece band (including Kenny Wheeler, Mike Osborne, Alan Skidmore, Ronnie Scott, Malcolm Griffiths amongst others) recorded for a telecast by the German broadcaster NDR was released as John Surman NDR '69. Trio with Barre Phillips (b) and Stu Martin (d) The Trio and Conflagration (both 1970); 1972 formed S.O.S. with Alan Skidmore (ts) and Mike Osborne (as) Shapes (1972), Looking for the Next One (1974) and SOS (1975); began to feel less fulfilled with free jazz — "I'd run into a brick wall" he said later, "playing and playing and playing and then a block. I just wanted to hear some clear triadic harmony and then did Westering Home" — Westering Home (1972), his first solo album using synths and overdubbing, reflected his West Country origins; from 1979's Upon Reflection Surman began a lasting association with the Munich based ECM label where much of his finest work is to be found, including The Amazing Adventures of Simon Simon with Jack DeJohnette (1981); Such Winters of Memory (1982); Withholding Pattern (1985); Road to St. Ives (1990); The Brass Project that reunited him with Canadian John Warren, who had arranged Tales of the Algonquin; A Biography of the Rev. Absalom Dawe (1995); Brewster's Rooster (2009); Saltash Bells (2012).

In addition he has recorded prolifically with other leaders including Miroslav Vitous First Meeting (1980), Miroslave Vitous Group 1981); Journey's End (1983); four albums under his wife Karin Krog's name including Bluesand which was the recipient of a Spellemannprisen in 1999; with Anouar Brahem and Dave Holland Thimar (1998); with Tomasz Stanko From the Green Hill (2000).
In 2014, Surman celebrated his 70th birthday with a series of concerts including concerts in Europe with his son Ben Surman and wife singer Karin Krog; with the Bergen Big Band in Norway, the Dowland Project in Germany and in Sao Paulo, Brazil, while the London Jazz Festival presented a series of events in his honour.