Igor Stravinsky wrote that he felt "on the edge of an abyss" when composing his radical score for The Rite of Spring in 1912. The creative process of vocalist, violinist and pianist Alice Zawadzki was never so fraught, but her new album Within You Is A World Of Spring is imbued with a similar sense of regeneration, with the feeling of new growth and hope emerging from darkness, tumult and change.
"All the music on the album grew from the title-track," says the London-based Zawadzki, 34, of her album's eponymous opener. "Springtime isn't all cupcakes, bunting and pretty things. There are moments of alarming brutality as well. I liked this idea that every person has a tiny seed of potential that needs hardship, adversity and Stravinsky-like turbulence for it to flourish and grow."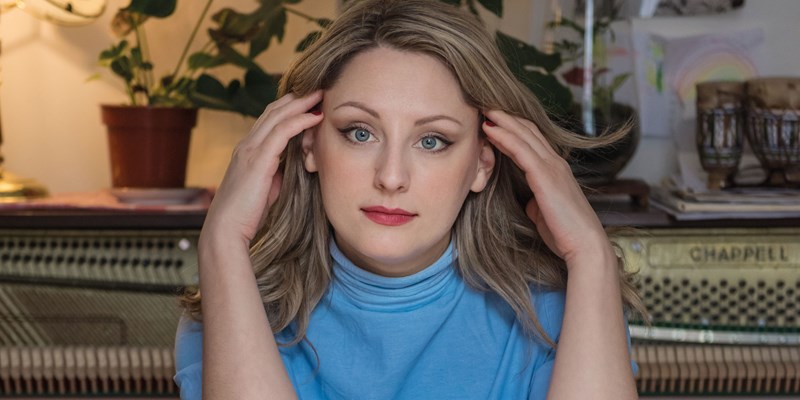 Alice Zawadzki (photo: Monika Jakubowska)
We're sitting in a Dalston cafe that triples as an antiques store and secondhand vinyl shop, not far from designated jazz venue the Vortex, where a year ago this writer sat enthralled as Zawadzki, violin and bow in hand, delivered a spoken-word piece titled 'The Woods', one of the eight tracks that feature on Within You Is A World of Spring. Introduced with improvised melodies by Hyelim Kim on taegum, the side-blown Korean bamboo flute, Zawadzki spoke quietly, conversationally, of trees playing catch, of saplings rising like pale ghosts, of becoming one with the wilderness.
Delivered to pin-drop silence amid drones, worried strings and prepared piano, it was a performance that marked Zawadzki out as an artist of bold ideas and wide-ranging talent. Subsequent gigs – a violin/taegum duo with Kim, supporting Bill Laurance at the London Jazz Festival; a solo concert at the Dalston Curve Garden in which Zawadzki's crystalline voice seemed to paint the night sky; performing a new arrangement of 'A Nightingale Sang in Berkeley Square' with the City of London Sinfonia – underscored the critical praise that has followed Zawadzki ever since (and, actually, long before) her acclaimed 2014 debut, China Lane.

"A daringly diverse solo artist capable of spinning jazz-folk tales and improvisation in bewitching ways," wrote Peter Quinn in Jazzwise. "A genuine original with a pure pealing voice, and a composer of gliding, melodically unorthodox tunes," declared The Guardian. "Uncategorisable, beautiful, a real force to be reckoned with," trumpeted Jamie Cullum.
A collection of songs variously influenced by jazz, Sephardic song and choral harmonies and inspired by modern, ancient and made-up folklore, China Lane was five years in the making, largely because Zawadzki had bided her time until she'd written and arranged songs she deemed worthy of recording.
"It was a lovely experience," she says in her warm, clear tones. "We did three or four takes and mixed the best and that was it, very raw and simple. Within You Is A World Of Spring [which also had a five year gestation period] has been more difficult, partly because of changes in my life, and in the way I approach music."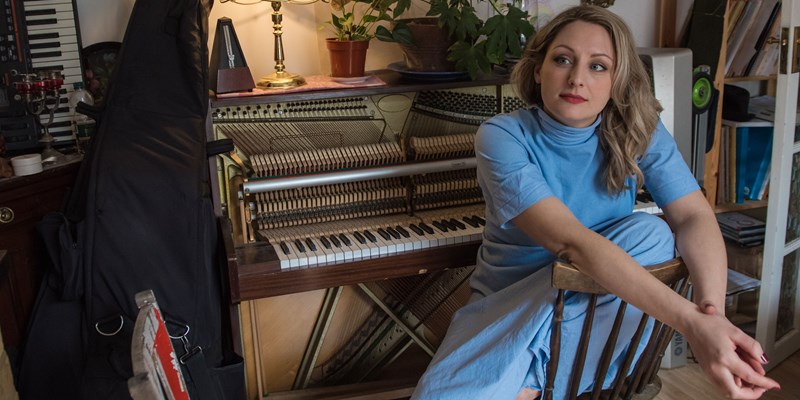 Alice Zawadzki (photo: Monika Jakubowska)
Zawadzki tried not to overthink things. "To sound fresh, and not keep referring back to established forms and structures and conventional harmony, I almost needed to court a sense of naiveté. So each time I had a weird thread of an idea I followed it like a child to see what would happen."
Co-producers Fred Thomas and sound engineer Alex Killpatrick lent sense to even her wildest ideas, she says. "Alex's instincts for a luminous, textural, almost antiphonal mix brought the music alive in ways I couldn't have imagined."
But what impresses at first, and what has always impressed, is Zawadzki's boundless, boundary-less, creativity. Buoyed by a starry young band that includes guitarist Rob Luft, double-bassist Misha Mullov-Abbado, multi-instrumentalist Fred Thomas on (mostly) piano and drums and Hyelim Kim on taegum – along with an all-female string section of classical language improvisers from Zawadzki's alma mater, Royal Northern College of Music – Zawadzki helms a collection of tunes that seem to pulse with lives of their own.

The Joni-esque title-track, with its improvised vocal overdubs, ringing guitar solo and angular, skittering drums, was inspired by a Danish poem by Emil Aarestrup: "An ex-boyfriend handwrote it on a birthday card for me when I was 18. I find the lines so goading. It has turned into a mantra."
The Spanish lyrics of 'Es Verdad', all rolled Rs and frolicking syllables, are based on those of an intense love poem by Federico Garcia Lorca, and given whimsical embellishment with new words and quotes from an Irish reel called 'Rakish Paddy' ("I like the idea of putting things in unrelated contexts and seeing what's on the periphery"). 'Superior Virtue' begins with unaccompanied vocals telling of rose petals falling like confetti before Thomas weighs in on an old pump organ, whose wheezes, heard almost subliminally, recall the shifts and sighs of the sea.
"It's a song based on a personal situation, where I'd been in a coastal town in Slovenia and fallen for someone, even though we both knew it was impossible. He'd said to me, 'Wherever you are in the world, look up at the moon and know that I am sending my love'. I've hammed it up massively with artistic license," she adds with a grin, "and given it a setting that sounds like swaying waves."
Other tracks are more overtly jazz-influenced. 'Twisty Moon' is a joyously chaotic instrumental that cherry-picks musical themes, careering and seguing with accomplished ease before erupting in a jam in which chops are flexed and melodies interwoven ("It's a bit of a 'quodilibet' or hints at that technique, but I guess most people would call it a mashup").

Within You Is A World of Spring doesn't always sound like jazz. But the spirit behind it is motivated by freedom. "There's consciousness about meaning, whether through musical content or social commentary. The song 'God's Children' was written after I'd worked in the Calais Jungle and seen how very brutal the world can be," she says of a ballad whose lyrics are delivered with profound grace, notably in the way her voice stretches and falls as it repeats the single word "tumble" in the line "the world will tumble away".
"I love the fearlessness of the musicians I'm working with," she offers. "Rob responds so beautifully to all the different colours and soundscapes. The classical background of Misha means he plays in this rubato way, following and feeling where a phrase is going and landing at the same time. Fred has a similar sense of space, conciseness and subtlety, and Hyelim is an incredible improviser. The string players often use the sounds of Debussy and Bartók over deep grooves."
Zawadzki is feted for her ability to perform across a range of genres – everything from jazz, folk and pop to opera, symphonic and chamber music to film and television scores – while retaining her own bright authenticity and eschewing, where possible, any labels. Taught by the likes of Pete Churchill, Liam Noble and Nia Lynn during her one-year MA in Jazz Voice and Composition at the Royal Academy, she grimaces when asked to classify her voice: "It depends on what I'm singing. If I'm singing classical music, then I'm a soprano. But I can sing very low as well. I like to sing everything."
The second youngest of five children born to a Polish father and Anglo-English mother, both teachers, Zawadzki grew up in Abingdon, Oxfordshire, in a house filled with live music. Music lessons were almost compulsory extra-curricular activities ("We didn't go on family holidays or have fancy stuff, but instruments were part of our shared world"). By the age of 12 or 13, the young Alice had only ever heard jazz on television adverts. Then the revered American jazz singer Lillian Boutté delivered a vocal workshop at Zawadzki's school.
"It was a genuine moment of epiphany," she says animatedly. "I fell in love not just with the sound of it, but with the joy of it. How Lillian and her band played together and what was allowed in terms of trad jazz, New Orleans jazz, gospel and blues. It felt like what I'd always wanted. I followed her gigs and gave her a tape of me singing her songs. When I was in my late teens she took me on the road as a backing singer and I learned so much just through hanging out."
It's only recently that what always felt like two careers running in parallel – she traces their trajectory with her hands – have crossed and merged. For several years Zawadzki was known in classical circles as a soloist and collaborator and interpreter of new and unusual works, among them premieres for large-scale pieces including Daniel Cohen's Reciprocity at the Ottawa Chamber Music Festival and Peter Wiegold's Third Orchestra at the Barbican. Among her virtuosic works for voice it's her 2017 collaboration with Brazil's Orquestra Filarmônica de Goiás, singing Ayre by Argentinean composer Osvaldo Golijov, a 2004 work for soprano and chamber ensemble, that she mentions today.
"Ayre takes songs from the Meditteranean and the Levant and weaves them together, making a point of the shared DNA of that music, how it travelled all over the world and retained so many ancient routes. There's the idea that bel canto is rooted in the opera world, for example, but I see it as coming from West Africa. But it also has the coloratura and dexterity you find in Arabic singing."
Zawadski's vast vinyl collection reflects her eclectic tastes ("I think streaming homogenises the listening experience because you're always getting recommendation, plus I love the feel of vinyl in my hands"). Of the treasured female eccentrics she is often compared to – Kate Bush, Björk, Joni Mitchell – she swears she's never actively listened to any of them. As for jazz – a career that has variously seen her working with the likes of Moss Freed's The Moss Project, Joe Wright's Nightjar and in a duet with pianist Dan Whieldon, add her own words to Coltrane's 'Naima' – her influences lie closer to home.
"My favourite jazz singers are my friends," she says, listing some of them. "Eska. Heidi Vogel. Emilia Mårtensson. Though my all-time hero is Dinah Washington, because of her expressive range. There's this line she sings on 'Drinking Again' where it feels like everything every human has ever felt, known, loved, lost, thought and longed for – all of humankind – is summed up in one sentence. That very visceral, real connection is it for me."
It's a sentiment embraced by the cover of Within You Is A World Of Spring, a portrait by jazz photographer George Nelson that sees Zawadzki's bare face and décolletage daubed with black poster-paint patterns of climbing, curling vines. The image is arresting, pagan, back-to-the-earth ritualistic, a visual summation of the seed within, of our capacity for weathering, restoring, rising back up.
"This pain of Spring often comes from the way we as human beings tend to lay ourselves on the line again and again, especially in love. But the fact that we can also work really hard to change our minds and allow happiness in…"
Zawadzki pauses and shrugs. "Well, that's just beautiful."
Alice Zawadzki and the Royal Northern College of Music Orchestra play Kings Place on 19 November as part of the EFG London Jazz Festival
This article originally appeared in the October 2019 issue of Jazzwise. Never miss an issue – subscribe today!