Art Ensemble of Chicago: "We were young and foolish. Now we're old and foolish, but we're still happy and still trying"
Kevin Le Gendre
Thursday, December 5, 2019
Celebrating their 50th anniversary, the legendary Art Ensemble of Chicago show no signs of slowing down. The group's new double-album, We Are On The Edge, finds longstanding members Roscoe Mitchell and Famoudou Don Moye joined by guests including Nicole Mitchell, Tomeka Reid and Dudu Kouyate on a typically adventurous set. It's a fitting testament to this iconic, ever-challenging band, who took Paris by storm in the late 1960s, and remain as relevant as ever. Don Moye tells it like it is to Kevin Le Gendre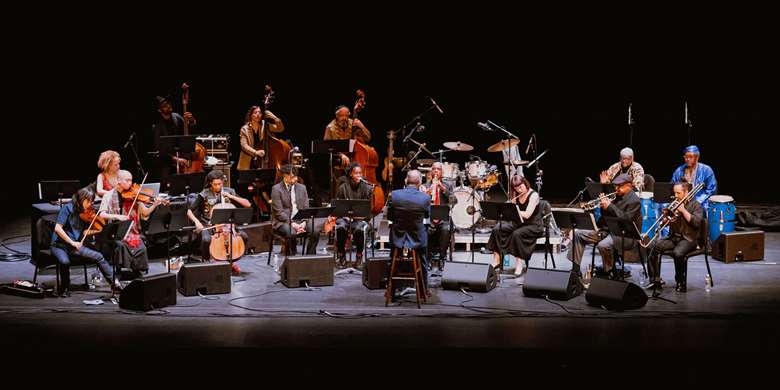 'Odwalla' is an enduring theme. This is the piece with which Art Ensemble of Chicago finishes its concerts, a noble lament that is as effective played at a variety of tempos as it is with many different line-ups. The song is a highlight of the band's recent album We Are On The Edge, a double CD of live performances and studio material that features the group's founder, multi-reedist Roscoe Mitchell and longstanding co-leader, drummer-percussionist Famoudou Don Moye, as well as trumpeter Hugh Ragin and double-bassist Jaribu Shahid, who have also been in the fold for many years. They are joined by a 14-strong cast of international guests that includes several Americans, such as flautist Nicole Mitchell and cellist Tomeka Reid, Italian double-bassist Silvia Bolognesi and Senegalese percussionist Dudu Kouaté.
Expansions of personnel are nothing new for AEC, whose origins reach back to 1969. It is one of the great small groups in the history of American music that has often been a big band. On the phone from his home in Marseille, France, Moye has a story to tell about early versions of 'Odwalla' that underline the way AEC scaled up.
"I remember when I was just joining the band, the first time we played [that song] it was four drums, four bass, four trumpets, four bass saxophones," he states in a deep voice. "That was 1970, in Paris. We played with Lester [Bowie] and Roscoe, and the original Art Ensemble members… they played with large ensembles a lot, with chamber music groups and such. Then in Baden Baden they did a thing called Gittin' To Know Y'all. It was a large ensemble with all the German musicians."

Moye touches on a key figure in the group's history, the late trumpeter, Bowie, whose superb playing, eclectic tastes and zestful humour were integral to their development. A much-loved nonet he led, Brass Fantasy, also toured with the Art Ensemble and a South African choir in the 1980s, which made for a travelling party of some 29 people.
Large numbers have also been a central part of Moye's life as a musician. Born in Rochester, a town in upstate New York that is a short distance from Niagara Falls, Moye feels he has been shaped by pivotal experiences in many groups, which saw him work alongside several others in order to build a wall of sound.
"I've always been a student of percussion ensembles more than of individual drummers," he explains. "The percussion ensemble gives you the opportunity to hear the colours, the voicings. You don't arrive at that point without the doing. You have to play with a lot of different people to get to that. I have a percussion group, which has always been my commitment. That's part of my musical heritage, I guess. I was in a large marching band when I was a teenager, like we were the national champions and stuff. The drum section of that band was 12 drums, tenor drums, snare drums, cymbals and bass drums, so I've always been committed to large ensembles, all the way from solo percussion to duos, trios, quartets, quintets, tentets, big bands and bigger. It goes from one to unlimited, depends on the budget and the concept."
We Are On The Edge is a worthy addition to the AEC discography, which has around 50 entries, the stylistic breadth of which is astounding. This output symbolises how much can be achieved when individuals have the courage of their convictions and are minded to take the road less travelled, conceptually, rather than step to convention. Furthermore, AEC is one of the standard bearers of the non-profit entity, Association For The Advancement Of Creative Music (AACM), that brought forth brilliant minds such as Muhal Richard Abrams, Anthony Braxton and Wadada Leo Smith, to name but some in late 1960s Chicago. The central notion of self-empowerment and original thinking that underpinned the organisation is vividly conveyed by the AEC's ability to reference the entirety of African-American history and also draw on the culture of Africa and its diaspora, particularly the West Indies. The fact that the group, which also counted other forward-thinking musicians such as multi-reedist Joseph Jarman and double-bassist Malachi Favors Maghostut, defined its aesthetic before any other artist or critic was able to do so, through the term 'Great Black Music: Ancient To Future', said much of its unerring sense of purpose and undimmed clarity of vision.

AEC clearly set out to lead rather than follow. From the late 1960s to present day the band built a significant following, particularly in Europe, by way of engrossing live performances. Describing AEC's music as avant-garde is not as important as recognising that the band can move seamlessly between densely layered, highly experimental sounds, deeply haunting themes and rousing, hard-hitting grooves.
The use of whistles, sirens, bells and an array of 'little instruments' enabled AEC to fashion uncommon textures that did not overshadow their melodic sensibilities, as 'Odwalla' demonstrates. Moreover, the thought-provoking titles of albums such as Message To Our Folks, People In Sorrow, A Fanfare For The Warriors and Fundamental Destiny also lent substantial political gravitas to the group. One is struck by the statement made by the new album, We Are On The Edge. The title-track features a firecracker poem by Moor Mother, which contains a key word Moye is keen to echo.
"Victory," he exclaims. "You have to be positive. We have dealt with all of the bad things, not just in our life, but if you just look at human history… the thing I always reflect on is the power of positive thinking and of the human spirit. If we didn't always have hope it would be horrible, so you gotta believe in something. And as for our parents and grandparents… they all believed. You have to believe if you wanna raise your kids and give them something to look forward to in bad times… you still gotta believe. So that's what that's about, the power of positive thinking, even in the darkest times.
"The history of America in the 20th century… there were millions of people who were trying to be positive. Racism and poverty… people are still trying to survive all that. And that's part of the music; we got a lot of good connections, a lot of good moments with friends, family and music and everything. You have to think about that."
Moye also means the long haul, musically. Growth and development are necessities. "Every musician was once horrible. I know very few natural musicians. I know only a few that were always playing good. Most of the people I listen to, from the way they talk about their music… you know they had to pay a price of not being able to play, to paint, to write. It's a process, it takes a lot of work… so you gotta be on the edge.
"[In the 1960s] the hippies came in, but there wasn't no damn revolution. A few years later a lot of those guys were toeing the line. We had to deal with the hands we were dealt. Which takes me right back to We Are On The Edge… we've been on the edge of victory our whole life! That's the same thing that our parents told us… that they experienced. The shit can't get no worse. All you can do is say it's gotta get better."
As a 72 year-old who has lived through tumultuous times in the recent history of the world, Moye is well placed to make that kind of statement. Throughout the conversation he returns to the theme of 'elders', be they parents, grandparents, artists, activists, campaigners, thinkers and leaders from preceding generations, and needs little prompting to talk about a number of significant moments in his formative years.
The music he was exposed to in the late 1940s and early 1950s included Duke Ellington, Nat 'King' Cole and Ray Charles, as well as 'the sound of the neighbourhood', especially the local barbershops. These are his touchstones, even though his interest in African music would grow from an early age. Moye, whose name is a tribute to Famoudou Konaté, the Guinean master drummer who became his spiritual mentor, moved from Rochester to Detroit in the mid-1960s to study philosophy at Wayne State University. He "drifted through the music department", and also gigged around town.
"All they did was rehearse and play, and scheme and dream. For a young musician that's the stuff you need to see"
He met AEC in 1966, when they arrived to perform at the Artists Workshop, a co-operative of musicians, dancers, poets and writers. "They had a building with a rehearsal space at the University where they did concerts. So I popped up, when they first came to town," he recalls. "Of course, that changed my ears, that changed my life, that changed my perspective on a whole lot of stuff."
At the time Moye was part of a band called Detroit Free Jazz that was heavily influenced by the likes of John Coltrane, Ornette Coleman and Eric Dolphy. He was well attuned to the cutting edge of improvised music, even though he also had a deep admiration for bebop innovator Charlie Parker. The impression the AEC made on him was comparable for a number of reasons. "It was the work aesthetic, the repertoire, the level of musicianship, their discipline, all of that… I was around them everyday," he says with a hearty, bear-like chuckle. "All they did was rehearse and play, and scheme and dream. For a young musician that's the stuff you need to see."
Moye moved to Paris in April 1968 to work with the aforementioned Detroit Free Jazz and came across AEC in the same city and successfully auditioned for the drum chair. He has been on board since then, appearing on classic recordings such as the soundtrack to Les Stances A Sophie, before returning with the group to America. Apart from working with AEC he also played with the Black Artists Group (BAG) in St. Louis, Missouri. Collaboration has been a defining aspect of his career.
He can look back fondly on memorable sessions AEC have had with the likes of Fontella Bass, Cecil Taylor and Sun Ra, to name but a few, and recently they have toured with the excellent string trio, Hear In Now. Moye has also witnessed the life cycle of the group, from the passing of Shaku Joseph Jarman, Lester Bowie and Malachi Favors Maghostut, to whom We Are On The Edge is dedicated, to the arrival of new members such as the promising double-bassist Junius Paul.
This year is AEC's 50th anniversary, yet by all accounts Moye and Mitchell still have plenty of energy to offer. The milestone these artists have reached is not to be underestimated, primarily because they have stayed the course without any compromise. It says a great deal about an unflinching determination and relentless desire to serve the cause of creative music. This was made abundantly clear to Moye from the moment he joined the ensemble.
"We're laughing about that every day," Moye reveals. "We were young and foolish. Now we're old and foolish, but we're still happy and still trying. There's nothing wrong with being foolish in a positive context. Lester always said you can laugh and kid all the time, but there's no messing around when it comes time to do this music."
This article originally appeared in the June 2019 issue of Jazzwise. Never miss an issue – subscribe today!