Canadian Jazz Collective: analogue aces come up trumps!
Kevin Whitlock
Wednesday, August 23, 2023
The Canadian Jazz Collective have been delighting audiences across Europe and their homeland with their sizzling live shows and a splendid debut album. Kevin Whitlock speaks to the three principals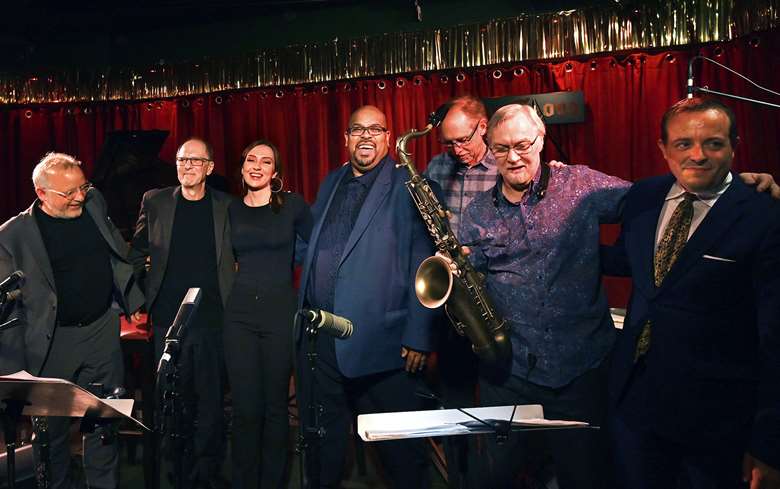 For a country with a relatively small – at least compared to its neighbour to the south – population (about 38 million in 2021), Canada has produced more than its fair share of jazz greats – Oscar Peterson, Gil Evans, Diana Krall, Paul Bley, Kenny Wheeler, Maynard Ferguson… to this illustrious list we might also add three contemporary Canuck giants: saxophonist Kirk MacDonald, guitarist Lorne Lofsky and trumpeter Derrick Gardner.
Gardner has appeared on more than 50 albums, as either leader or sideman, with 100-plus compositions under his belt. Toronto native Lofsky has admirers across the globe for his expressive, almost pianistic playing, and Gardner – a native of Chicago but now residing in Manitoba – has worked with the Jazz Prophets (this year's Pan Africa album) and Big Dig! (Still I Rise of 2019), as well as playing with the Basie and Harry Connick Junior bands.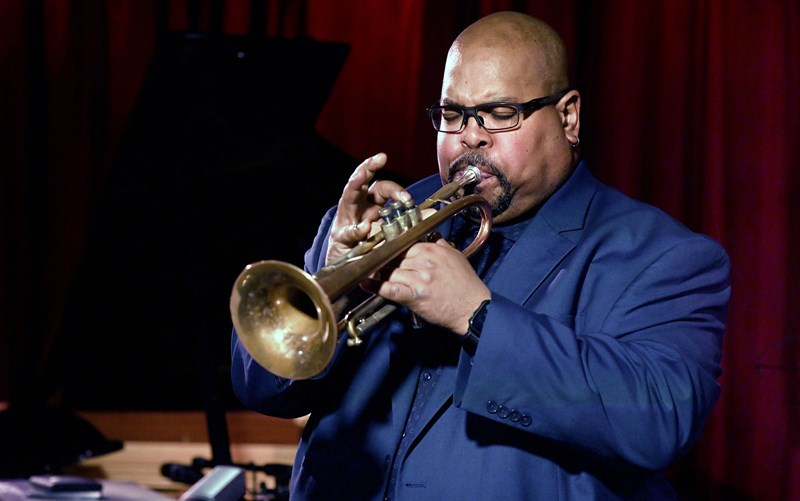 Derrick Gardner
It just so happens that this trio are all currently working in the same group, the all-star Canadian Jazz Collective (CJC), which also includes a number of other front-rank Canadian talents: pianist Brian Dickinson, veteran bassist Neil Swainson, and Kirk's daughter Virginia on clarinet; completing the line-up is that most affable of drummers, and the only non-North American, Bernd Reiter from Austria.
The CJC make some very sweet music together, not least on their splendid debit album Septology – The Black Forest Session (read the review) from earlier this year (more of this in a moment); but also in a live environment. I've also seen them in concert a couple of times at Ronnie Scott's, and they never fail to delight audiences. Their music is not at the cutting edge, but it's executed with love and care, they swing beautifully and the interplay between the seven musicians is simply superb.
"The idea is that the whole should always be greater than the sum of the parts"
CJC was originally the idea of Judith Humenick, an artist manager and a well-known figure on the Canadian jazz scene: she thought that putting Gardner, MacDonald and Lofsky together could create some magic. And so it has proved. What's great about the CJC is that, given the amount of talent on show, it's a refreshingly ego-free enterprise; while Lorne, Kirk and Derrick are lead composers and nominal 'leaders' there's a gloriously democratic feel about the whole enterprise: seven musicians united by a common purpose – to make great original music – and mutual admiration. Both live and on Septology, every group member is given space to shine and to express their musical personalities.
"The idea was to put together musicians with a similar aesthetic, approach and work ethic,' agrees MacDonald. "It's the idea that the whole should always be greater than the sum of the parts… we want to approach the music with openness, be respectful of the individual personalities, to bring everyone to the forefront. We're looking to create as much variety as possible too… in tempo, in solos, to create as strong a representation of the musicians involved as we can".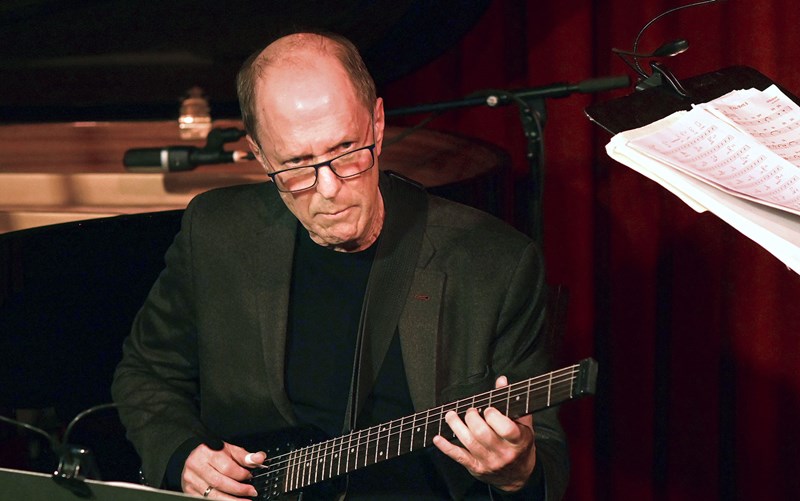 Lorne Lofsky
"It was a natural process in many ways," adds Lofsky. "I've been playing with various members of this group for more than 40 years, so the trust and rapport developed over that time has certainly contributed to the deep musical connections within the group. You can put a group of players together and it's just that – a group, an aggregate. With CJC, especially when we'd been playing together for a time, it's a [true] band… much more music happens. Then you have to call the fire department because you're on fire [laughs]!"
This rapport and spirit of democratic openness is reflected on Septology, a collection of six originals (two by each of the three principals), from Gardner's ferociously swinging 'Dig That!' to the reflective 'Silent Voices' (MacDonald).
Aside from its musical excellence, Septology sounds sensational – it was recorded at the famous MPS Studios in Willingen in the Black Forest, set up in the late 1950s by Hans Georg Brunner-Schwer – known to all as HGBS – an audio engineer and jazz lover. You can read the full story of MPS in Jazzwise 272, but suffice to say that the studio, and the MPS label HGBS also set up, became a magnet for musicians, drawn not only by the informal atmosphere, but also the excellence of its recording equipment. Indeed, it became Oscar Peterson's favourite studio, and the great pianist recorded many albums there, including the Exclusively For My Friends series.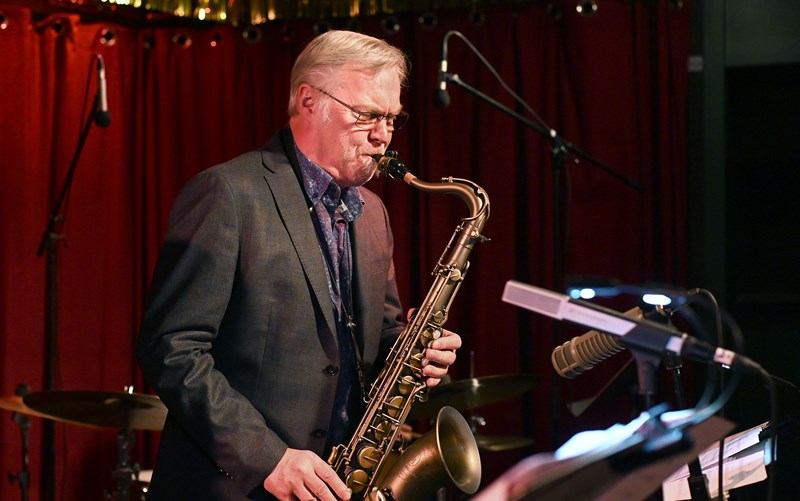 Kirk MacDonald
Lorne Lofsky, who was a member of Peterson's band, says there is a "strong sense of delayed synchronicity" in recording an album in HGBS' villa studio. Septology was laid down in one day (8 May 2022), live in the studio, straight onto two-track tape (on a vintage Telefunken M15 machine) without edits or overdubs. HGBS' old colleague and legendary engineer Friedhelm Shulz (who now helps tends the MPS legacy and runs the MPS studio), on learning that the group were playing a concert in Germany, got in touch with Judith Humenick and suggested that the group spend a day in Willingen, making an album.
"It was a very enlightening experience, learning how things were done in the past, before the digitalisation of everything" says Gardner. "But in a sense, it wasn't anything that different from what we've been doing every night on our tours… it was a live performance, captured on tape. But it does something to you, in terms of how you approach the music… you have to do everything spontaneously, in the moment. It was challenging, and we would have loved to have had a few more gigs under our belt before going into the studio, but I think we got a very good album… a snapshot of how we were at that time in that place."
"In an age of ProTools, where you can make all kinds of changes to what you do the way we made Septology, with limited time, was definitely a challenge," adds Lofsky. "But it was a great learning experience, the discipline it imposes on you to get things, and it teaches you acceptance of what you've done. The essence of this kind of music [jazz] is letting go, and that can be very liberating, if challenging. It was also great going to HGBS' villa too, listening to music there – especially as Oscar [Peterson] spent so much time there."
"We had to think carefully about the material we wanted to record before doing it," says MacDonald. "You go in with a very different mindset: you have to think about how you're playing too, especially with a three-horn front line, as there was no opportunity to mix, except on the fly as it was bring done. The results are a testament to the skills and the quality of the musicians".

So, what's next for the CJC? More touring? An expansion of the lineup maybe?
"The septet is a good size and a good mixture," answers Gardner. "We would like to maybe add a string section to a recording, but economically something like isn't economic to tour."
"Things are still unfolding, we're still trying to figure out what the group's all about, but for now the septet is a really good place to settle, the musical colour palette is there," concurs MacDonald.
Adds Lofsky: "And the great thing about a septet is that it can be broken down into units, we can adapt it to new formats, or creating a cut-down band if the economics of touring require it."
"We're all busy with our own projects too, but we're going through the recordings of our European dates, to see if there's anything we can use and maybe tour behind that if it's released," says MacDonald. "Judith is working on some ideas, so I think we may well see you in the UK in the near future."
---
This article originally appeared in the September 2023 issue of Jazzwise. Never miss an issue – subscribe today