Cheltenham Jazz Festival 2021: Preview
Mike Flynn
Wednesday, April 28, 2021
The Cheltenham Jazz Festival returns with a programme packed with big names and exciting newcomers for a greatly enhanced online edition this May. This is thanks to the festival's new programmer, Dave Gaydon, who spoke to Mike Flynn about the highs and lows of running a major festival in a pandemic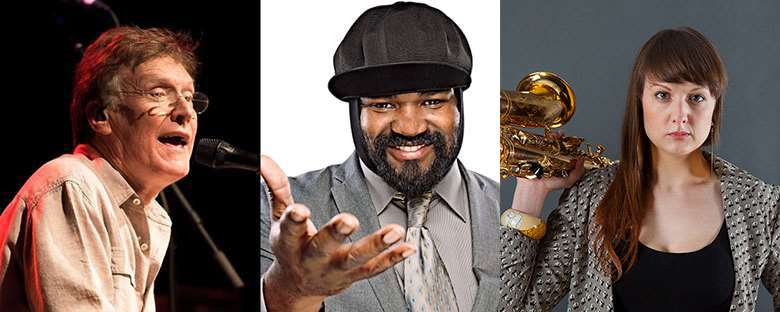 For many UK jazz fans, early May isn't just a time when the snowdrops emerge and blossom bursts from the trees, it's also when jazz takes over a sizable portion of the picturesque spa town of Cheltenham, turning the streets, parks and assorted venues into an international music mecca that matches the vibrant spring colours with a musical rainbow of sights and sounds.
I've been going since it started in 1996 and there are countless musical memories that have accumulated since. Among the most cherished are walking into a darkened Everyman Theatre from a blazing sunny afternoon, to discover a new Scandinavian three-piece – the Esbjörn Svenssen Trio – nonchalantly playing a stunning set with Dan Berglund's wah-wah-ed bass immediately making an impression; or Django Bates' Human Chain blasting through an astonishing set of dementedly funky jazz fusion; the visiting Americans, such as John Scofield or Paul Motian (with Steve Swallow and Chris Potter), who would incongruously play away from a big metropolis to sometimes truculent locals… or that mesmerising fire-breathing 2003 solo saxophone set from the sorely-missed Michael Brecker, in one of the last gigs I heard him play before his untimely death. It's these kinds of one-offs, spontaneous encounters and spur of the moment brilliance that makes every edition of Cheltenham so special. Rather than simply tick programming boxes every year, it strives to create something unique that can only be experienced in the whirling mix of music it brings together each year.

With record numbers in attendance in 2018, and 2019 seeing its site in Montpellier Gardens expanded with the Big Top's capacity upped to 2,500, the Covid-19 pandemic forced last year's six-day event to be hastily moved online with a swiftly-assembled virtual line-up.
The fact it was so well received proved the festival's large and loyal audience were more than prepared to embrace a brave new world of live streamed gigs, archive broadcasts and artist interviews that still managed to capture some of its real-life spirit.
Last year was also the first under the auspices of new programmer Dave Gaydon – a hugely experienced live music producer, promoter and bassist, who had previously helped the Roundhouse in London's Chalk Farm find its mojo again with some adventurously ambitious bookings, including a Frank Zappa Festival, Kamasi Washington, Flying Lotus and Snarky Puppy to name but a few; while he's also established his own large-scale events company GOAT Music (by the way GOAT stands for 'Greatest Of All Time').
With the country only just beginning to emerge from a nationwide lockdown, Gaydon and the festival team decided it was sensible to present another livestreamed-only edition; but this time with a lot more preparation and higher production values. And there are hopeful plans for some fully live shows to happen across the weekend of 9-11 July, government restrictions permitting.


"Gregory Porter will be presenting remotely, probably poolside at home in California on the Sunday; and Cerys Mathews takes charge on the Saturday"

An easy-going, affable character, Gaydon is perfectly suited weathering the slings and arrows of fortune promoting big headline shows and events, so what lessons have been learned since being thrown in at the deep end in May 2020?
"We have been through multiple different scenarios as to what we would be able to do this year as the lockdown outlook constantly changed," he says. "After having to cancel last year's festival we all thought we would be back to normal this year and would be back outside in the sunshine and the big tents enjoying live performances again, but sadly as the post-Christmas lockdown was announced, we had to accept that we would not be presenting any live shows in May.
"Being one of the first major festivals to take place in the year, we were obviously one of the first to have to present a digital version too. Last year was very much a learning curve and there was a lot of footage shot on phones from artist's houses which has a certain charm and intimacy, but the quality can be a little questionable! Now, a year on, I think people are over the novelty of seeing people performing in their front rooms, kitchens or sheds and expecting a bit more out of an on-line festival in terms of production values."
Gaydon explains how he plans to tackle all the technical uncertainties of livestreams for such a big and ambitious programme: "To do this in the safest way possible in the current climate and to keep travel to a minimum, we are using various studios and venues in London, Bristol and Birmingham to record the footage.
"Gregory Porter will be presenting remotely, probably poolside at home in California on the Sunday; and Cerys Mathews takes charge on the Saturday. With so many artists playing from so many different locations it is just too risky to go for live streaming so all the acts will be pre-recorded and sown together in two five-hour livestreams."
As with so many other aspects of daily life, the pandemic has forced the pace of change and livestreaming has been one of the beneficiaries of this, but Gaydon is still aware of the pitfalls of these on-screen performances: "I know I lose interest pretty quickly staring at a computer screen no matter how amazing a performance may be, even pumped through my best speakers," he says, honestly.
"So, I deliberately get all the artists to do short sets around 15 minutes each to keep the momentum going across five hours. As I cannot physically be at all the recordings taking place across the world, I am very much reliant on local film crews and engineers to get the footage looking and sounding great!"
The festival's rich lineage of promoting cutting-edge talent among the big names continues this year too, with two fast rising saxophonists unveiling new work, "I'm very happy to have Lara Jones (pictured above right) and Faye MacCalman as part of the line-up. They are two of the four artists working with us on the Jerwood Jazz Encounters programme together with Manchester Jazz Festival, Sage Gateshead and Oxford Contemporary Music to create new work presented in a non-traditional format. Sadly, the performances of these new works have been held up by the pandemic but I'm delighted they will both be performing solo sets as well as improvised collaborations with hot new Bristol duo Run Logan Run."
As an experienced programmer, Gaydon's first line-up for last year's Cheltenham Jazz Festival was a source of personal pride and had already seen many of the festival's shows sell-out, pre-pandemic.
"I was gutted when we had to pull everything off sale only two weeks after going on sale!" But Gaydon's time at the Roundhouse was the perfect preparation for the unexpected: "Of course, I've had to deal with cancellations and last minute re-scheduling but nothing on this scale. One of my greatest memories of quick thinking at the Roundhouse is when Alice Cooper demanded that he wanted snakes, bugs and insects to rain down on the audience at a particular moment in a song. A few hours later a colleague and I were perched high up on gantries with freshly-delivered boxes of small plastic insects ready to tip them over the audience at the appropriate moment. Fun times. The Roundhouse always had a very full calendar, so there was much juggling of dates and artists and there were a few tense moments where we would have multiple bookings stacked up on top of each other waiting for the right thing to confirm but we generally got it right."
With a bit of luck, next year could see the festival back in all its glory, not least because it reaches a serious milestone in its history. "It will be the 25th anniversary of the festival in 2022, so we are planning some big things looking back across the past 25 years and bringing back some of our biggest acts", says Gaydon. "Gregory Porter will remain as our guest curator and there will be some amazing collaborations and new commissions. It will be great to be back outside in the sunshine dipping into big tents for amazing music. Can't wait! And yes – we are currently scouting out potential new venues to use so watch this space."
Cheltenham Jazz Festival 2021: Programme
SATURDAY 1 MAY
3:00pm - 3:30pm: Rite of Trio
3:30pm - 4:00pm: Leïla Martial
4:00pm - 4:30pm: Mike Williams & Arnie Somogyi With Players From The Royal Birmingham Conservatoire
4:30pm - 5:00pm: Tomorrow's Warriors with XVNGO
5:00pm - 5:30pm: Chick Corea Tribute with Gary Husband
5:30 - 5:45pm: Quiet Man
5:45pm - 6:00pm: Yelfris Valdes
6:00pm - 6:15pm: Soweto Kinch Trio
6:15pm - 6:30pm: Warmer Than Blood
6:30pm - 7:00pm: SK Shlomo with Cleveland Watkiss and Lara Jones
7:00pm - 7:30pm: YolanDa Brown
7:30pm - 7:45pm: Ayanna Witter-Johnson
7:45pm - 8:00pm: Steve Winwood
SUNDAY 2 MAY
3:30pm - 4:00pm: Rise Up
4:00pm - 4:30pm: Soweto Kinch With players From The Royal Birmingham Conservatoire
4:30pm - 5:00pm: Tomorrow's Warriors with Maddy Coombes
5:00pm - 5:30pm: Rachael Cohen Trio
5:30pm - 5:45pm: Gary Husband plays Chick Corea
5:45pm - 6:05pm: Lara Jones
6:05pm - 6:20pm: Cande y Paulo
6:20pm - 6:40pm: Run Logan Run
6:40pm - 6:55pm: Marisha Wallace
6:55pm - 7:10pm: Ill Considered
7:10pm - 7:30pm: Jason Rebello & Tim Garland
7:30pm - 8:00pm: Jas Kayser
The Cheltenham Jazz Festival runs from 1 to 2 May; to tune in online visit www.cheltenhamfestivals.com/jazz