Cheltenham Jazz Festival: Way Out West
Wednesday, April 27, 2022
Alyn Shipton looks back at quarter-century of one of the biggest events in the UK jazz calendar – the Cheltenham Jazz Festival – and discusses its success with programmer David Gaydon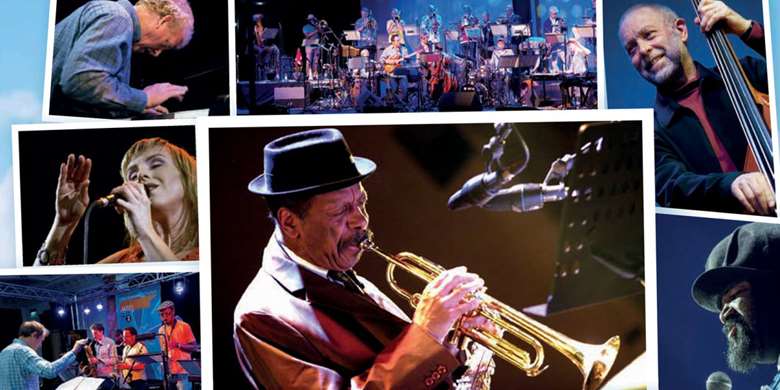 For 26 years the Cheltenham Jazz Festival has been a really significant fixture on the British jazz calendar, although the cancellation of concerts in 2020 owing to the pandemic means that this year is the 25th live festival, taking place from 27 April until 2 May. As ever, it's a beguiling mix of big names, new projects and rising stars, set in a town that has welcomed tourists since its spa waters became an attraction in the 1730s. Although the 19th century saw such temptations to visitors as menageries, great exhibitions and balloon flights develop alongside the annual horse racing festival, the last two and a half decades have seen the town focus increasingly on science, literature and music.


"Having Dave Douglas playing just after Jordan Rakei is the sort of thing that encourages discovery"

The jazz festival has steadily grown from its modest beginnings in the Town Hall and Everyman Theatre to the present day 'Festival Village' in Montpellier Gardens, with its Big Top, Arena and Free stages, as well as continuing events at the Parabola Arts Centre and the Town Hall, plus impromptu stages around town. It has also grown from a very jazz-centric approach to a much broader event that embraces mainstream singers and musicians alongside more specialist jazz content. As an attendee at all but one of the live festivals, it has been great for me to witness this annual fixture on the calendar develop so positively over the years.
"The beauty of the festival is its balance," says director David Gaydon. 'The shows in the Big Top with the likes of Emeli Sandé, Corinne Bailey Rae, James Bay and Gregory Porter, make the profit that helps to pay for the talent development and free stage programmes, because we pay all our artists, whether or not the public pays to hear them. And I think the broad church of the festival means there's something to appeal to everyone, even if they're not a huge jazz fan. They may see something familiar and then decide to take a risk on a performer they've never heard. So having Dave Douglas playing just after Jordan Rakei is the sort of thing that encourages discovery".
Looking back over the history of this special event makes it clear that it's always offered a voyage of discovery. For the first Jazz Festival concert in 1996, it felt as if the very creative Bergen Big Band (who played a set of Andy Sheppard's new compositions) had brought the Nordic climate with them, as that opening April night saw a substantial snowfall over the Cotswolds. But this inclement weather did nothing to impede the enjoyment later in the weekend of great sets by Ray Brown's trio, and what must have been one of Stephane Grappelli's final UK concerts, which even though he was wheelchair-bound, had moments of magic mixed with nostalgia.
Tommy Smith's commission Planet Wave, a magisterial set from Johnny Griffin, and the Art Ensemble of Chicago were highlights in 1997. Then came Tony Coe's commission Episodes and Interludes, as well as music from J-Life with Julie Dexter, Nikki Iles' group and John Scofield's quartet in 1998, Bobby Watson and Horizon in 2000, Marty Ehrlich, John Abercrombie and a really memorable show by the John Surman Quartet in 2002.
2003 was a vintage year, initiating the festival's determination to include more mainstream acts, as it was opened by Bill Wyman's Rhythm Kings, but continued in a jazz vein with the Esbjörn Svensson Trio (EST) on top form, Uri Caine's exploration of Bach's Goldberg Variations with vocalist Barbara Walker, and an enchanting solo concert by Michael Brecker. The surprise hit of 2004 was Norwegian vocalist Silje Nergaard with Tord Gustavsen on piano, along with John Taylor's season as Artist in Residence, plus Arnie Somogyi's Anglo-Hungarian collaboration Improvokation.
The tenth birthday in 2005 was crowned by Ornette Coleman's appearance, but there was also a great concert from Ken Vandermark, with Magnus Broo and Atomic. In 2009 there were moments of virtuosic brilliance from Nigel Kennedy with his Polish band. 2010 saw the first concert outside Spain by Dave Holland's flamenco-inspired quintet with Pepe Habichuela, whereas 2011 saw an enthralling Town Hall hour from Andy Sheppard's Trio Libero, plus Jay Phelps and James Allsopp on fiery form in Django Bates' Elastic Resilience, and a dazzling solo performance from Jamie Cullum in the festival marquee.
More recent years have seen exceptional concerts from Julian and Steve Argüelles together with Django Bates and the Frankfurt Radio Big Band, as well as Tim Berne's quartet (2016), Marius Neset, Meshell Ndegeocello, Lionel Loueke and Phronesis (2017), the Christian McBride Big Band, and the duo of Bill Frisell and Thomas Morgan (2018), and David Sanborn's Acoustic Band, along with a new commission from Rachel Musson (2019).
David Gaydon had worked on the 2018 and 2019 events, but 2020 was to have been his first as director.
"It was a really big deal for me, and then it was just whipped away," he recalls. "I had a great programme lined up and suddenly it was just a huge void. So it's very exciting to be back after a two year gap, though of course we did several online events last year, recorded here and in Bristol, London and Birmingham. It's not been a straightforward process getting up and running again, because during the planning stages there've been a number of changes of line-up, and a lot of quite understandable nervousness about travel. This has particularly affected musicians or bands that might have been doing a bunch of UK shows as part of a bigger tour, and then pulled out owing to the complexity of visiting different countries with different regulations about Covid. And some US musicians decided against travelling altogether. But although I was worried about ticket sales, advance bookings seem to be going better than in the pre-Covid era."
There are some long-term relationships between the Festival and other organisations that help it to run the broad range of concerts. It still has its association with BBC Radio 2, and, says David, that means there's a special night with the BBC Concert Orchestra and Guy Barker's Big Band.
He reflects: "In the past, the BBC took editorial control of those kinds of concert, but this year they've very much given us free rein, and so Guy's been writing arrangements that reflect highlights of our past 25 years, and we have a great guest line-up appearing with the orchestra and band, not just our very good friend Gregory Porter, but a range of other stars including YolanDa Brown, and not to mention Georgie Fame, who was playing in the Town Hall at the first festival all those years ago. That concert will go out on BBC Radio 2, but also on BBC 4 television, which is great news for the festival.
"Another long-term relationship is with Jerwood, and their funds are enabling us to run an installation in an empty shop for music featuring Faye MacCalman. Meanwhile, at the nightly jam session at the Hotel Du Vin, it's another long term partner of the festival. Birmingham Conservatoire, that provides the rhythm section every evening. The Conservatoire has also been involved in the outreach work we do with schools, at both primary and secondary level. We've been getting really positive results from introducing young pupils and musicians to jazz. Quite a number of the players who'll be on the free stages in and around the town will have come through our Jazz It Up programme".
The festival was the subject of some scrutiny in the work done by Dr Sarah Raine, concerning the gender balance of artists on the programme, back in the period leading up to the pandemic. How does David feel they've responded to the observations that far too few women were represented?
"This was something my predecessor, Emily Jones, felt strongly, and pushed to do more about. But I think it's starting to happen organically. More female performers are coming through, and it's certainly not been an arduous job of searching around, trying to find enough women to 'prop up' the programme. Far from it. We have way more female performers this year, and I'm pleased to say it's not just a question of these shows being a female singer backed up by a band of guys, but I'm seeing a real change of gender balance in the backing or purely instrumental bands."
So which events are the personal highlights for David this year?
"I'm really delighted that we are hosting Mike Westbrook, with his West Country big band the Uncommon Orchestra, paying tribute to Duke Ellington. He's been a great figure in British jazz for so long. That same day, 1 May, we have Mulatu Astatke, the father of Ethio-jazz, and it's wonderful to have him playing a concert for us, with a band that also features Byron Wallen and John Edwards. Another musician we're really pleased to welcome back is Iain Ballamy with his Fascinada project, exploring the richness of Brazilian music. And finally, nothing exemplifies the cross-generational appeal of the festival better than having Gary Bartz with us, working with the young band Maisha. How fantastic to have such a legendary player with all his amazing history appearing alongside such a brilliant band of younger musicians. I'm very excited!"
---
For more information about this year's Cheltenham Jazz Festival, visit cheltenhamfestivals.com/jazz/