Herbie Hancock, Terri Lyne Carrington, Jan Garbarek, Chrissie Hynde... EFG London Jazz Festival Director Pelin Opcin looks ahead to this year's highlights
Alyn Shipton
Tuesday, November 5, 2019
Alyn Shipton speaks to EFG London Jazz Festival Director Pelin Opcin about showcasing specially-commissioned projects and redressing the gender balance in her rundown of this year's event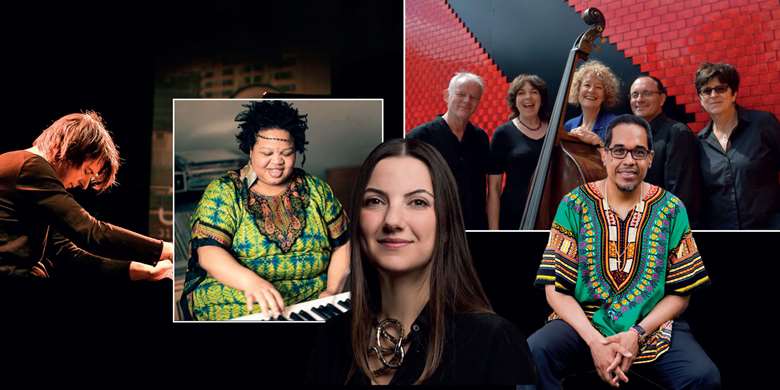 It's a year since I got together with Festival Director Pelin Opcin to look ahead to the last EFG London Jazz Festival, so as we meet again to think about this November's edition, what's changed?
"When I arrived, about 40-50 per cent of last year's show had already been built by John Cumming, but this year it's all from me and my programme team at Serious. It's a big honour and very exciting, but having spent a year working with the team and seeing how they function, it now feels like home!"
I suspect one of the major issues facing all festival directors, and it's something that's been coming up at Europe Jazz Network and Jazz Promoters' meetings lately, is the issue of headliners, the major international acts that have long been the cornerstones of festivals like London. As the pioneering generations retire or die, what takes their place?
"I think," says Pelin, slowly, "that the test is not just to see a list of names, but to bring in the best artists and engage with them to find new and exciting projects. We can sometimes manage to attract a sizeable audience for quite experimental ideas, because the festival is of proven quality, the brand is strong. So, if we say 'check this out', audiences are prepared to be open and adventurous. A good example would be the Bauhaus 100 concert where we celebrate a major artistic moment in history and explore musical interactions with Michael Wollny, Daniel Brandt and Dawn of Midi."
"
I'd like to think we're really representing women this year, with Chicago's Angel Bat Dawid, Chrissie Hynde, and Eliane Elias among the big names
Pelin Opcin
One thing that immediately strikes me looking at the programme, not just for that final Sunday (24 November) but at the previous weekend, is that you'd think the festival might be competing with itself for audiences.
Opcin laughs: "That's the least of our problems! But I see what you mean – on the first Sunday, for example, we've got Herbie Hancock at the Barbican, Jan Garbarek and Joe Lovano at separate South Bank concerts, not to mention Crosscurrents with Dave Holland, Zakir Hussain and Chris Potter at Cadogan Hall and John Scofield at Pizza Express! Just the Barbican and Festival Hall concerts mean a combined audience of over 5,000 that night, but they've already sold really well. And I should mention – as I've touched on Pizza Express – that they and other clubs who bring similar energy and dynamism, like the Vortex with David Murray, Ronnie's with Hermeto Pascoal, for instance, help to make this one of the biggest festivals in the world."

And that size and scope means that it would be easy to miss something Opcin is very keen to mention, the follow-up to the summer event at Royal Docks, which means more Festival performances in docklands, many of them free in 'found' venues, as well as some major events at Compressor House, close to City Airport. And that leads us on to this year's Kings Place residency, with drummer Terri Lyne Carrington, where (as well as talking about Nina Simone) she has two events built round her Social Science ensemble, and her involvement of UK musicians such as Soweto Kinch and Emma Jane Thackray.
"That's a good example of what I was talking about in encouraging artists to work on projects here, and to engage with local musicians. But Terri is just one of a really strong line-up of female musicians, and I'd like to think we're really representing women this year, with Chicago's Angel Bat Dawid, Chrissie Hynde, and Eliane Elias among the big names, as well as people who ought to be better known like Lucia Cadotsch, who tackles the Great American Songbook with her trio in a way that resonates with young audiences as she's into the remix culture with dashes of free jazz thrown into the blend. But maybe one thing I'd really draw attention to is the 30-years celebration of Blow The Fuse. Deirdre Cartwright and Alison Rayner have worked hard to redress the gender imbalance in jazz and they've created many opportunities for female musicians to shine and develop. Maybe because they've done this they've not focused as much as perhaps they should on their own fame, so this is a chance for us to show respect and gratitude for all that they've achieved."

Pelin mentioned Bauhaus 100 earlier. Are there other events she sees as equally important in terms of the festival being adventurous? "I see the Bauhaus 100 as one of those 'meeting points' where visual art, design, music, and much more can meet. Jazz can be a conduit to bring in other artistic areas and that's important for me. Another good example is Soweto Kinch's The Black Peril, looking at the year after the Great War armistice, with musicians from Tomorrow's Warriors, the LSO, plus Makaya McCraven and Junius Paul from Chicago. And, finally, something to be really proud of is the Global Messengers, with Danilo Pérez and young musicians from the Middle East in a work jointly commissioned by us and three other festivals!"
The EFG London Jazz Festival runs from 15 to 24 November at venues across the capital. Visit: EFG London Jazz Festival
This interview originally appeared in the November 2019 issue of Jazzwise. Never miss an issue – subscribe today!