Introducing... Fabian Almazan: "I'd die a happy man if I could score a nature documentary!"
Selwyn Harris
Thursday, January 2, 2020
Outstanding pianist-composer and committed eco-warrior, Cuban-born Fabian Almazan, spoke to Selwyn Harris about how his passion for environmental issues and a recent homeland reconnection have impacted upon his latest trio album, This Land Abounds With Life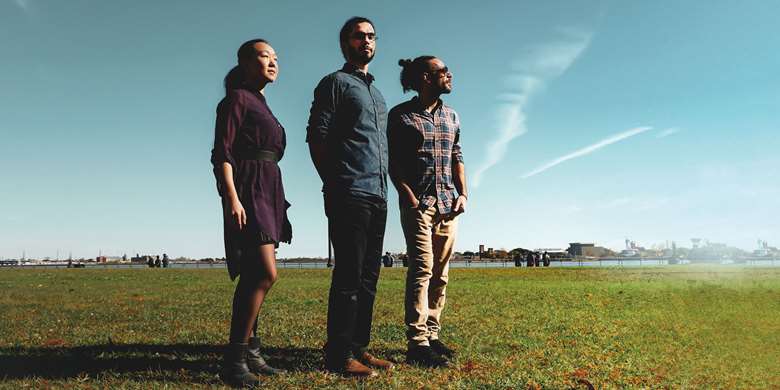 Certain jazz artists like to champion what they see as an important cause through their music. For the 35-year-old Cuban-born, Harlem-based pianist-composer Fabian Almazan, it's the environment. But he goes much further than most, so that it has affected all aspects of his music-making, production and marketing processes. A couple of years ago he formed his own green-conscious recording label, Biophilia.
"I've always cared deeply about the environment and climate change and the term 'biophilia' is a theory that I became aware of through E.O. Wilson," he says on a Skype call from his home in Harlem, citing the author of an influential book first published in 1984. "It basically states that human beings are innately attracted to and positively impacted by being around other living things. Which explains why, here in New York for example, people will pay insane amounts of money to live in an apartment right next to Central Park. We're hardwired to be attracted to nature. Around 12, 13 years ago I had this attraction and that just became a lot clearer in my mind once I learned about biophilia. At the time I was just beginning some sort of organisation to bring musicians together that care about the environment and that idea turned into the label."

The evidence is in the label's digital-only format yet physical FSC-certified packaging and the artists' commitment to contributing to environmental organisations. Almazan's new album This Land Abounds With Life on the imprint also continues the eco-theme first embarked upon in 2014 with his well-received Blue Note/Artistshare release Rhimzone. It's his fourth album and features his effervescent trio with wife Linda May Han Oh on bass and Henry Cole on drums. The recording is simultaneously rooted and forward-looking, with the issues he cares about manifesting in a compositional sense.
"There's a piece entitled 'The Everglades' on the album which I think is the one that most clearly encapsulates the sense of urgency I have for environmentalism," he says. "The Everglades is a national park in Florida with protected wildlife, but for a variety of reasons the balance of environment there has been suffering a lot recently because of pollution and mismanagement. So with that piece I wanted to portray the beauty of that land as well as the struggle that's going on right now to try and keep it healthy."

As a young child in Havana, Almazan learned traditional classical piano. ("Cuba had a very strict Soviet Union approach, especially when I left"). His family upped sticks to Miami where he, "resumed classical music studies – I've always been extremely drawn to the music of Ravel, as well as Stravinsky, Brahms, Mahler – before becoming aware of jazz in my teens." His biggest jazz piano inspirations are Keith Jarrett and Oscar Peterson acknowledging that they, "don't really make sense together. Maybe I shouldn't even try to understand it, but there's something about them that really speaks to me. I've always had a deep love for the three styles: jazz, classical and Cuban music."
The recording underlines his recent reconnection to Cuba following an emotional return to his homeland after a gap of 23 years. "Music is such an integral part of the Cuban culture," he says. "You don't really think of it as a separate entity, how you think of it in the US. Anytime you walk down the street there'll be somebody on some corner playing music. They won't necessarily be musicians, but there's that sort of rhythm that's just part of the street life there. I have these very vivid memories as a child. I do like to champion the different types of music that exist that aren't necessarily associated with Cuba. It has a history of classical music as well and there's a lot of rock and country music. There's one piece on the new album called 'Bola de Nieve' which encapsulates what I'm referring to. It was written by Carlos Varela (a Cuban rocker) and pays homage to Ignacio Jacinto Villa Hernández, a man who I think is comparable to Louis Armstrong for the US. I think the beautiful mixture of so many cultures and traditions is what really defines Cuban music."

Since graduating from Manhattan School of Music having added orchestral composition to his abundant skillset, the pianist has received props for playing in the bands of Ambrose Akinmusire and, most notably since 2007, with stellar trumpeter-composer Terence Blanchard in both his acoustic quintet and the funky electronic grooving E-Collective. "Terence isn't that concerned with genre or anything like that," Almazan says. "Being from New Orleans, as much love as he has for that, I think because he's been all over the globe, he's very much aware of different cultures, and I think he wants his music to reflect that. That's the thing I've learned most, being with him. He doesn't have boundaries with music, he'll go in any direction he feels will become an emotional outlet."
That open-mindedness spilled over into Blanchard's successful film composing career, a field in which Almazan doesn't lack ambition. "One of my dreams is to marry all my interests and passions," he says. "So I really hope someday to score a nature documentary, that's really what I'd love to do. I'd die a happy man if I could score a nature documentary!"
This article originally appeared in the September 2019 issue of Jazzwise. Never miss an issue – subscribe today!