James Pearson's turning point: The Vocal Fats Waller
Brian Glasser
Thursday, November 14, 2019
Pianist James Pearson talks about the album that changed his life, Fats Waller's 'The Vocal Fats Waller'.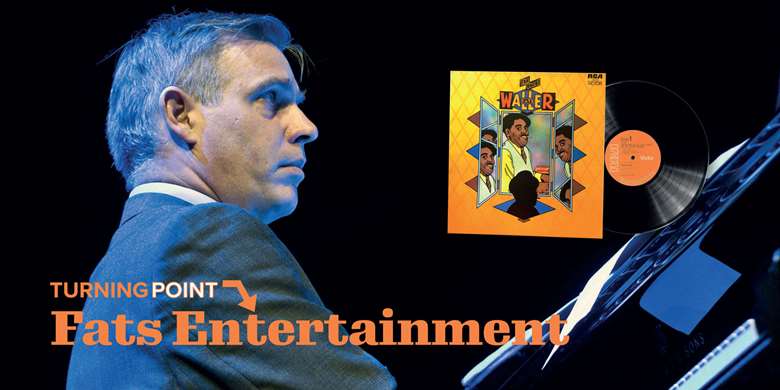 There are three clear musical points for me: Fats Waller, which I heard when I was very young and which got me into jazz and boogie-woogie; VSOP – the Miles Davis 1960s quintet with Freddie Hubbard instead of Miles – which I heard when I was 16; and then Oscar Peterson's 'Night Train'. I was playing classical piano and the Fats was the first time I'd heard jazz, so I guess I should go with that.
In fact, the first time I heard him wasn't an album – it was a 45. On one side, there was 'Your Feet's Too Big'; and on the other it was 'The Joint Is Jumpin''. I was nine years old and I'd gone to visit my grandparents in Bath and they had this old single. When I first heard the record, I couldn't quite believe what I was hearing. Because Fats talked while he played – he vocalised and told funny anecdotes. Then about four months later, at Easter the following year, my parents gave me this compilation Fats Waller album which also had those two tracks on it. That's when I really took it on properly. He would do things on the piano – little trills and runs up at the top – and say 'Madam! Stop tickling me!', and make silly comments. As a nine-year-old, that really appealed. Plus, the enthusiasm that he exuded was so exciting – as soon as the band started swinging, he'd say 'Yeah – let's swing!'. It showed me a sense of fun in a type of music I didn't know too much about. I knew ragtime, Scott Joplin; but that wasn't played with such energy and vivacity.
I used to play along to records of hits of the day – ELO and Abba, things like that! – so then I started to play along with Fats. We had one of those old record players where you could drop the record down on it; so I had it on repeat and used to learn the songs that way. I would only be doing a version of them, of course – I didn't have big enough hands to reach the tenths he played. I could just reach an octave and sometimes he was even playing twelfths! I didn't realise at the time just what a fantastic pianist he was. He had a great sense of rhythm – almost better than Art Tatum when it came to stride, though not quite as flamboyant. He inspired so many other pianists, and musicians, and he was a great songwriter as well. When you come to something when you're young, you just take everything as it is, and accept it.

I had a free-spirited piano teacher who wasn't just into me doing grades. As long as I did scales and arpeggios, he was more than happy for me to play jazz. So, from that day on, I did both classical and jazz. All the classical pieces I was playing, I'd do my jazz version of them too. I've even got cassette recordings somewhere of me doing that!
The VSOP quintet was completely different, of course. That got me into modern jazz – I was 14 or 15, and still at school. I had played a lot of mainstream jazz by the time I heard that; but it had a different appeal – the improvisation was more collective, for a start. On one level, it was quite a sloppy album; but there was a great live energy.
So, thinking about it, maybe there is a link. Because, still to this day, it's the spirit of music that's most important to me. I can understand 'clever' music and analyse it if I need to and work out what's happening; but, if you start thinking like that as a performer, it tends to get in the way. You put up a wall. I've seen so many performers in different contexts putting up a wall – they're playing beautifully and then they become self-conscious. I'm very interested in how conscious awareness of what you're doing sometimes causes problems with improvisation – you've got to have that element of freedom. And yet the great improvisers also have a sense of structure – a sense of storytelling, almost! Or they're just nice to listen to, like Scott Hamilton. You can listen to him all night.
I'm always mindful that you need to take the audience with you, whatever you're doing. My grandparents were both farmers – so Fats' music appealed to a huge range of people. He was getting excited himself, and he conveyed a great sense of fun. It's important to have that element in music, almost a third dimension. It's a human element that isn't just about analysing everything. Very few people do that as well as Fats…
'The Vocal Fats Waller' was released as an LP by RCA Victor in 1972. Most of the recordings from the album can be found on Apple Music on 'Very Best of Fats Waller (Remastered 2000)':
This article originally appeared in the October 2019 issue of Jazzwise. Never miss an issue – subscribe today!