Kokoroko: Stronger Together
Jane Cornwell
Friday, September 2, 2022
As their long-delayed debut album, Could We Be More, is released, Jane Cornwell speaks to trumpeter Sheila Maurice-Gray and percussionist Onome Edgeworth, to uncover the earthy roots of Kokoroko's transcendent sound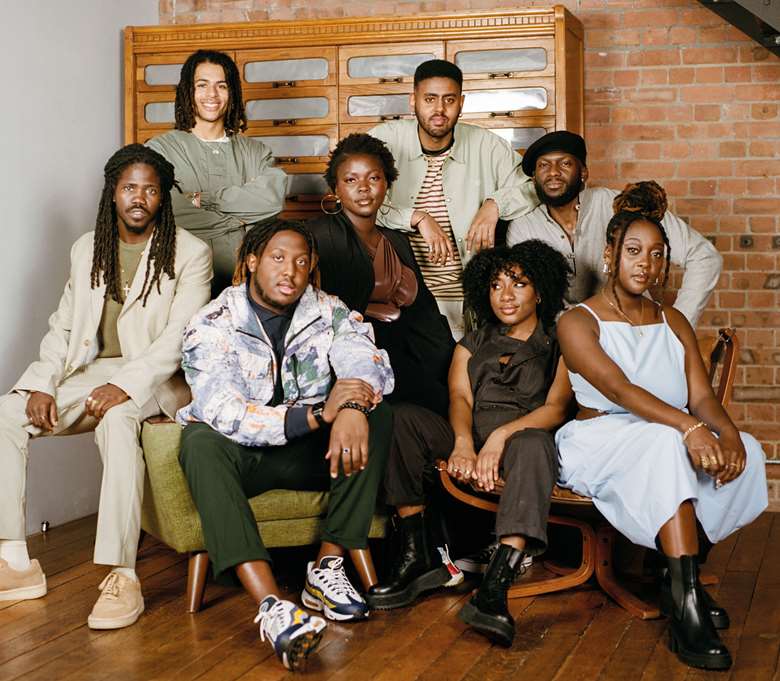 Rave reviews, a loyal fan base, sold out tours of Brazil, India and repeatedly, the UK… Kokoroko have been on a roll for some years now. After bursting into public view in 2018 with We Out Here, a project from Brownswood Recordings celebrating the brightest of London's young jazz stars, the female-led Afrobeat eight-piece became poster kids for the so-called 'UK jazz renaissance'. The 23 million YouTube plays given to their languid, improvisatory, West African kora-copying guitar track 'Abusey Junction' didn't hurt either.

"That Sofar Sounds video of 'Abusey Junction' really hit a sweet spot," says percussionist Onobe Edgeworth, who co-founded Kokoroko with trumpet player and visual artist Sheila Maurice-Grey in 2015. "I think because the music is good but crucially, there was the image of three amazing female horn players, which had a massive impact on people."
The 'new London jazz scene' had plenty of tropes: a DIY attitude that saw players creating their own gigs and jams. A boundaries-down aesthetic in which jazz absorbed music of black origin, from Afrobeat to highlife, drill to grime, and a fourth-wall-smashing approach to playing live that saw dancing punters corralling the players and cheering on any solos.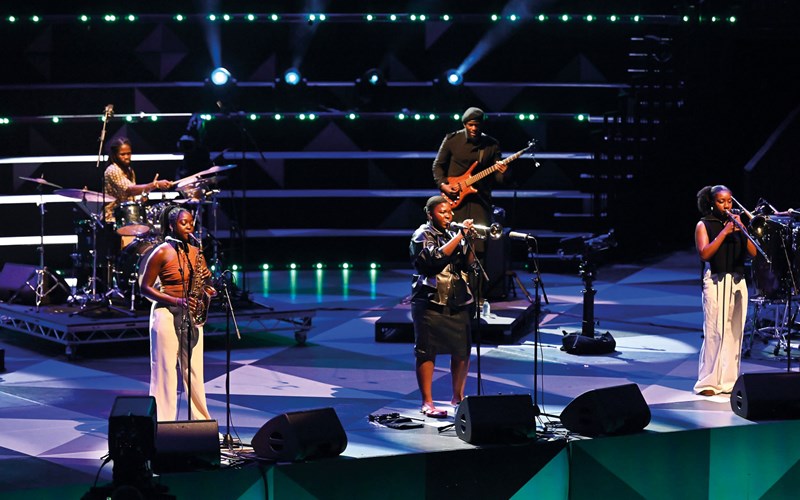 Kokoroko playing at the BBC Proms 

The scene also has an unusual preponderance of women instrumentalists - many of them black British. Alongside the likes of the now-ubiquitous Nubya Garcia, Kokoroko's frontline of alto saxophonist Cassie Kinoshi, trombonist Richie Seivwright and trumpeter/bandleader Sheila Maurice-Grey swiftly became emblems of the 'redressing' of jazz gender bias.
"No one was ready for that. We didn't like being lumped into a jazz scene, or this assumption that we came from nowhere overnight," says Maurice-Grey, now 30, who co-founded Kokoroko with the aim of representing the diaspora, of encouraging young people to honour the music she'd known and loved growing up, the daughter of a Sierra Leonean mother, a father from Guinea-Bissau, and a stepfather from South Africa and Zimbabwe.
"It was such a general term for one small group of people," she continues. "It took away from important things like the fact that jazz has been in the UK for the longest time, and that black British jazz has had its own journey."
We realised that everyone we idolised was always innovating, pushing themselves to create something new. So we thought about how we wanted our shows to look and people feel

Edgeworth nods his agreement. "The first jazz show I went to was to see Courtney Pine. So there was his generation, and the generation before that. The real story was not being told."
Intent on doing their thing, Kokoroko forged ahead (in the Urhobo language of Edgeworth's Nigerian ancestors, 'kokoroko' is a proclamation meaning 'be strong'). They continued developing their intricate, curiously reassuring sound with its roots in West African highlife and Afrobeat – specifically, in the respective oeuvres of legends Ebo Taylor, Pat Thomas and Fela Kuti - and crossovers into the sounds of London and African American blues. A largely instrumental sound made political, social and historical by the intention and narratives within and indeed, the original mission statement 'This is not idle music'.
"For the first two years we really tried to recreate the music of the masters we loved," says Edgeworth, an erstwhile art teacher who met Maurice-Grey when she attended his painting course at the arts organisation his mother ran in Wood Green, north London. "Eventually we realised that everyone we idolised was always innovating, pushing themselves to create something new. So we thought about how we wanted our shows to look and people feel.
"It's like, where are we right now? How do we push that? How do we add something to that idea, that era, by having a bit of our own lives and our own stories in there?"
They're grateful, they say, for the wild success of the seven-minute-long 'Abusey Junction', which was written by guitarist and former member Oscar Jerome as he and other band members sat on a roof in a compound in Gambia, while musicians played traditional instruments including balafon and kora around them. The track won them a huge fan base and opened doors to the music that followed. It also inspired a whole new generation of girls to pick up an instrument: Tomorrow's Warriors, the award-winning training organisation for young people of colour and girls attended by Maurice-Grey, Seivwright and Kinoshi (all Trinity alumni) was inundated with applications.
In 2019 Kokoroko released their self-titled debut EP that maintained a solid groove throughout tunes both tender and fierce. Then came three singles including 'Baba Ayoola', a tribute to Kinoshi's grandfather that opens with the elastic vocal harmonies of Seivwright, Kinoshi and Maurice-Grey, and 'Carry Me Home', which was written after a conversation with UK Afrobeat legend Dele Sosimi – a keyboardist and singer whose successful Afro-beat/London crossovers inspired Kokoroko from the get-go.
There were nominations, awards and gigs at Glastonbury, on Boiler Room, at Meltdown at the Southbank Centre. Last year they played the BBC Proms. There were line-up changes; guitarist Tobi Adenaike-Johnson took over from Jerome, who left to pursue a solo career. Sometimes the line-up went to 10 or 12 members. Kinoshi juggled leading her Mercury Prize-nominated Seed and working as a composer-in-residence at theatres and arts centres. All this, and rather remarkably, Kokoroko still hadn't released an album. While rumour had it there was one in the bag, a release date was scheduled, withdrawn and repeatedly rescheduled as the Covid pandemic wreaked havoc.

Now, finally, that work is here. On its sleeve is the band's signature artwork by NYC-based Kasmir Jones, aka POETIC, who designed the cover of the EP (continuity is vital here): a black hand thrusts, its five fingers outstretched into a blue, cirrus-strewn sky, from what might be a mountain or a moonscape. Elsewhere, four black hands arranged in compass points reach toward each other, their fingers almost close enough to touch.
Could We Be More is the title. Open-ended, up for interpretation (do they mean the band? The individual? The world?) Contained within are 15 tracks that speak to where Kokoroko are coming from, and who Kokoroko are now. Bold, confident compositions that bow to ancestors musical and otherwise, that navigate Afrobeat, highlife, soul, funk and of course, jazz: "Jazz is a massive influence with all our songs," says Maurice-Grey. "Improvisation is vital to what we do. When you look at the roots of jazz, on the continent or the subcontinent, improvisation has been around since the beginning of time."

Jazz found Maurice-Grey as a child. There were music lessons – guitar, keys – in her West African Pentecostal church in south London (the Christian faith informs many players in the ever-maturing young British jazz scene, from Mark Kavuma to Ezra Collective's Femi and TJ Koleoso). She took up trumpet at school, her lessons supplemented by a training stint with South London ensemble Kinetika Bloco, before joining Tomorrow's Warriors in her teens.
"Before Fela Kuti created Afrobeat he studied jazz." In 2020 the Afrobeat pioneer and activist was honoured with a commemorative plaque at the Faculty of Music at Trinity Laban, his (and Maurice-Grey's) alma mater. "Both are as important as each other, and as relevant to who we are now and who we'll become in the future."
Kokoroko members – there's also drummer Ayo Salawu, synth/keys player Yohan Kebede and bassist and synths/keys player Duane Atherley – have vastly different backgrounds. Take the jazz education of Edgeworth, a former bedroom producer and beats-loving teenager from north London for whom jazz wasn't cool ("As a kid, when everyone's doing grime, picking up a trumpet is a brave thing to do"). But then came J.Dilla and his samples of Ahmad Jamal and other jazz greats, and that chance meeting with Maurice-Grey at art class.
"I never knew anyone my age who played jazz in London until I met Sheila and others in that little community. My mum had her Miles Davis records," he says with a grin, "but mostly she'd play aggressive stuff like Fela Kuti or Buster Rhymes, especially when she was cleaning."

That same cathartic freneticism (and a bit of orchestral dreaming) informs 'War Dance', a standout track on a new album filled with them. "It kind of reminds me of krumping," says Maurice-Grey, referencing the expressive, exaggerated full body twerking associated with Los Angles hip-hop. "Just trying to shake off your bad mood and break free, you know?"
Nevertheless, like all of Kokoroko's music and writing – variously involving group discussion, ideas proffered for exploration, songs intended for reshaping and songs coming in ready made – Could We Be More is largely focused on notions of home. Where that home is, is again up for debate – especially when being black British means you're considered other when visiting your parents' or grandparents' homeland in Ghana, say, or Nigeria. There's London and its musical melting pot as home, of course, and then there's the sense of ownership that comes from hearing something as a kid and loving it all your life.
"When I hear Nigerian music playing elsewhere there's a certain sense of pride and energy filled with it. It's like 'This is a piece of me and this is where I come from," says Edgeworth, who helps his fellow band members recreate a guitar-driven Afrobeat vibe on the multi-textured 'Ewa Inu', a Yoruba word that may or not mean 'the beauty inside' ("Everyone we ask says different things").

Kokoroko recorded in situ at Echo Zoo in Eastbourne, a boutique studio famed for its vintage era equipment and proximity to the sea. Producer Miles James got their vibe, they say, and encouraged a flow that involved recording late into the night between swims and meals cooked by a friend. There with them, in spirit, as they replicated their beloved highlife and Afrobeat were Ebo, Pat and Fela, buoying their passages of call-and-response, meeting of rhythm and melody and journeying through structures so familiar that – as with recurring tracks 'Blue Robe (pt1)' and 'Blue Robe (pt2)' - they could put their own spins on them.
The album's aesthetic is overwhelmingly beautiful, imbued with a sort of organic delicacy that softens the harshness of Afrobeat, makes it enveloping, heightens the joy - nowhere more so than on 'We Give Thanks', a gorgeous slice of outsider soul floating on female vocal harmonies, and 'Those Good Times', its rose-tinted nostalgia recalling '70s era lovers' rock. Peppered among the tracks are brief instrumentals – the 48-second 'Outro', the curious 28-second 'Reprise' – that feel like pauses. Or to borrow from sci-fi (a favoured genre of Kinoshi's), like portals, transporting the listener to another universe before yanking us back to reality. Maurice-Grey smiles. "There's this Earth Wind and Fire record with one synth track in particular" – probably, 'Interlude' from That's the Way of the World – "that sounds really weird. Miles told me they'd basically reverse the tape. So we did the same thing," she says.
Edgeworth leans forward in his chair. "It is really important for us to create a sound world and have people step into a space when they listen to the album. You lose so much with streaming: the punctuations, the nuances. Making an album to be released on vinyl means we can give the listener a proper experience," he continues. "We can pause, confuse them, make them uncomfortable, fill them with joy.
"It's all about the story. We've got a story we want to tell."
---
This article originally appeared in the August 2022 issue of Jazzwise magazine. Never miss an issue – subscribe today