Life-changing albums: 'Bande À Part' by Masqualero
Friday, January 11, 2019
Pianist Tord Gustavsen talks about the album that changed his life, Bande À Part, by Masqualero.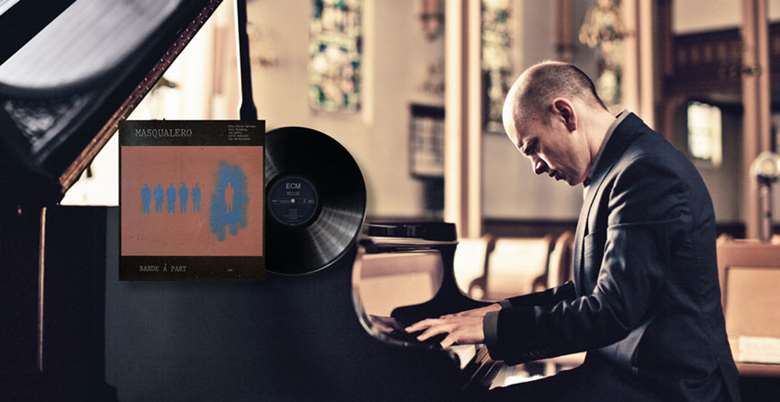 Interview by Brian Glasser
Different albums have been important to me at different points of my life – albums offering support in crisis, offering uplifting energy, offering comfort. For instance, Glenn Gould's Bach: The Goldberg Variations, Emmy Lou Harris' Wrecking Ball and Billie Holiday's Lady In Satin. But if I have to name only one, it's Bande À Part by Masqualero. That was a true turning point. I heard it in the early 1990s – right after leaving Hurdal, where I grew up, to start university in Oslo. So it coincided with that phase in my life – leaving home, when I was 19 or 20.
The weird thing is, I don't remember exactly how I came to hear it. I think the link was probably ECM – I already had some albums on that label, including some Terje Rypdal and a Paul Bley that I got as a present. Seeing it was on the same label, I bought it. But it might have been the striking cover image.
'The lyricism, and the open spaces and the mysteriousness and beauty, all combined at the same time'
I had it on CD, never on vinyl (I went directly from buying cassettes to CDs). Vinyl only became part of my listening habits more recently. Now I understand the magic! I was living in a small room in Oslo, that I rented from relatives. I bought large speakers for the first time, really good ones – I still have them, actually – and I was really connected to this stereo system. I listened to all the records that I liked repeatedly. I became totally immersed and felt every curve of the music.
This one really drew me in – the lyricism, and the open spaces and the mysteriousness and beauty, all combined at the same time. I liked it the first time I heard it, but it also grew on me. Some of the compositions took a little longer to stick. It contains fundamental lines to music that I have kept following. The saxophonist on the album, Tore Brunborg, has been in my quartet – it's such a treasure and blessing to be able to play with him, and to connect with the roots that trace back to that record. Nils Petter Molvær does some of his finest work on this album, and I've played with him too. Then, of course, there's Jon Balke on piano – along with a few stride players, he's my main inspiration as a pianist. I even wrote a thesis partly about his playing during my few years in the academic world. The drummer, Jon Christensen, was one of the leading lights of European jazz at that time. From Bande À Part I went on to listen to the Jarrett-Garbarek albums with him on drums, which were amazing. So the links from this album, in addition to the album itself, have been hugely important to me.
It turned me towards… I haven't put this in words before… a certain abstraction, but still with a sensual focus. The fact that you could open up harmony, open up the soundscapes rather than play stiffly on chord changes; the fact you can have dreaminess and great melodies at the same time. Before then, my musical orientation was already quite broad, because I played jazz, fusion, gospel and classical piano a lot. So, I was deeply into Ravel, Debussy, Shostakovich, Schoenberg and Bach; but this provided me with a vision where impressionist harmony and jazz sensibility worked together, where open harmony could come from improvised settings.
Technically speaking, this was all a bit beyond me at the time. That was part of the mystery. I understood a little, but there were parts I couldn't get immediately. With other stuff, I was used to being able to copy it right away and understand the chord changes. I could do that with some of this; but other parts, I thought "Wow, what are they doing?"
Reflecting on it now, it also turned me away from something that I later had to go back to: after my years in the conservatory – actually in the transition between my first and second ECM albums – I started connecting again to the grounded simplicity of the lullabies and hymns. My composing took the experience of radical openness, but connected much more profoundly to the basic sensuality of the hymns and lullabies, and the gospel-tinged impressionist stuff. Bande À Part was a turning point, one which took me away from the spot to which I would later return, where I would find myself again…
This article originally appeared in the August 2018 issue of Jazzwize magazine. To find out more about subscribing, please visit: Subscribe