Lizz Wright: "I think nature and life in its rhythms is about to demand that we grow the hell up and stop being afraid of one another"
Peter Quinn
Wednesday, June 3, 2020
Posessed of a uniquely expressive voice, Lizz Wright is now one of the world's foremost exponents of the art of vocal jazz. Peter Quinn caught up with her to learn more about her love of those enduring standards by the American Songbook greats and the power of music to unite in these divisive times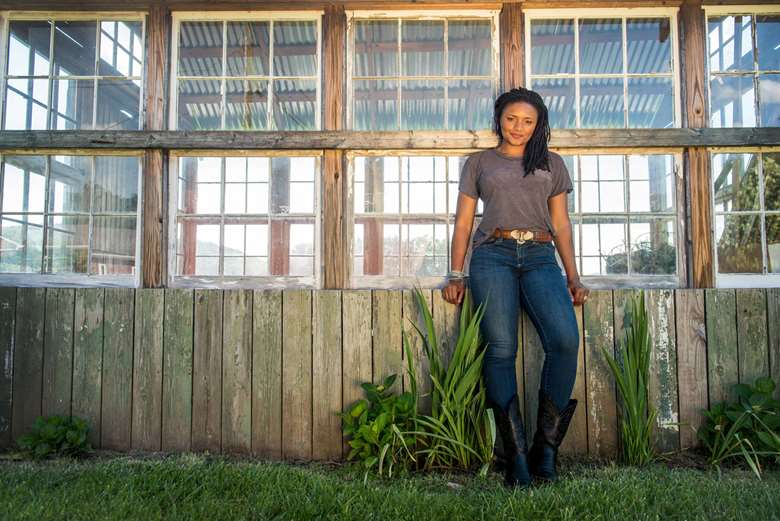 "What a time, what a time, what a time", Lizz Wright sighed when introducing the spirited country blues, 'The New Game', at her EFG London Jazz Festival gig at the Cadogan Hall back in 2016 – the last time I'd seen Wright live and, hands down, one of the most moving concerts I've witnessed. If you're wondering what she was referring to, Donald John Trump had been elected the 45th president of the United States just five days earlier.
UK audiences were looking forward to being blasted by Wright's singularly balsamaceous qualities at this year's Cheltenham Jazz Festival, where she was due to appear as guest artistic curator Gregory Porter's special guest, as well as in her own headline show.
"We have so much beautiful overlapping history," Wright says of Porter, speaking to me over the phone from the US, "and so many parts of our story where we walk through the same place, almost sharing footprints."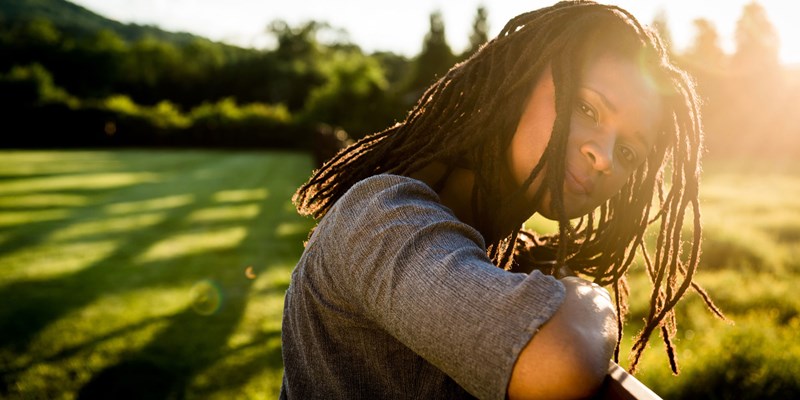 Lizz Wright (photo: Jesse Kitt)
It's clear she has fond memories of Cheltenham, too, saying of her Gershwin gig there with the Frankfurt Radio Big Band, conducted by Jim McNeely: "I'll never forget that, it was really incredible. What a beautiful band and beautiful arrangements."
Following my conversation with Wright, as this interview was being filed, Cheltenham Jazz Festival sadly announced its decision to cancel due to the coronavirus pandemic.
But returning to that Cadogan Hall gig, aside from her uniquely expressive voice, what was immediately apparent from the opening song, a magnificent unaccompanied take on Hoagy Carmichael's 'The Nearness of You', was the electrifying charge between Wright and the audience.
"I don't know, I just get out on the water, you know," Wright tells me, recalling the occasion. "There's so much great energy between the song itself and all the history it carries, all the voices that it's held in the moment, and the gathering of people in the room, they have a beautiful, electric charge of their own. I literally push the boat out and hop in. I have my body, I have my memory, I have my relationship with these lyrics, I have my imagination. But it's definitely one of those songs that, because of how it's written and because of the moment it creates, I'm given so much to move inside of that I don't feel like it all has to come from me. Between the actual song itself, the moment, and the people in the room and their presence, there's so much magic and there may be only a difference in just yielding to it and playing with it."

Throughout the rest of the evening, from 'Nature Boy' and 'Old Man' to 'Somewhere Down the Mystic' and 'River Man', Wright seemed to explore the different timbral qualities of her voice almost like a painter. Does she paint?
"No, but I'm completely in love with the visual arts and spend a lot of time with visual artists. They really help me understand how looking at the world – no matter what I feel about what I'm seeing – is such a gift and a joy. They help me understand what it is we're trying to do. I have no idea if it will ever win me any awards or great commercial success, but I really like exploring lyrics, I like exploring stories and treating them like colours and different materials, to express something about how I'm capturing light. And I don't know why else we would make art than to explore our own humanity. It's not all about oneself. If you don't leave here having learned or made something of who you are, I'm not really sure what we're doing."
Wright's take on the Jimmy Van Heusen/Johnny Burke standard 'Like Someone in Love' at the 2016 edition of Jazz Voice, with Guy Barker and the 42-piece London Jazz Festival Orchestra, also happened to be one of the most sublime interpretations of any song I heard that year. When she sings the Great American Songbook, I wonder if she likes to hear other vocal interpretations or whether she prefers to approach the material more as a tabula rasa?
"I really enjoy the way Björk sings that song. I'm always fascinated with how people open up words. Everybody does it differently and makes the phrase blossom in a different way, a different colour. I'm also fascinated with the opportunity to sing it back to America, I feel like there's something in that, like a healing recognition that kind of takes care of itself. I've enjoyed witnessing it – I got into it by accident and now it's a bit more intentional. I think it's important to sing the old songs, to sing someone else's song to them, I think it's an important part of holding this together, and remembering what it is."
Wright's musical journey began in her birthplace, the small town of Hahira, Georgia. There, at a church in which her father served as minister, she imbibed the music, dance, poetry and drama of African-American gospel music which provides the cornerstone of her musical identity, 'the root system' as she referred to it in one of our previous conversations. Across six acclaimed studio albums of incredible variety and depth – Salt (2003), Dreaming Wide Awake (2005), The Orchard (2008) and Fellowship (2010) on the Verve label, plus Freedom & Surrender (2015) and Grace (2017) on Concord Records – Wright has shown herself to be that rare artist who can seamlessly move between gospel, blues, folk and jazz without artifice.
"I'm working on a new record now," she tells me, "with Chris Bruce again on guitar, but this time I've asked him to produce. He's always been the right hand of some amazing friends who've produced records for me, but this time I really wanted my brother to take that seat."
Asked when the new record will drop, Wright replies: "I honestly don't know, everything is happening a bit differently these days. My goal is to finish it and get it paid for," she laughs. "And then I let people descend and make decisions and get all their ducks lined up. I'm focused on my first goal, and that is really finishing it and sharing it with my super-intimate cuddle of ears."
As evidenced by the subtle internal rhythms of 'Blue Rose' from her debut album Salt, one of the constants of Wright's music, one of its key stylistic traits, is the sense of the space between the notes.
"I feel like the words end up directing me," Wright says, "and I try to let them have their life, and to let them open. They kind of push me, and I have to say I really enjoy listening to Shirley Horn when it comes to the study of space and how to create impact with emptiness. But it's obviously not empty. There's something of the smoke of the notes, the sentiment is still moving between the next phrase, the next idea, and I've learnt to have a lot of trust in that and interest in it. And it's honestly very seducing: any kind of experience anyone is having – meditative or trance-like – is really a ripple from what's actually going on. I try to only sing music that makes me get carried away. It's learning over the years to run better tests to make sure that they all do that – learning how to write better, and how to become even more emotionally and spiritually available to let that happen."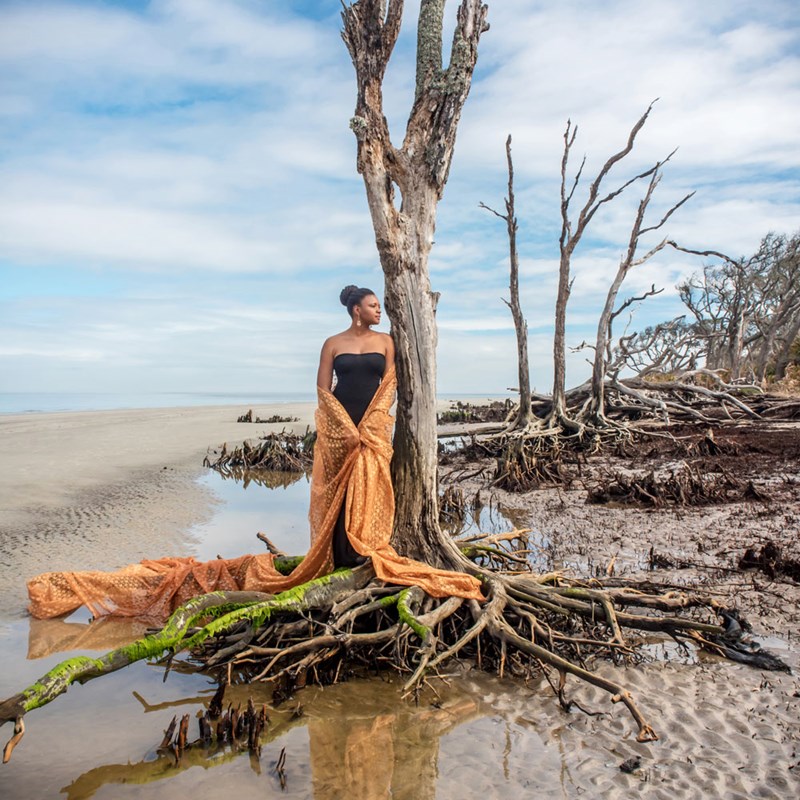 Lizz Wright (photo: Jesse Kitt)
In a similar way, listening to 'Hold On Just A Little While Longer' from the 'Gospel Medley' recorded on Fellowship – an album of quite magisterial power in which you really get to hear the deepest expression of Wright's soul – you hear the subtle rhythmic push and pull of the singers.
"There's so much there," Wright notes. "It always swings, things walk and swing at the same time, just the way that people's bodies move. It's on time but there's a little bounce. And I really believe in round time, I believe in circles in square pegs, the music still spiralling even though it's plotted, it's mapped out. There's a lot of humanity in that little subtle, kind of inner rhythm, that swing. I love talking about these kinds of things with Dr Bernice Reagon [founder of Sweet Honey In The Rock] – she really speaks about this, and she holds her time in a special way. She sings, and rocks in her seat, and plays the shekere. She jokes and says that it's us Georgia girls, that's how we move. And she's probably right. But everything with the South running through it, whether it's the person or the song, it swings a little bit."
So the rhythm is attached to a place, a geographical space?
"Yeah, in the way people talk you can hear that roundness, and the way they walk you can see it. You're moving forward, but people sway, maybe because their behinds are so big, I don't know," she laughs. "But we can't walk straight and keep it all stiff, we can't do it."

Thinking back to that song introduction from Cadogan Hall, and knowing that Wright is acutely conscious of her state of being and what information she takes in, I ask her what it's been like to exist as an artist under Trump.
"I have noticed something lately. I feel this other current of love and nurturing for people that is overwhelming. I feel them needing – it makes my eyes water now, talking about it – I feel them needing to remember some things that will really hold us together. And it is kind of forcing different things out of my mouth, between songs and during songs, that are kind of a little braver than I really am. I'm very much yielded to and partially driven by the force of people's presence, it's such a beautiful, magnetic force to engage with, and it's building a lot of maternal love out of me, which is bizarre.
"If I thought about it too much and I let my mind get in front of me it would be embarrassing," Wright continues, "but I definitely find myself responding to people really just being broken-hearted and exhausted, and trying to hold lights that are kept in a lot of wind right now. I just feel such a yearning to hold something in front of them that they can actually use, because it is a challenging moment. You walk across your living room now and, wherever you are in the world, you see thousands of cases of coronavirus in the world. There's not a lot of time for these petty and dark-spirited games, because we're actually just trying to stay alive and be stewards of human lives. That is about to become a serious priority, and I think nature and life in its rhythms is about to demand that we grow the hell up and stop being afraid of one another and coming up with all these devices to maintain hierarchies that aren't really based on what we're actually bringing. They're based on what we remember."
I wonder if she feels she can somehow counteract some of that malevolence.
"I don't really know what to do, except to keep singing and to keep feeding people – I run a cafe here in Chicago. I'm just trying my best with all the energy I have to practise creating a grounded place and making people feel nurtured, and making some kind of reconciliation easier. Just using beauty and using aesthetics and nurturing – I'm trying to trick people into figuring out how to get past their stuff, 'cos we're paying such a great price right now for the positions we've taken up."
As we try to make sense of our new, profoundly disconcerting circumstances where we retreat from one another to weather the storm of a worrying pandemic, music will continue to serve as a source of light, hope and meaning. For its ability to touch our deepest feelings and for its sense of rootedness, connection and belonging, Lizz Wright's voice remains one of the greatest gifts we have.
This article originally appeared in the May 2020 issue of Jazzwise. Never miss an issue – subscribe today!