Melissa Aldana: "It's about asking: 'who am I, as a female from South America?'"
Hugh Morris
Wednesday, March 23, 2022
A big tarot fan, Chilean saxophonist Melissa Aldana identifies with the romantically-inclined Empress card. Hugh Morris, impressed with her latest album 12 Stars, which marks her debut for the Blue Note label, thinks she might be on to something…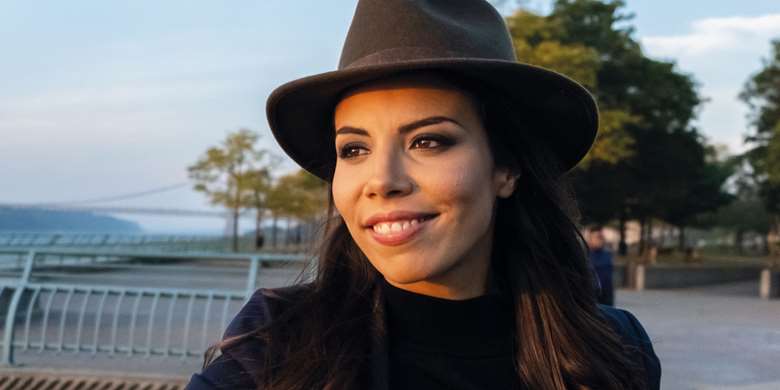 Melissa Aldana begins by offering me a tour of her flat, a Through The Keyhole moment for the Zoom generation. Apologising for the messiness of the place as she carries our video call down the hallway, she informs me that her renovation is halfway there, having moved into her Brooklyn apartment during last year's lockdown.
New York offers more than just top-tier musical sparring partners – there are practical benefits to having a clan of jazz musicians in the vicinity. After Aldana found herself in need of a place to live on her own, step forward fellow tenorist Seamus Blake. The space she bought from Blake (who'd relocated to Utrecht) is a small one-bed, to which Aldana has added a grand, slightly cumbersome new purchase – her own recording booth, which she's keen to show off. "It's amazing, because you know, you can just practice in it all the time. And you don't bother people…"
Both inside her urban 'woodshed' and out on the circuit, Aldana has been putting the time in. Since rising to prominence nine years ago (she was the first female instrumentalist to win the Thelonious Monk International Jazz Competition), it's been a whirlwind period for the 32-year-old Chilean saxophonist, speeding through recording contracts with mentor Greg Osby's label Inner Circle and then with Concord; those albums have led to regular claims that she might be the world's next great tenor player. With a tone steeped in the tradition and a curiosity capable of breaking free from it, you can hear why. In May, Aldana signed for Blue Note Records for her sixth album 12 Stars, featuring an all-star cast – Lage Lund covers both guitar and arranging duties, Kush Abadey, Sullivan Fortner, and fellow Chilean Pablo Menares complete the lineup.


"I never felt Chilean. I think that has something to do with the way I grew up, or whatever. But then, October 2019 happened"

It's three years since Aldana's last record as a leader – Visions, a return to chord-backed lineup after a few years spent exploring the chordless setup favoured by her hero, Sonny Rollins. As lineups change and sounds develop (there's a new, eerie quality to this record), what has steadfastly carried Aldana's music to date is its candour.
"When I started playing with Cécile [McLorin Salvant], I felt all the emotional content she has, but she has words. Like, how can I do that? How can I express what I feel?"
As we chat, I notice how much Aldana relates everything back to process and her individual journey. In Aldana, the strands of art and artist tangle to the point of inextricability. The task of unravelling it all begins by examining the title of 12 Stars. No, it's not a coded reference to the gold-on-blue flag of the European Union, nor does it reference the Book of Revelation's Woman of the Apocalypse, though the New Testament description of 'a woman clothed with the sun… and upon her head a crown of 12 stars' isn't far off. In fact, Aldana's regal inspiration is The Empress, one of 22 cards that form the major arcana 'trump suit' of tarot.

Tarot is a family tradition – her mum is into astrology and chakras, and her aunt is a medium. Aldana herself began tarot as a gentle lockdown hobby. "It started as therapy. I was like, 'I practice all day, let me just do something completely different'." She delved into the culture of tarot, from the work of Chilean-French filmmaker Alejandro Jodorowsky, to studying numerology, a route to remembering the multiple messages tarot offers to readers.
She identifies with the Empress card in particular, imagery which appears on McLorin Salvant's gorgeously weird album cover. "It's my essence. There's a whole mathematical thing you do with the time that you were born, and then it shows you which major arcana represents you. It's crazy, but it does describe a lot of the way that I am as a person. There's lots of versions of her – super independent, sensitive – and I can really connect with a lot of that."
At this point that I must admit that I'm extremely sceptical of tarot (Aldana is uneasy about its divinatory parts, though she doesn't definitively rule them out either). But for her, what tarot does offer are explanations of the past she can resonate with in the present. Particularly important to her are 'the tower moment', "the sad moment where everything falls apart" (the beginning of the pandemic coincided with Aldana's divorce from saxophonist Jure Pukl), and Joseph Campbell's theories of the phoenix and the hero: "the idea that, in order to evolve, you need to die. It's going to happen because it's part of everyone's journey, you know?"
You can take or leave the tarot, but more important is how Aldana used the annus horribilis to reconsider her relationship with identity and heritage, something she was reluctant to fully embrace before. On the inspiration for 2019's Visions, Aldana told Jazzwise: "I chose Frida [Kahlo] not because she's a woman or Latin American, but because she's so badass." There was a certain irony when, in conversation with NPR's A Blog Supreme, she named the 'most important moment of her jazz life in Chile' as her encounter with pianist Danilo Pérez, which ultimately kickstarted her journey out of the country.

Things have changed. "The idea of identity is something I question a lot – where I'm from, I always thought because of the time period I was born into and the location, I was never really attached to the culture, but then as I grow older and I see myself, I see the good and bad of how I am and how I connect to the places, and [it's about] being OK with that. It doesn't necessarily mean it's going to weigh down the music, but it's about asking 'who am I, as a female from South America'."
The tracks on 12 Stars are deeply personal affairs. The haunting 'Emilia' stems from a lullaby she sang in a dream for a daughter she doesn't have; discussing 'The Bluest Eye', Aldana reveals just how much the story of Toni Morrison's protagonist Pecola Breedlove (from her novel of the same name) mirrors experiences from her childhood.
"In high school, I remember asking my mum to buy me fake blue eyes," she recalls, in order to fit in with the blonde-haired, blue-eyed kids she would see on TV and to whom her dad would give private saxophone lessons.
Aldana has been reflecting on Chile, too. We're speaking a few weeks after the Chilean presidential election: leftist Gabriel Boris defeated Jose Antonio Kast of the far-right, in a culmination of a mass movement Aldana resonated with: "I never felt Chilean. I think that has something to do with the way I grew up, or whatever. But then, October 2019 happened." (A four percent price rise on the Santiago metro sparked sustained mass unrest around inequality and democracy).
"Seeing so many people protesting peacefully, people of my age fighting for their rights and to a point where they're changing the constitution democratically? We now have a president who is 35 and liberal, it's completely different. I felt that it was my duty to get up and vote for the first time in my life. Now, I just feel very proud to be Chilean."
---
This interview originally appeared in the March 2022 issue of Jazzwise magazine. Never miss an issue – subscribe today
Read the review of Aldana's Blue Note debut in our Reviews Database: 12 Stars