Nérija interview: "It's the first thing I've played on that I've not wanted to set fire to."
Thomas Rees
Wednesday, October 30, 2019
A young London jazz supergroup? Whatever you want to call them, Nérija brings together some of the most talked-about players on the UK scene. They spoke to Thomas Rees about their radiant debut album, Blume, friendship, acceptance and why they're tired of being defined by their gender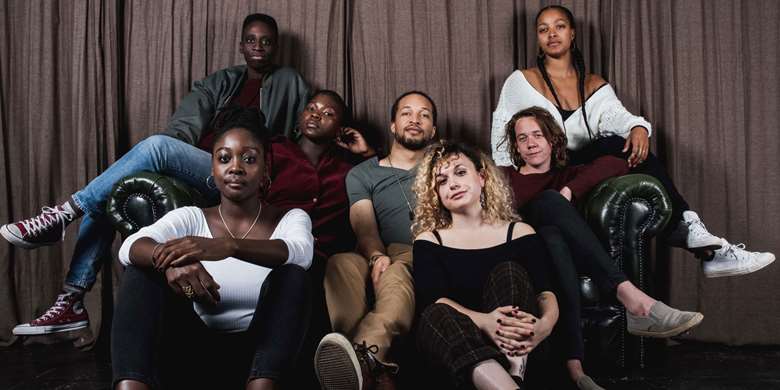 In January 2018 the seven members of Nérija met at Soup Studio on a decommissioned light ship moored in East London. They had a week to record their debut album, for Domino Records, so they'd rented a flat nearby. In the evenings they cooked together. On the last night they threw a little party.
"There's a family feel to the thing," says drummer Lizy Exell as she reminisces about the session, and guitarist Shirley Tetteh agrees. "When we're all playing together it's joyous," she says, and I can't help but smile, because when I first got hold of Blume and started listening that was the first word I wrote.
Joy suffuses this album. It's there in the melodies, richly scored for the band's four horns, in the stabs and swirls and the weaving orchestral lines of 'Riverfest', 'Partner Girlfriend Lover' and 'Unbound', in the vamps, the euphoric solos and the bustling grooves, which make Blume sound like classic Blue Note with a contemporary London twist. There's a warmth, a lushness to the music that you could see reflected in the album's title, not to mention the band's name, which comes from the Hebrew Nerijah, meaning 'lamp (or light) of God'.

There are edgier moments, of course. 'Last Straw' has a dark, funk-rock fusion slant and 'EU (Emotionally Unavailable)', written by Cassie Kinoshi, is grungy and anguished. Knowing how outspoken and political Kinoshi is you'd bet those initials have another meaning, too. And yet, politics and grunge aside, joy is the feeling you're left with, particularly when the dreamy diaphanous title-track returns at the end of the album. It's music to drift away on.
With seven different personalities and musical backgrounds feeding into Blume, you would expect it to be varied. In fact, the band are so busy with their innumerable other projects it proves impossible to pin them all down for an interview and I have to settle for a few quick chats over the phone. Garcia has been cresting the 'new wave' with her own quartet; Kinoshi has her outstanding, recently Mercury nominated, 10-piece, SEED Ensemble; Maurice-Grey leads Afro-beat octet KOKOROKO and plays in the horn section for London rappers Kano and Little Simz; trombonist Rosie Turton, who was born in South Africa and grew up listening to Dudu Pukwana, features in a Sun Ra-inspired group called Where Pathways Meet; bassist Rio Kai cites Tal Wilkenfeld and Esperanza Spalding as important influences; and drummer Lizy Exell studied with Bex Burch of Vula Viel and travelled to Ghana to learn from the percussionists of the Dagaare tribe. For a while she also ran a trad band called Old Hat.
Shirley Tetteh, who was named Jazz Newcomer Of The Year at the 2018 Parliamentary Jazz Awards, is in Maisha (among many other groups) and is now making her own inventive, leftfield pop under the name Nardeydey. Tetteh's guitar-playing is so distinctive it has a habit of defining whatever rhythm section she's a part of and it makes a refreshing change from the woozy, Robert Glasper-style keyboard loops that have become so ubiquitous in contemporary jazz. I'm not the first to hear highlife and sunshiney soukous in Tetteh's glinting lines and creative chord-work, though she isn't so sure.
"I'm not a highlife expert," she says. "It was playing in the house, but I don't know as much about it as people assume." Folk and bluegrass were equally influential and she also had a prog-rock phase. Recently she's been obsessing over the rhythmic ambiguities of an Empirical track called 'Studies In Time: Relative'. She's interested in "the cross-section of different worlds," she says, as well as music that's "complex and simple at the same time."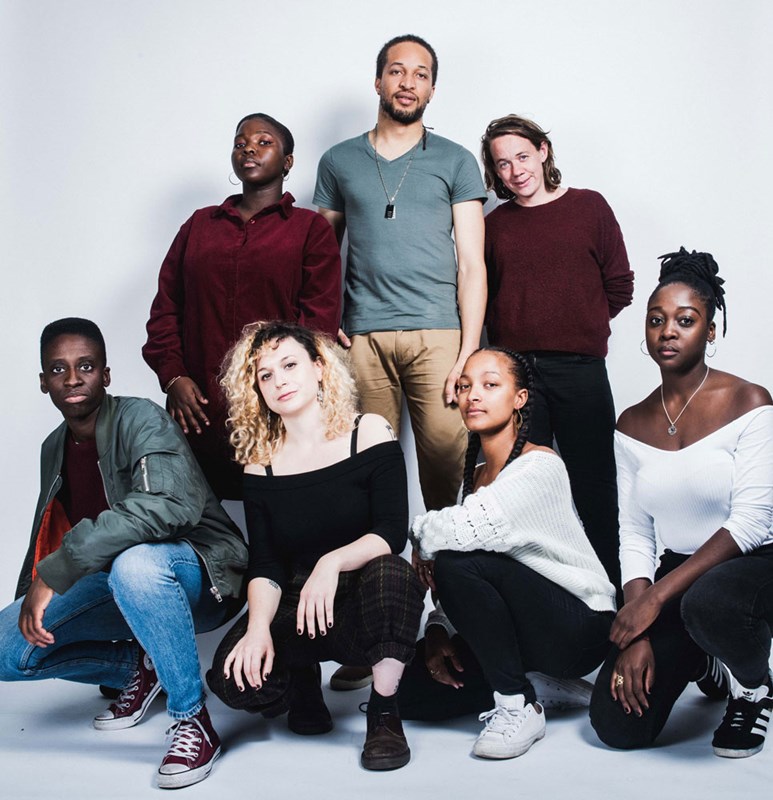 (photo: Perry Gibson)
Unlike their 2016 self-titled EP (re-released by Domino in February), which was mostly individual compositions, Nérija took a collaborative approach to writing Blume. It began life as two commissions from the promoter Serious, after which they met up for all-day jam sessions in Domino's writing room to workshop and refine ideas.
"We had it as late as we wanted, so it was peaceful," remembers Rosie Turton. "Having all that time and space to write and chill helps the music grow organically."
"More and more we're composing together," says Tetteh. "It's the best of everyone's ideas. We all whittle away the things we don't like and we're left with something we couldn't have done by ourselves."
Their approach to writing isn't the only thing that's changed since the EP. "I think we've settled into ourselves a bit more," says Exell. "I certainly feel a lot less inhibited and feel like my playing sounds much more like me. Trying to live up to expectations that I dreamt up when I was in college of what a jazz musician is and the things that I should be able to do... I just feel less bothered by that and I'd say that's another great thing about Nérija. We're all really accepting of what everybody brings. There is never a 'that's not OK' or 'we can't do that' moment. It's always like: 'Yeah. Brilliant. Thank you.'"
Incidentally, Exell has one of the best responses I've heard to the opening non-question, "Beautiful record, you must be really happy with it?". "Yeeaaah," she says, after a pause. "It's the first thing I've played on that I've not wanted to set fire to."
Tetteh has also shaken some hang-ups. A few years earlier she says she might have felt "ashamed" of songwriting for her Nardeydey project, or seen it as selling out. Now she accepts it and realises how connected the two things are. "If I stop practising my guitar I feel like my songwriting gets worse and if I stop songwriting I start feeling like I've lost an avenue," she explains. "It's being free about what you like and don't like. I think the general (for lack of a better word) energy of that can impact how I improvise. You're allowing yourself to be completely all of who you are as opposed to fit into a little box."
Tetteh and Kai didn't go to music college, but the rest of the band studied at Trinity Laban. Like so many up-and-coming London groups though, they first met through the jazz education initiative Tomorrow's Warriors, where the young musicians they were mixing with – Moses Boyd, the Cross brothers – were sometimes as influential as the mentors. Tetteh remembers in particular a pianist called Zuri Jarrett-Boswell. "I think he was ahead of all of us in terms of his concepts, she says. "At the time we were all super concerned with learning how to play bebop and he was the guy saying: 'I don't just want to do jazz'. We looked at him like he was mad. Then we all started doing it!"

The seed of the group was a Warriors initiative designed to help young women establish themselves in the music industry. The project encouraged them to jam and practise together and before long they were going out and getting gigs.
A lot of Nérija's coverage has focused on their gender, inevitably and perhaps rightly given the continuing imbalance in the jazz world. The band find it frustrating though and it's particularly strange for bassist Rio Kai, the only male in the group. Kai officially joined in the summer of 2018, replacing Inga Eichler, but he was a long-time friend and had been covering gigs and playing with the band off and on since 2013. When he was first asked to join he was a little apprehensive. He was aware that some people were approaching Nérija specifically because they were an all-female ensemble and he was concerned he might stop them getting as many gigs. "Everyone was like: 'If people don't want to book us because there's one guy in the band then we don't need those gigs,' which I thought was fair enough," he laughs. "A lot of publications still refer to us as an 'all-female septet' or a 'mostly-female ensemble,'" Kai says. "It is important to acknowledge there are a lot of prominent female musicians in jazz, but it still feels a bit strange when you're in it. For us it's more about the music than what gender people are in the band."
Exell shares his frustration. "It was originally formed as an all-female thing, but it's about playing together and being friends. It's lasted because everyone wanted to carry on rather than because they wanted to be in a 'girl band'. We are different from most other bands in our gender balance, but it's not something we want to hammer home. It's not our driving force."
In 2017 Exell started a website, podcast and gig series called Jazz Herstory supported by Help Musicians UK, exploring gender inequality in the jazz world past and present. "My take-away is that musicians themselves don't have any bias, but there is a public perception issue – ideas about what a female should be doing when she's performing."
You'd hope that Nérija's success would help to fix that. In 2016 the band were nominated for Jazz FM Breakthrough Act of the Year, in 2017 they scooped Jazz Newcomer of the Year at the Parliamentary Jazz Awards, and Blume will no doubt bring them more acclaim. 
Right now though they're just excited it's finally being released, and by Domino, a British label who started out in the 1990s championing irreverence and eccentricity and hit the big time when they signed Franz Ferdinand and then Arctic Monkeys. Their decision to release Blume is an exciting one for UK jazz and a further indicator of the genre's current cool kudos. Nérija's week on the Soup Studio lightship feels a long time ago now. Kai remembers how strange it was to feel the floor moving beneath their feet as they played.
"When we got off the boat after a long day of recording we felt like we were still on the water." In the time since that session the music has evolved, he says. They've become more comfortable with it. "You find different routes and take new risks. That's one of the most fun things for me about being in Nérija, those moments where the music starts going in a direction and everyone can feel exactly where it's going and we all go there together. That's an amazing feeling. It happens with other bands as well, but it definitely happens the most with these guys."
Before she goes, I ask Tetteh for her thoughts on Nérija's sound. She loves the push and pull of the rhythm section, but she thinks the horns are key. "There's something in the way they blend," she muses. "It captures the sense of friendship, the playfulness, the joy."
This interview originally appeared in the September 2019 issue of Jazzwise. Never miss an issue of the world's leading jazz magazine - subscribe today!