Nikki Iles interview: "I think there's so much more scope now for women to come through. It's really wonderful."
Selwyn Harris
Monday, May 4, 2020
British big band jazz's unsung heroine, pianist-composer-leader Nikki Iles has for years been working quietly and diligently to further the art of the ensemble. On the eve of a nationwide tour with her new orchestra, she spoke to Selwyn Harris about 'women in jazz', her life as a composer and about being a team player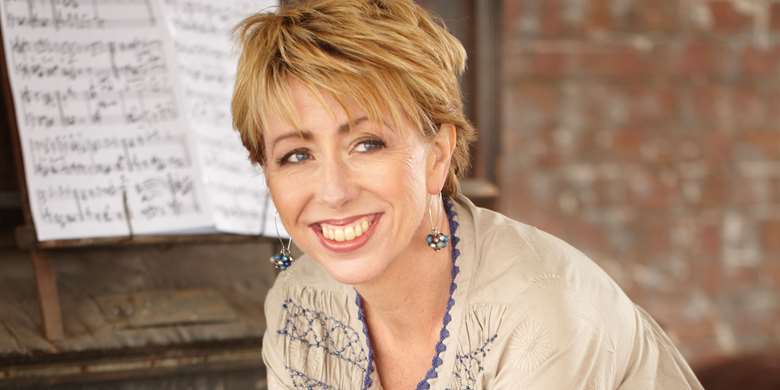 Nikki Iles has been one of British jazz's most dedicated servants over the past few decades. As well as receiving recognition as an astutely lyrical and quietly influential pianist-composer, she's also put a lot back into the cause in her role as an educator and mentor. Along the way she's built up close associations with British jazz eminences notably Stan Sulzmann, Mike Walker, Tina May, Norma Winstone, Martin Speake, Tim Garland and the late Kenny Wheeler, but has recorded only now and again as a leader in trio/duo formats and her sextet Printmakers, named after a piano trio album released in 1984 by Geri Allen, a key influence on her piano work.
She tells me she sees herself as a team player more than anything else. The Nikki Iles Jazz Orchestra, her newest project, offers her a format in which a group ethic comes into sharp focus; organising relationships between diverse musicians and instrumental sounds count for a lot. But she's no newcomer to the world of large ensemble jazz: Iles has received commissions for Tim Garland Underground Orchestra through to London Sinfonietta's Ellington celebrations and NYJO, and has featured in the big bands of Kenny Wheeler and Mike Gibbs among others. The first question might be why it's taken her so long to get this far.
"I've actually been wanting to do this particular band for years, but I've been getting commissions from other people and been busy with all sorts of groups, and I just never have the time," she says on an evening call that's been squeezed into that packed schedule of hers. "I've been gathering pieces and things like that but never got it together. It was Kim Macari-Stone at the Vortex who just said 'right here's the date, you'd better do it'. So that set the wheels in motion really. And then it took off a year afterwards. It went really well and I was excited and just trying to get the right people because the people I'd asked first, particularly the rhythm section like Mike Walker, who I've known for years and knows my music very well, couldn't make the first gig. So we did the second gig at the Vortex last November but on the tour I'm now just going for it!"
She says that the greatest impact on her large ensemble writing was forged in the very early stages of her career.
"From the start, even back to college days one of the lecturers when I was a student in 1982 at Leeds College of Music was Tony Faulkner, who was a friend of Thad Jones," she says. "He had a Rep big band. I was on alto, trumpet and piano at various points. Thad came to the college and he played with us and talked about the music. That was a huge influence on me and still is. It was particularly the small band within the big band thing which I loved. It was quite wild but also very rooted in the tradition as well which I'm not embarrassed to say I still love. It's still in there for me. Even when I was in Leeds I used to come down to London to see that band many times. That was my first introduction to writing, hearing that modern big band, particularly those players I like: Joe Henderson, Tom Harrell and piano players like Sir Roland Hanna, the kind of people you don't really hear about but they were just amazing, characterful players."
She continues: "When I was in my early twenties in the North, we had an amazing enlightened Jazz North West officer, Nick Purnell, who ran Ah Um records. He ended up putting Peter Erskine together with John Taylor and managed Kenny [Wheeler]. He formed the Creative Jazz Orchestra and that was hugely life changing. It was really diverse, we played with Kenny, Vince Mendoza just before he got really famous, Mike Gibbs, Anthony Braxton, Mark-Anthony Turnage with music arranged by Mike Gibbs with Peter Erskine on drums. I mean that was incredible. I can read 'cause I come from a classical background but this was some of the hardest music I've ever read in my life, particularly Braxton, but all so different.
"And then I remember a very significant moment was when John Taylor got stuck in Germany and Mike Gibbs was doing a big band album called By the Way. The first day John couldn't get back so me, Mike Walker and Iain Dixon, we were all the people from the North, and still young and we were asked to come and do it. So that's etched on my mind, just hearing Steve Swallow and Bob Moses on the headphones. You were in the thick of it. It was incredible. And Mike's writing, the colours and the danger of the orchestration. I wrote to him saying how much that time had really affected me and eventually it's got me going with my own thing and he was lovely. It really feels great to put a bit back in.
"Obviously I love Kenny's music and Music For Large and Small Ensembles. When I think of the people in my band it's like people from different parts of your musical life and, like Ellington I suppose, it's not getting the top session band but characters that have voices, particularly in those key seats. I learned a lot about allowing people to have enough space in the music for them to be themselves and to think about the musicians actually making the music even better, that concept of not holding on to what you've written. Mike Gibbs and Anthony Braxton were fantastic like that. It was different with Vince Mendoza, he had such a strong idea of how he wanted it, which was another lesson of course. That thing of when you're standing out in front and you want to feel that people can be let off the leash and be themselves. I love writing because I love getting the sounds I want, but at the same time I never want to cage people in."
The high quality line-up of Iles' current band includes pan-generational UK jazz ensemble players including Julian Siegel, Gareth Lockrane, Tori Freestone, Henry Lowther and Nick Smart. The repertoire consists largely of reworks of previously commissioned tracks for different line-ups, fleshing out smaller ensemble tunes and introducing recent ones written with the personnel in mind. For instance, she says, "I wanted to make sure I featured people like Gordon Campbell who's a sage in the trombone section. But I wanted to feature him on something he felt comfortable on".

The pad includes two covers: Steely Dan's 'Do It Again' and Vince Mendoza's 'Hero with a Thousand Faces'; the latter, "because it takes me back to those early days, I love the tune and it was from the tour we did and I still had the piano parts. It was originally for four French horns but we fattened it out."
The Mendoza and Dan originals are characteristic of a sizeable chunk of the set-list that belongs to a more swaggering funky post-fusion brand of big band writing, generally speaking, in contrast to much of her smaller group work with its often cooler, more reflective moods. Does it demonstrate another side to Iles' character I wonder?
"I've loved all sorts of music from women and men but obviously there's a male thing in jazz that I love," she says. "Anyone who plays with me knows I can be delicate but I can also go for it. I do love the delicate sound but it's not necessarily female. I've heard Maria Schneider talk about the beauty of it all but I do like the other side, much more grungy grooves because I've loved rock music and all sorts, so again you're a product of everything you listen to aren't you? Another thing is I look back at all the tunes I've written and none of it has really been just about music. I was inspired by Barbara Hepworth, going to see her studio and work; short stories by AS Byatt and Red Ellen, the Labour woman who marched down to parliament. It goes past thinking about chords and crotchets and hatchets. You're trying to create a feeling."
Which kind of brings us neatly to a hot topic in jazz at the moment; that is, the issue of the so-called under-representation of women in jazz. Coming up in a scene when she was one of a few female instrumentalists around, Nikki Iles is someone who has observed the changes first-hand.
"Thankfully there are so many more women doing amazing things across the world," she says. "But I think there always were. Mary Lou, Joanne Brackeen, Shirley Horn, Geri Allen. They're people that inspired me. Even Melba Liston. But they just didn't get the exposure in those days. But even when you think about composing as well, it's historically been male-dominated. It's funny but that was never in my consciousness.
"You're surrounded by men and I never noticed it, which is weird in some ways. Because it wasn't in the forefront of my mind it didn't limit me. I just ploughed on even though I was quite shy, reluctant… and I have always worked with women like Norma Winstone, Tina May and Christine Jensen. There's always been women around and strong women. But I think when the music first developed in that late night culture, there weren't so many women that were visible because they were bringing up families. Some women still managed it in that generation but I think now the melting pot, when you experiment and meet like-minded people in some of the educational institutions, I think it's much more conducive to women. Now there's a different kind of lifestyle that gives more choices and more scope for different fusions of the music not just that one kind of gladiatorial jazz. It's funny I never saw so many 'cause I came up in Wakefield, the famous Wakefield jazz club and I think what women need is an opportunity sometimes when you might not be the first call. It was a school of hard knocks with some of those people.
"But I got in with a really good scene. A creative jazz thing and we were all in it together and developed together. It was a very nurturing time. You have to pick your battles sometimes and for some people that would just put you off for life and there were a few moments. But I wouldn't change that for the world actually because it did make me more determined. But it's not for everybody, you know, playing 'Cherokee' at 100 miles per hour! I think there's so much more scope now with so many different scenes, especially in London, for women to come through. It's really wonderful."

While offering more encouragement and equal opportunities for women can only be a good thing, the statistics still show a very low proportion of female-to-male instrumentalists on the jazz scene as well as in education. Isn't 50-50 gender parity, which many festivals and venues are now signed up to by 2022, not only unrealistic but not taking into account the evidence of gender differences in terms of career choices?
It's a topic on which Iles has mixed feelings.
"It's a great pledge to support more diverse talent of course and push for more gender parity," she says. "This broadness will enrich their programmes I suppose, and really help the development and future of the festivals, but at the end of the day the musician or composer has to be selected - and I really feel strongly about this – on merit."
The current touring schedule for the Jazz Orchestra gives Iles a rare opportunity to road-test the tunes before going in the studio to record a CD planned for autumn release.
"I'm very open and flexible on changing things as we go on the road," she says. "I've always done it in the wrong order so this time I'm going to get the album really played in. It's financial suicide really. But we got our first half of the tour covered, from an Arts Council grant. So we have six gigs paid for, just getting the money for the other half because I really want to do it properly this time."
At the time of writing, she's in two minds as to whether she'll be directing things from the front or behind the piano.
"To be honest I probably write myself out of the big band," she says, laughing. "The writing's enough, that's all me. I think Gwilym [Simcock] is doing one of the two gigs at Ronnie's but I think I'm going to play otherwise. I've never seen an English woman in my life do all the writing and everything for a contemporary big band and stand upfront and I'm just thinking: I should do it actually."
This article originally appeared in the April 2020 issue of Jazzwise. Never miss an issue – subscribe today!