"My dad was a professional musician, coming from the swing era but being around during the transition from swing to bebop. So the first music I remember hearing as a child was Art Blakey and the Jazz Messengers, Max Roach and Clifford Brown, Coltrane's My Favorite Things. I fell in love with that music, and it informed my early drumming interests – my first job as a drummer was with my father's group, and that was playing jazz. But what were the kids my age listening to? My cousins and my friends were into Motown, Sly and the Family Stone, Earth Wind & Fire. One cousin who was a bass player was turning me on to Jimi Hendrix – and The Mahavishnu Orchestra. When I heard Inner Mounting Flame, my first response was, 'What the fuck is that? What just happened to my brain?' I was 11 or 12 years old.
It was the overall sound of the band, which was so raw and passionate; and compositionally it was coming from a very different place to anything I'd heard before. We're talking about modes, and that Eastern feel, and odd time signatures played with a lot of energy. And then there was Billy Cobham – he had so much power, as well as playing the strange time signatures. I had to pick my jaw up off the floor, and I would say it took me six months to digest what I was hearing. I was confused, and intrigued, rather than just 'liking' it in a simple way. I couldn't comprehend it at 12 years old, but I was willing to give it some study – something said, 'Don't kick this out of your life'. It was not understanding it that kept me listening, really. And, after about six months, it became the most beautiful thing I'd ever heard!
So that was a recording that changed my life and my thinking – and my drumming too – because nobody had played drums up to that point in that way. There was the facility, but there was the power as well. It was the improvisational language that comes from jazz, but framed in a new way; plus the power of rock. It was very much music of that particular moment, when musical genres weren't differentiated like they are today. Different things rubbed shoulders with each other on the radio and in people's record collections.
"
Who knew I would end up in the presence of a lot of the musicians I heard as a child?Twenty-two years after first hearing that music, I was playing with Wayne Shorter in Weather Report
Omar Hakim
I tried to play what Billy Cobham played when I was jamming with friends – but I only had five drums and two cymbals to do all that! One of the ways a musician develops style is to try to emulate style. We didn't have the benefit of YouTube, so we just tried to approximate what we thought we were hearing. You did it as best as you could; and the day you actually got to see them play, you realised you were doing it all wrong! But the interesting thing about the process is that you discover your way of doing things. By studying someone else's style, you find your own. [By] listening to Art Blakey and Tony Williams and Greg Errico and Clyde Stubblefield and Bernard Purdie – all of these guys are inside of me. I think the listening and imitating helped me make a personal style. I did drum lessons and stuff too, and that was indispensable; but the close study was what made me me. 
Afterwards, Birds Of Fire came out. I saw that band play: I went with all my friends to Queens College to hear them. It was the loudest thing I'd ever experienced! It was ferocious, a remarkable show. Back then – again, pre-YouTube! – we had no preconceptions about what to expect. Billy Cobham's clear drumset sparkling like diamonds on the stage, and the wall of John McLaughlin's Marshall amps - I'd never seen this sort of thing before. I thought, 'Holy shit – what is getting ready to happen here?' Then they came out and did two minutes of meditation in silence, with the crowd going nuts; and after that, they play one giant chord and launched into the music. Remarkable!
Who knew I would end up in the presence of a lot of the musicians I heard as a child? Day one was Art Blakey, who was the main composer….? Twenty-two years after first hearing that music, I was playing with Wayne Shorter in Weather Report. I remember, when I got Black Market as a teenager, I called my buddy Marcus Miller and said, 'I'm coming to your house, man – with a record you gotta hear!'.  
We both absolutely loved it, and we listened to Miles that day too. And, of course, he ended up with Miles and I ended up with Weather Report!"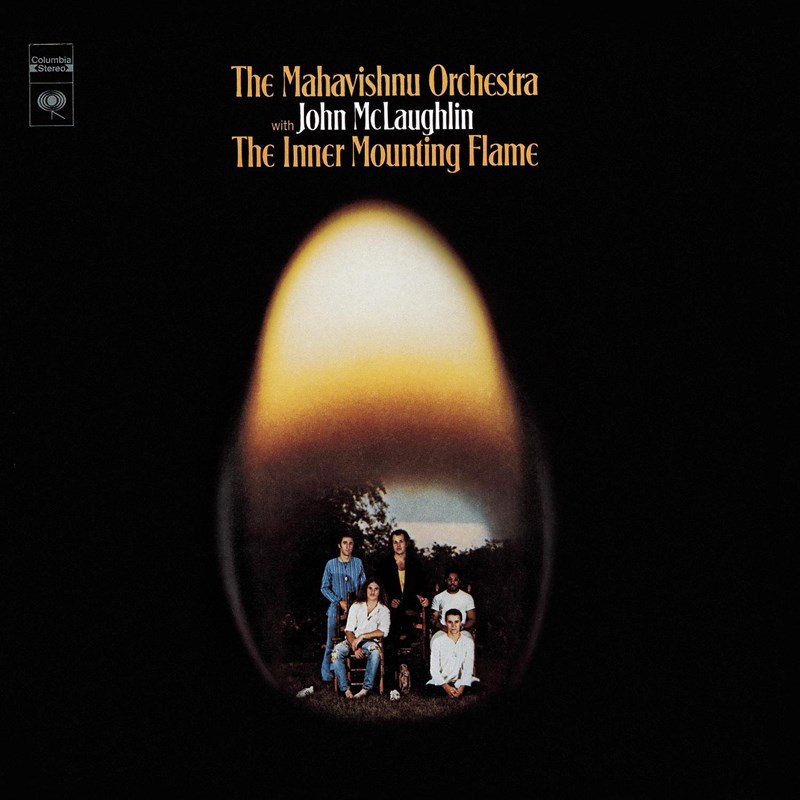 The Mahavishnu Orchestra
The Inner Mounting Flame
Columbia (1971)
PERSONNEL: John McLaughlin (g), Jerry Goodman (vn), Jan Hammer (ky), Rick Laird (b) and Billy Cobham (d, perc).
TRACKS: 'Meeting Of The Spirits', 'Dawn', 'The Noonward Race', 'A Lotus On Irish Streams', 'Vital Transformation', 'The Dance Of Maya', 'You Know You Know' and 'Awakening'.

This article originally appeared in the March 2020 issue of Jazzwise.