Rouhangeze Baichoo interview: "Your values and work will speak for itself"
Wednesday, April 27, 2022
The Jazz FM presenter and jazz vocalist is exploring a huge range of music both on stage and on the air – she spoke to Mike Flynn about her multifaceted career to date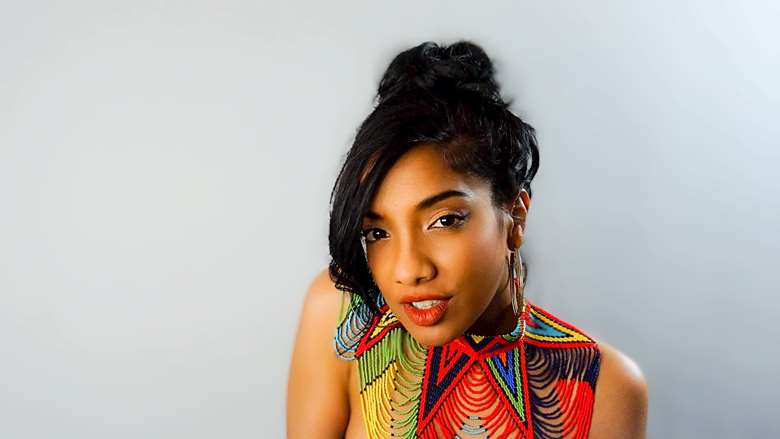 With a new show on Jazz FM, a debut solo album ready for release and an all-star jazz fusion gig coming up at Ronnie Scott's on 31 May Rouhangeze Baichoo is busier than ever – Jazzwise caught up with her to find out more about all these projects...
How did you first get into jazz?

My father's cousin who lived in France sent him the 1990 Jan Garbarek's album I Took Up The Runes. I was eight years old and I connected with it instantly. My father exposed me early on to a range of music - classical, world, rock, pop, reggae. Years later, as an early teen, I discovered Chick Corea, Joe Zawinul, Herbie Hancock, Pat Metheny, Ella Fitzgerald, Duke Ellington. My eager exploration continues today.
Was your upbringing in Mauritius a musical one?

My music-loving family would often sing and play at gatherings and parties - mostly outdoors and at the beach. None were professional musicians, but I have fond memories of my father and mother singing, uncles playing the guitar. An uncle used to accompany me in my shows. At the age of 5, I was given the great honour of serving as the Mauritius Baha'i community's ambassador for UNICEF and other organisations. Performances for various charities supported campaigns for the protection and welfare of children's and women's rights. At 11, I won the François Mitterrand conservatoire's national singing competition. My parents and tutors guided me at national events and at the State House throughout my teens. At 15, I joined an established female music/singing group. "Rhythm and Voices" acquainted me with the most established musicians on Mauritius' jazz scene. I felt like, for the first time, I had found my inner circle. Now I could flourish as a singer – expand musical horizons in the genres of Jazz and improvised music. I was at least 20 years younger than my new friends and mentors whose musical lives began past my bedtime. Undeterred, I attended many remarkable jam sessions and gatherings around the island. These secret nocturnal musical escapades opened the way – here I became part of an elite group of musicians. They offered me a solid space to observe the masters at work, perform at Jam sessions and later landed my first contracts to perform at various venues around the island.

Did you travel much before coming to the UK?
Before the UK, I had only ventured to a couple of islands in the Indian Ocean - Rodrigues, where I was born, and La Réunion.
How long have you been in London and what projects are you working on at the moment?

London has been my home for 11 years. My album Evasio is ready for release. On it, you'll hear the Sega music and Mauritian Creole pushed beyond its boundaries. You experience the vivid colours of Africa and India, Jazz and electronica. The album features bassist and world-renowned Mauritian songwriter Linley Marthe, percussionist-vocalist, and a pioneer of Sega Lelou Menwar, guitarist-composer Antonio Forcione, percussionists Bernhard Schimpelsberger and Kersley Sham, bassists Gino Chantoiseau and Vezio Bacci, pianists-composers Tomasz Bura and Meddy Gerville, tablatist Aref Durvesh, and award-winning musician-producer Eric Appapoulay. I'll have the first vinyls pressed with 6 out of 14 tracks ready in 3 months to give away as gifts. They will be released digitally once they have the right label – the right home.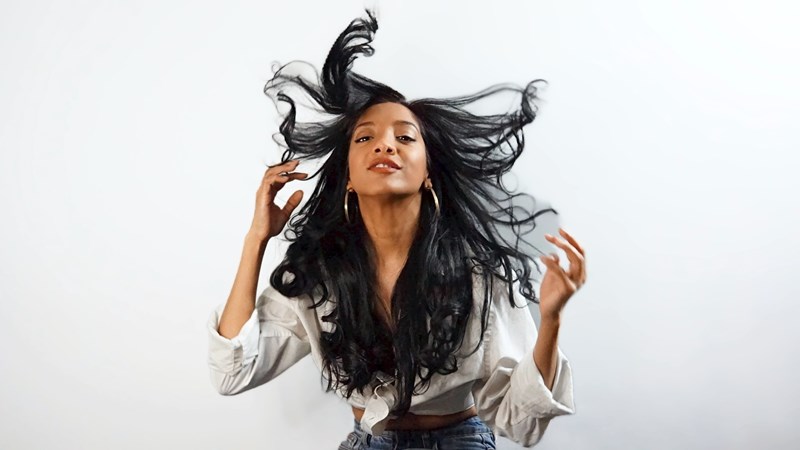 I recently joined The Third Orchestra – an ensemble drawn from a mix of music creators from all over the world, transcending generations, gender and cultures. We hope to share our own story and rich global musical heritage. I hope to bring influences from my roots, my homeland Mauritius, Africa and India. The orchestra is led and directed by the British innovator, distinguished conductor, and friend Peter Wiegold. We are performing at Grand Junction in London on 5 May.
You've got an amazing gig coming up at Ronnie Scott's with Tomasz Bura and Guthrie Govan – how did you meet Guthrie and what music are you going to be playing that night?
You can see us there on 31 May. Tomasz Bura will be on piano and keyboards, Mark Mondesir on drums, Laurence Cottle on bass. Guthrie Govan – our guest that evening – was introduced at one of our gigs in 2019 (Spice Of Life in Soho) and later in 2021 at another gig. Tomasz and I will be playing compositions we co-wrote.
You've been a presenter on Jazz FM since last year – tell us about your show Jazz Odyssey and what sort of music and musicians you are focusing on?
Jazz Odyssey is an exploration of the cross-pollination of jazz and beyond. I strive to promote "unity in diversity" in my shows. Beautiful things happen when artists from different backgrounds, countries, ethnicities join forces to blend and bend cultures and traditions – all with the hope of creating music that takes the listener around the globe and to unexpected places. I think many would agree – music that touches the heart and soul, that takes us on a journey, songs that tell a story and express freedom are much needed. The production's care and knowhow invested are also critical. I value refinement in composition, melody, instrumentation and improvisation. I listen to music with my eyes closed though I love beautifully designed artworks. I enjoy reading liner notes and the stories associated to the music or project. I chose pieces regardless of gender, demographics, age, race or time of release. What's going on in the world also fuels many of my themed shows.
As a woman in jazz how do you feel the scene is addressing getting more women musicians on the bandstand and better representing them at clubs and festivals?
There are more women on the bandstand than ever. Quality should trump quantity every time though. My concern is whether those making the decisions are really qualified. Promoting a gender or race at the expense of exceptional craftsmanship is not the best strategy. We will see more women when more of them create music and perform at a high level.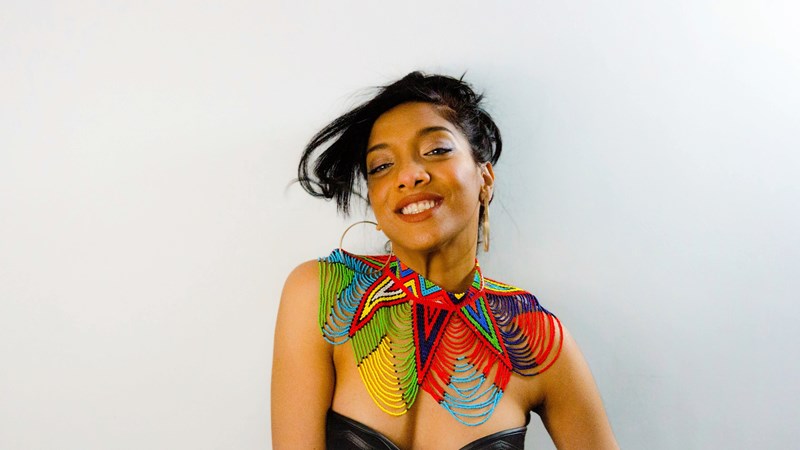 The opportunities that women have here in London, in Europe is incredible. Ultimately, your values and work will speak for itself. There are plenty of great females in jazz to look up to. Hard work helps them achieve mastery at their craft which in turn allows them to claim their place in the spotlight. When you truly love what you do, "hard work" needn't be stressed. I've had an army of incredible men behind me throughout my career – especially with my album. Musicians and producers – all men. Their support has been really amazing. They've believed in my music. They've collaborated wholeheartedly and treated me as their equal.
Will you be releasing some new music soon?
Yes, 'Planet 9' will be coming out 6 May. Pianist composer Tomasz Bura co-wrote/co-produced it. Laurence Cottle plays bass and Mark Mondesir drums.
In June, I'm releasing a first single – a Mauritian traditional folk piece sung in Creole, rearranged, and performed by myself and bassist Linley Marthe (who interestingly plays Rhodes on this). It's the first song we recorded together.
How does living in the UK suit you and what are the best parts about the music scene and creative industries here?
I love London and I love England. The diversity of people blows my mind. I'm very grateful for all the many opportunities. Being in the UK, you can study whatever you want, expand your career at any moment of your life, and travel to other European countries quickly and easily. I come from a country lacking a thriving music industry – where the creator's and songwriter's rights are not protected, a place that denies artists job status, control over remuneration, legal representation, unions, etc. The UK has afforded me unimagined blessings.
Although I can rave on and on about many aspects of life in the UK, certain realities do not escape me. Stoicism, reserve, un-emotionalism and the fast pace of modern life can affect our everyday lives. Eager to please – not impinge really, our conversations can be filled with trivialities, and we shy away from the most momentous subjects. I am not alone when I say this: days pass and although I interact with a range of dynamic people, sometimes I can feel quite lonely.
I am fortunate in that I have a platform where I can share and inspire others to discuss the importance of oneness, equality, justice, unity, and peace and yet the conversations themselves are not easily had. Political issues aside, I have been giving an idea a lot of thought lately. What power can foster the stirrings of conscience and real connection between human hearts? What compels the stranger to become a friend? My name Rouhangeze means "the spirit which inspires". My parents, who are Baha'is, gave me this name. But is it enough to just inspire? Is it enough to be a well-wisher of mankind, have a praiseworthy character, show forth love and kindness to all people, care for the poor, and work for universal peace? I have come to realize these ALONE are not enough. My good deeds – and that of others – will become perfect and complete only after acquiring the knowledge of God, manifesting the love of God, and attaining spiritual attractions and goodly motives. It is these universal powers that foster the greatest love and fellowship. It is these powers proclaimed in the Baha'i teachings that compel me. They help me remain hopeful in the face of adversity, promote the best interests of humanity, and strive in creative ways to open hearts.
---
Find out more at www.rouhangeze.com
Rouhangeze Baichoo at Ronnie Scott's: www.ronniescotts.co.uk