Soweto Kinch interview: "I see this real disconnect between the establishment bubble and what's happening in society"
Monday, January 30, 2017
Saxophonist Soweto Kinch will appear as part of the Jazzwise 20th Anniversary Special Fesitval at Ronnie Scott's on 15 March.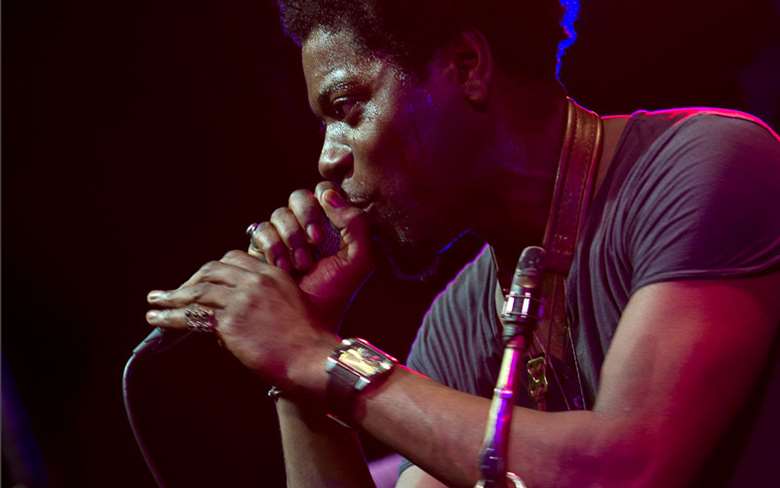 ronniescotts.co.uk/performances/view/3805-soweto-kinch-andquotnonagramandquot-quartet-jazzwise-20th-anniversary-special" target="_blank">Jazzwise 20th Anniversary Special Fesitval at Ronnie Scott's on 15 March. In a recent Jazzwise interview, Kevin Le Gendre got to the root of Kinch's progress since the release of his critically-acclaimed 2003 debut Conversations With The Unseen...
Leon, the cafe franchise whose red-and-gold lettering appears aggressively bright in London's sharply competitive fast food market, is a recent addition to the new mezzanine area at Euston train station. Yet it already boasts a roaring trade. The small shop unit and terrace are full of laptopped passengers, their computer screens flipped up like digital shields against any careless stares from fellow pilgrims about to exit the capital. Perhaps they need a moment of privacy to hide the shock at what they have actually paid for – the right to sit, eat and email.
Sporting a beige woollen cap and flame-red jumper bearing the logo 'Smooth Jazz Sucks', Soweto Kinch is not about to mince his words when asked to chew on his consumer experience. "It's £1.61," he says holding a small drink in front of me. "For a bottle of pop! I noticed on the menu that they had a 'fish-finger wrap' for… a fiver!!! I mean what are the profit margins there? Huge, presumably. But I think it speaks to a wider thing about a corporate elite, or people 'gaming' the consumer, and seeing how far they can push before these people realise they are being ripped off. That's all over the place; it's in our politics, our high streets… what's the line? It's 'let me just push slightly beyond that.'"
The British saxophonist and MC, some 16 years into a career that is impressive in its negotiation of a range of artforms, from music to theatre and media (as presenter of Radio 3's Jazz Now), is customarily outspoken, and the point about turnover by means fair and not so fair, is well made. One could say that it was ever thus. But in an age of social status granted to the ascending figures of a smart phone – does anybody want 5G or even 6G since the advent of 7G? – and property prices rising like the ratings of a hit TV show, Kinch is consciously engaging head and heart with all the digits that dot our daily lives.
"This has emotional resonance with us," says the 38-year-old as we settle at a table, his schedule taken with meetings before he boards the train to return to his hometown of Birmingham later in the day. "A fiver! That triggers a memory of what you could get with a fiver when you were 12 versus what you can get now… so yeah, numbers definitely have an emotional and creative quality that isn't often publicised in our education system and in society more widely."
Nonagram, Kinch's new album, focuses explicitly on the application of numerical systems to the world of sound, from the use of uncommon metres to frequencies and pitches that are based on equations inspired by geometric shapes. Featuring a transatlantic band – stellar American drummer Gregory Hutchinson, a key sideman for Joshua Redman among others, and two young Brits, pianist Ruben James and bassist Nick Jurd – the album is Kinch's fifth to date, and marks an interesting progression since his 2003 debut Conversations With The Unseen. While that CD was the opening salvo of the saxophonist who could rap, or the rapper who could play saxophone, depending on the listener's tribal allegiance, it also signalled the arrival of a strong personality. Like several of his British peers, London-born and Birmingham-based Kinch benefitted from the springboard of Tomorrow's Warriors educational programmes, and went on to establish himself as a recording artist who was as interested in concepts as compositions, as one might expect from an Oxford graduate and largely self-taught player.
The life-in-a-day oratorio of 2006's B:19 Tales From The Tower Block was noteworthy in this respect, and Kinch, who would make the tenor rather than alto his instrument of choice by the time he cut 2011's The New Emancipation, has always been vocal on socio-political and personal issues. Nonagram also has rhymes, but the specific numerical basis of the work is prominent, the research for which drew Kinch deep into the music of some of the key pathfinders of the 1980s – Steve Coleman and Greg Osby – and also that of the former's erstwhile sidemen, Andy Milne and Robert Mitchell. Kinch took an interest in the creative possibilities of music that was not based on 4/4, asking questions on 'how?' as well as 'why?' musicians count time as they do.
"You find things sometimes in completely disconnected cultures," says Kinch scratching his beard. "For example 6/8 is tremendously important to African culture, Indian culture, West Indian culture, but yeah, you hear 6/8 all over the place. So there are some metres, like 4/4, that do appear regularly. Less common are nine and five, but they are still there. You'll find them in Armenia, and there aren't any watertight answers as to why that is. I just find it very interesting they exist."
As Kinch started to investigate time signatures, from five to seven to nine, that gave his compositions what he felt was a new sensory stimulus, he got to grips with several puzzles on the relationship between a given shape and corresponding sounds. In real terms that meant composing according to strict maths, such as on 'Triangle', where the entire harmony of the piece is based on two pitches that match calculations on the internal and external angles of a pyramid. "Playing those notes together you get what the shape sounds like," says Kinch breezily.
Translating the pictorial into the aural is no new undertaking in jazz, and the use of length, height and breadth in the visual arts and the addition and subtraction of elements in a tableau is a key part of the praxis of the painters and sculptors who have inspired many musicians. While Kinch feels part of that tradition, he also sees Nonagram in the wider context of the scriptures that underpinned his 2013 release The Legend Of Mike Smith, which referenced one of the Bible's eventful cautionary tales. That story was also framed by a specific number.
"Yeah, the seven deadly sins are maybe now balanced by the nine fruits of the spirit (the nine in a nonagram)," says Kinch, leaning forward and pausing for thought only briefly. He picks up his flow soon enough.
"The number nine is sacred in all sorts of cultures. There's all the idiograms that the ancient Egyptians produced, their harmony of the spheres, their hierarchies that often involve nine, and there is something about whether nine was discovered or invented, you know like the Alpha Numeric system; are we just discovering principles that are there in the first place? Nine is a fascinating number, really, I mean it's based largely on the digital root system, with nine being the apex of that.
"Nine as a number itself is both invisible and ubiquitous, which is a powerful property. You can add anything to the number nine using the digital root system… you always get the number that you started with. So add six to nine you get 15 – one and five makes six, so it's almost this number that's in everything, and yet simultaneously invisible.
"I also wondered if there was any empirical connection between the way that savants associate the number seven with the colour yellow, or being in a bad mood. Nine is an edgy character, some see it like that, but…. numbers generally, it's so individual, so personal, not everyone sees and hears a four the same way. That tells a story.
"I think that we all have our own ideas about odd and even, strange and normal, or the deep and the banal. The way I wanted that to happen on this album was an open door policy. You don't have to know, you just feel moved and be, 'oh… that feels 'off' slightly?' Why is that off? Or why is that [seemingly] on? Does that feel balanced?"
Identifying the existence of bars of five, seven or nine beats on Nonagram may not be an entirely fruitless exercise, especially for those interested in jazz history where the use of 3/4 and 5/4 by artists such as Max Roach and Dave Brubeck, respectively, was deemed worthy of part of the marketing of their music back in the 1950s. But these metres are no longer talking points of any great import in a post-M-Base world.
For Kinch varied takes on time and tempo should affect, not distract.
Classical music uses terms such as adagio, moderato and presto, and pop music slow, medium and fast, but the common language between the two is numerical, something that can bind Italian and non-Italian speakers alike. Most understand 66, 108 or 168 beats per minute.
Perhaps it is so obvious that we rarely articulate it, but numbers are all over and within the human body, from limbs, to teeth to digits, to the rates at which substances circulate. Blood pressure and heart rate are measured in figures. We have a pulse. So does musical composition.
Exactly how the human mind and body processes a series of numbers, whether the patterns are considered inside or outside of convention, is a debate that has exercised able thinkers and doers for many years. If the conception and execution of odd time signatures is interesting then so is our spontaneous perception of and essential reaction to them. To tell people that they can dance in 11/4 might arouse a certain incredulity, but that won't stop them doing so if moved by the music. As Dhaffer Youssef pointed out in Jazzwise earlier this year, the Viennese waltz might have actually been better in that metre.
As is the case with many in the world of jazz, Kinch reads as well as listens a great deal. There was a substantial amount of historical research that prefigured the composing process of Nonagram, and while the saxophonist is happy to broach the subject of music and mathematics he is keen to point out that the inquiry is part of the much bigger question of how an individual experiences sound both consciously and subconsciously. Of considerable help to Kinch in this regard was This Is Your Brain On Music, a critically acclaimed tome by Dr. Daniel J. Levitin, a fairly rare beast insofar as he is a successful rock musician and producer turned advanced neuroscientist and researcher.
"One of the big things that I got from that book is that music isn't just processed in the outer cortex where language is," says Kinch, his face brightening with a new flash of intensity. "In the primitive brain there is an area that processes sound, so syncopation is perhaps entertaining to us as human beings in the same way that a snake has to negotiate different terrain, well, we negotiate a sonic terrain, we're imagining, 'oh, there's a rock that's just thrown off this regular 4/4 beat that we were walking in up to that point'. There are things that transcend culture and the things that we're told make our society what it is, like laughter, it's understood all around the world, irrespective of any language."
Universal as the debate on the use of time and numbers in music is, Kinch nonetheless points out that there is a political ramification in Nonagram that may not be entirely obvious to the listener. At a time when the question of immigration is high on the electoral agenda, to the extent that it was paramount in the EU referendum, there is much to be said not just about the numbers that designate a wage, but also the more existential question of the top 10 of social legitimacy.
"I can't help drawing analogies with numbers and the way our society is set up," says Kinch, his voice rising slowly, but markedly. He edges closer without so much as missing a beat. "I think about the number nine and what that metaphor of it being ubiquitous and invisible says about the history of poor people, the history of Africans all around the world. We've often been the engine drivers of economies, but very seldom credited as such. We're ubiquitous; we're in everything, moving economies and culture, so what does it mean to be British or French [and black], so where's the power, where's the visibility?
"It's such a wide-ranging subject, but I think it's not just that nines and sevens sound normal, that actually it does get people thinking with a wider consciousness. I'm pretty sure that was Steve Coleman's intention and when you look at the very design of a pyramid it's about connecting the microcosm and the macrocosm. What is the thing that gets our consciousness so we see the world for what it really is? Sound can do that without having to engage the cerebral part of us."
Words still count though. If Kinch can compose a saxophone-led piece in 5/4 as a reference to the fish-finger wrap being sold just a few feet from where we are sitting then he might also write a lyric on the same subject. Even though Nonagram is largely instrumental it has vocals, as befits Kinch's dual identity as a MC and horn player. The Legend Of Mike Smith might have had a lot more rapped verses than this latest recording, but the link between the two is contemporary politics.
"It's a lot less lyrical," says Kinch. "But I don't think I can be less political, especially this year. Most of the pieces had their genesis from April to June; Game Of Thrones finished and the new Game Of Thrones became… Brexit, the real world, the future… the lack of future!
"I'm inspired, moved and incensed by how much nonsense, how much misinformation there is still. I'm reading a great book called Parliament Limited, which basically explains why there is this consensus on both sides of the house that Jeremy Corbyn is evil somehow, and the system is fine. Increasingly I see this real disconnect between the establishment bubble and what's happening in society. They keep saying somebody's unelectable, or we'll never leave Europe, or Donald Trump is just a TV celebrity, and actually there's this whole other planet that is disaffected with the solutions that are given to us." 
This interview originally appeared in the December 2017 / January 2017 issue of Jazzwise. To find out more about subscribing to Jazzwise, visit: www.jazzwisemagazine.com/subscribe