"It was the sound that struck me: the phenomenal technique and yes, those Bird influences. But his presentation on the instrument was so different, it was a big, robust sound."
That's Tony Kofi on being 17 and hearing Julian 'Cannonball' Adderley for the first time. Adderley is the inspiration for Kofi's new vinyl and digital release, Another Kind of Soul. But Kofi's ebullient description of his fellow alto man could equally describe himself. Few artists of his generation blow with such presence, power and passion, underwritten by deep technique.
But don't take our word for it: this is the man who won the gig 'live' on stage with The World Saxophone Quartet, who was alto man for Andrew Hill and Sam Rivers. Jamaaladeen Tacuma even drafted Kofi to play tenor (well, they had some guy called Ornette on alto) even though he didn't play, let alone own one: "Get one!" was Tacuma's simple solution.
So, what do other jazz stars hear in Kofi? "I don't know! I asked Jamaaladeen: 'Why me?'. He said, 'Your sound: the way you play, it's not like you've just come out of finishing school'."
Alex Webb, pianist, composer and arranger for much of Another Kind of Soul, endorses Tacuma's opinion. "Seeing Tony play is like a massive dose of vitamin pills: it's a life affirming explosion which is what jazz is all about."
If Cannonball had brother Nat to organise the band, do the business, write some damn fine songs, including the classic 'Work Song' which gets a stirring run out on Another Kind of Soul, then Kofi has another kind of brother in Webb.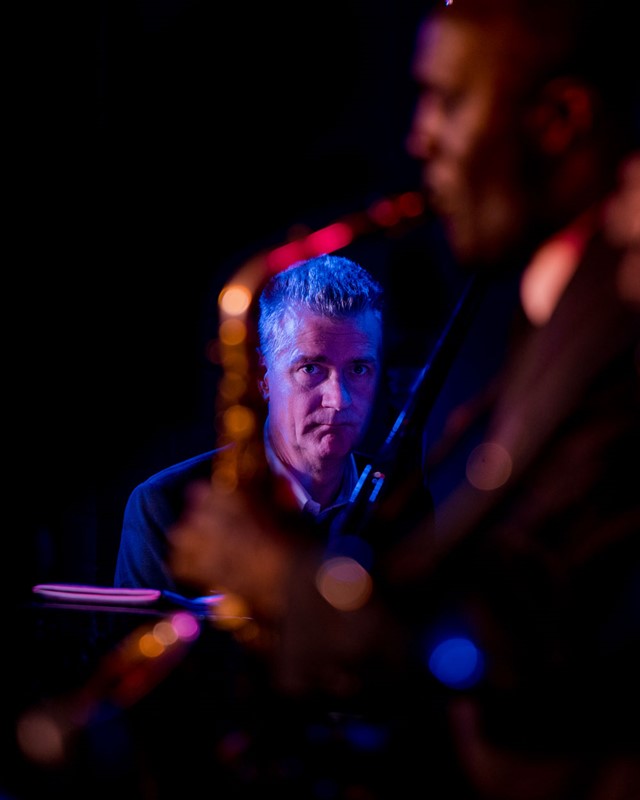 Alex Webb and Tony Kofi (photo: Monika Jakubowska)
Their stories are different yet complementary. Kofi is the son of Ghanaian parents who settled in Nottingham. He says of his schooldays: "This teacher, I don't think he liked me – I was a little too hyper – wouldn't let me choose music… But there was a seed in there that kept growing and growing even though from 11 to 15 I never touched an instrument.
"To cut an even longer story short, my parents couldn't afford to give me music lessons, we were a large family, so I brought myself a sax and taught myself from mum's record collection: Duke Ellington, Louis Armstrong, Doris Day. I learned to read much later at Berklee. But that was all theory, nothing on the saxophone on which I'm totally self-taught"
"Unlike Tony, I wasn't so single minded," recalls Webb, whose own family is rich with musicians and performers: silver screen star Sylvia Syms is his aunt, while big brother was the much missed Nick Webb of Acoustic Alchemy. Webb went straight from Manchester University to work at that city's Band on the Wall club.
"I was always around music, be it Peter Ind's Bass Clef or [promoter] Serious… and then when we had children I had to, or thought I had to, look for more regular income. I was working in music publishing, but also writing all these songs and I thought I'd better get out and play them…"

In time, the likes of Liane Carrol, China Moses and David McAlmont recorded his songs, best illustrated by Webb's own Call Me Lucky, featuring 11 vocalists including Vimalla Rowe, Jo Harrop and Ayanna Witter-Johnson, cello and all.
It was Webb's love of song, especially of the 1940s and 50s, that brought he and Kofi together. They're currently together on the McAlmont & Webb release The Last Bohemians, but they go back to Webb's show Strayhorn the Songwriter in 2010. Webb has written other shows inspired by jazz history, notably Café Society Swing, that had a run in New York, and Charlie Parker on Dial which featured at the LJF and Ronnie's.
And there were elements of musical theatre in Another Kind of Soul's beginnings. It featured narration, reflecting how Cannonball, great communicator as he was, used to introduce his material. There were also soulful vox from Deelee Dubé, the first Brit to win the Sarah Vaughan International Jazz Vocal Competition, covering Adderley's collaboration with Nancy Wilson. But for this 'live' vinyl version, which only allows 18 minutes of music per side, the band had to shape the material accordingly. "We've gone very much down the instrumental path, so no vocals or narration," explains Webb, "and it's reflected in our writing," notes Kofi.
So the opening two tracks are fiercely precise: Webb's 'A Portrait of Cannonball' is what it says on the tin. In a tightly written first minute Webb evokes the essence of a Cannonball/Nat bop line that propels Kofi into a brief solo brimming with a blues edge. But barely two minutes later we're into Kofi's 'Operation Breadbasket'. Again, it's breathlessly brief, but generous, accessible and optimistic, as befits its title.
Kofi identifies 'Operation Breadbasket' with Adderley's support for musicians who had fallen on hard times. It's a theme close to Kofi's heart as he was off from this interview to visit an elderly sax player.
"When I first came to London, I was broke and knew no one and he used to take me to his house and feed me. Now I pop round, maybe do his shopping, take him some music." It's modestly, quietly, said, separate from the main interview. But it says a lot about Kofi the man.
Operation Breadbasket was also the inter-faith economic programme founded during the Civil Rights Movement, developed by Martin Luther King and in turn Jesse Jackson. Breadbasket had various forms, from boycotting shops that didn't hire black staff through to fundraising at talent shows and cultural events. Cannonball's 1969 church-recorded live album Country Preacher, featuring an intro from Jesse Jackson, is subtitled Live at Operation Breadbasket.
As Webb notes, Cannonball wasn't "an ivory tower musician… Cannonball was a politically minded person, a social activist, involved in theatre, he was concerned to keep jazz alive in the African American community where the well spring is. It was unfortunate he died so young. He got his hands dirty trying to get things done."
Given the musical, political and spiritual weight Kofi and Webb recognise in Cannonball Adderley, it's no surprise they reject the notion that Another Kind of Soul is a 'nostalgia' trip or an attractive hook to hang an Arts Council grant from. This project did receive public funding, "which really helped with rehearsal time", reflects Webb. His background in jazz promotion doubtless helped negotiate the labyrinth of the Arts Council. "But as Denys Baptiste," the tenor man who until recently worked at the Council, "said: more jazz people need to apply: that's the only way you get funding'."

Kofi quickly flags up that "We are our own managers, we organise all the gigs and travel ourselves, and Alex is such a great organiser." By getting the business side sorted and not being at the whim of money-centric management, the band can concentrate on the music.
As for the 'nostalgia' kickback, both these artists have been associated with the music of legends, Kofi notably through his Monk-related projects. But the attitude has always been about making the music relevant to today's audiences. After all, this is a man so bound to the jazz heritage he named his first son Mingus: so I'll leave you to challenge his commitment to the ever-newness of great music, whenever it was created.
Webb recognises that: "I've been involved with a few explicitly 'tribute'-type shows. I think you're right, we have to be careful about 'looking back'. But when we are in the music, and the audience are listening, it's not 'nostalgic' at all. If we transmit only 10 per cent of Cannonball's intensity, it's still pretty intense. "It's precisely because the gospel, blues and soul elements are still in pop music today, if hidden, that audiences love his and our music. Adderley's got this internal currency that audiences lock into."
Webb and Kofi's respect for the 'nowness' of Adderley's music weds well with the pedigree of the band. Byron Wallen was the original trumpeter, "but one of the problems of working with a world class act like Byron is that he's always going to be busy", but in Andy Davies they have an unabashed trumpeter happy to spar with Kofi or sit tight with him on those pin-precise bop lines.
Andy Cleyndert is the "go to bassist for this kind of music", with 40 years' experience of rock-steady time-keeping behind the likes of Art Farmer, Bud Shank and Red Rodney. And it was Kofi who 'discovered' drummer Alphonso Vitale at a Ronnie's jam, hearing in him shades of Louis Hayes, who was with Cannonball between 1959-1965. Kofi stored the name and when this project took shape, it was Vitale who got first call. But whatever the band's technical skills, for Kofi it's all about the passion.
"People go crazy for this music. People connect with it, even those who aren't necessarily jazz fans. It's because of that deep rooted blues. Cannonball knew exactly what he was doing. And we just want to pass that torch on."
This article originally appeared in the April 2020 issue of Jazzwise.
Listen