Weather Report: the life and times of the group on record
Bill Milkowksi
Thursday, October 14, 2021
Weather Report forged a new direction in instrumental music with an exhilarating hybrid of styles that drew heavily on jazz while also incorporating elements of rock, funk, free flowing group improvisation, electronic abstraction and pan-global exotica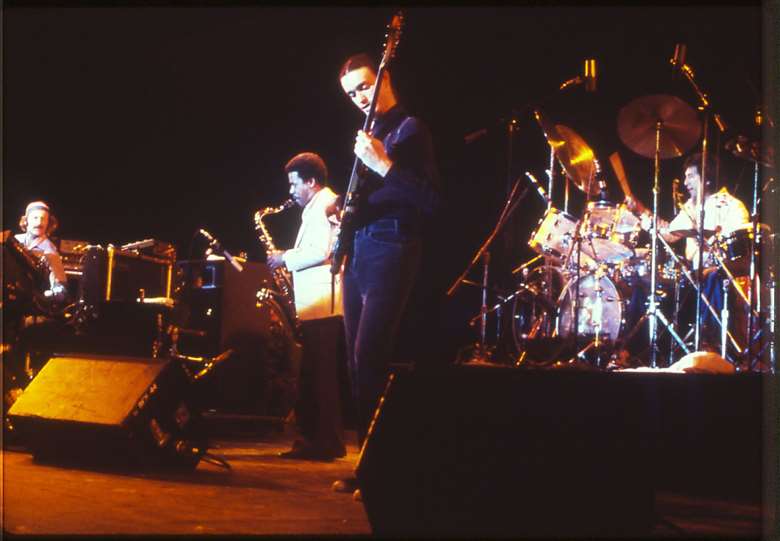 Co-founded by Miles Davis alumnae Wayne Shorter and Josef Zawinul, Weather Report forged a new direction in instrumental music with an exhilarating hybrid of styles that drew heavily on jazz while also incorporating elements of rock, funk, free flowing group improvisation, electronic abstraction and pan-global exotica. A perennial poll-winner, the group reached enormous peaks of worldwide popularity while also establishing itself as one of the most vitally creative and influential units to come out of the volatile 1970s.
A series of key, interconnected events led to the ultimate formation of Weather Report in the early part of December, 1970. Indeed, it was a musical concept that gestated over time during the late '60s through various recordings before finally manifesting as the super group that would become indisputably the premier fusion band of the 1970s and 1980s. Zawinul hinted at this forward-thinking, harmonically open direction as early as 1967 in his capacity as keyboardist for the Cannonball Adderley Quintet. Two other key recordings, both released in that pivotal year of 1970, were important precursors to Weather Report. Zawinul, the keyboardist composer's third and most ambitious album as a leader for Atlantic, marks a decided stride into the new, and away from the soul-jazz and hard bop tone of Joe's two previous Atlantic outings, 1966's Money in the Pocket and 1968's The Rise & Fall of the Third Stream. The more progressive-sounding Zawinul features Joe's very personal take on his own evocative composition 'In A Silent Way', which he had originally written to convey his impressions of his days as a shepherd boy in Austria. Also noteworthy is 'Doctor Honoris Causa', a tune that Joe dedicated to Herbie Hancock and which would later become a regular concert-opener for Weather Report. The bassist on that breakthrough, self-titled project was Miroslav Vitous, the gifted Czech musician who would become a charter member of Weather Report and along with Joe and Wayne form the nucleus of that great band. Zawinul would reciprocate later that same year by appearing on Vitous' second album as a leader, the excellent but currently rare Purple, an important early fusion project which also included John McLaughlin and Billy Cobham in the lineup.
Meanwhile, Shorter pointed to a similarly adventurous path in his last few recordings for the Blue Note label. His 1969 outing, Super Nova, was a startling departure from his previous Blue Note output. With John McLaughlin and Sonny Sharrock on guitars, Walter Booker on bass, Airto on percussion and Chick Corea on drums (!), it launched Shorter into another musical zone. The transitional Odyssey of Iska and Moto Grosso Feio provide further linkage to the subsequent formation of Weather Report, as did an unissued recording entitled Creation. That triumvirate of recordings from 1970 helped to forge the rhythm tandem chemistry between bassist Miroslav Vitous and drummer Alphonse Mouzon, both of whom would appear a year later on Weather Report's self-titled debut from 1971. Percussionist Barbara Burton, who made a significant though uncredited appearance on Weather Report, also contributes to Creation (which at this point exists only in bootleg form). Curiously, in the liner notes to Odyssey of Iska there is a reference to Wayne's new band, Weather Forecast.
Though Shorter and Zawinul had actually met years earlier the galvanizing event that brought these two kindred spirits and creative forces together was Miles' groundbreaking In A Silent Way, the big bang that launched the fusion movement and ultimately spawned such groups as Weather Report, Return To Forever and the Mahavishnu Orchestra. One track in particular from tha  fusion landmark predates the quintessential Weather Report sound. Zawinul's mysterious and pastoral sounding composition 'Ascent' (recorded on November 27, 1968) is a definite precursor to such early atmospheric Weather Report offerings as 'Badia' and 'Jungle Book'. With Shorter in his first-ever recorded performance on soprano sax blowing incredibly lyrical lines on top of the three-keyboard cushion supplied by Zawinul, Hancock and Corea, this piece also foreshadows the uncanny rapport that Joe and Wayne would further develop in Weather Report's future line-ups.
---
Weather Report
(Columbia) rel. 12 May 1971
The eponymously titled debut includes the Vitous compositions 'Seventh Arrow' and 'Morning Lake' along with Shorter's 'Tears' and 'Eurydice' and Zawinul's 'Waterfall' and 'Orange Lady'. All three collaborate on 'Umbrellas' while Shorter and Zawinul get co-writing credit on 'Milky Way'. Managed by Robert Devere, the superband Weather Report was introduced at a debut party on May 26, 1971 at the CBS Studios in the heart of midtown Manhattan. A summer tour ensued, documented by at least one bootleg. On 3 September, the core group was joined in a broadcast from Berlin, Germany by British saxophonists Alan Skidmore and John Surman, performing Shorter's 'Moto Grosso Feio' and 'Eurydice' and Zawinul's 'Early Minor', 'Directions' and 'Doctor Honoris Causa'.
---
I Sing The Body Electric
(Columbia) rel. 24 May 1972
Recorded between October and late December of 1971, Weather Report's anxiously-awaited follow up features a new drummer (Eric Gravatt replacing Alphonse Mouzon), a new percussionist (Dorn Urn Romao replacing Airto) and a host of special guests including Hubert Laws on flute, Ralph Towner on acoustic 12-string guitar, Andrew White on English horn and Wilmer Wise on trumpet. Named for a Walt Whitman poem, it includes Zawinul's ominous anti-war tone poem 'Unknown Soldier' along with his proto-New Age anthem 'Second Sunday in August'. Shorter contributes the Oregon-flavoured piece 'The Moors' and Vitous offers his own evocative musical journey in the seven-minute rubato centerpiece 'Crystal', which travels from gentle lyricism to a freewheeling three-way improv conversation with Zawinul on Fender Rhodes, Shorter on soprano sax and Vitous on nasty, fuzz-inflected electric bass. The remainder of this second Weather Report offering captures the band in positively killer mode at Shibuya Kokaido Hall, burning with the kind of raw abandon that characterized the early fusion movement on a medley of Zawinul's adrenaline-pumped jam 'Vertical Invader', Vitous' 'T.H.' and a highly interactive rendition of 'Dr. Honoris Causa', featuring some spikey call-and-response between Zawinul's distorted electric piano and Shorter's seething tenor sax.
---
Live in Tokyo
(Sony Japan) 1972
Released in Japan only, this is the complete document of the 13 January concert at Shibuya Kokaido Hall in Tokyo. Along with the opening medley and the other live material that appeared on I Sing The Body Electric, it also includes freewheeling, edgy renditions of Shorter's 'Eurydice', 'Tears', 'Lost' and 'The Moors' along with Zawinul's 'Early Minor' and 'Orange Lady'. Rare but highly recommended to hardcore WR fans, just to hear them push the envelope on these familiar set pieces.
---
Sweetnighter
(Columbia) rel. 27 April 1973
Recorded in early February at the CBS Studios in Manhattan and Connecticut, Weather Report's third album features the drumming tandem of Eric Gravatt and Herschel Dwellingham creating intricate polyrhythmic textures alongside percussionists Dorn Urn Romao and Muruga on Zawinul's funky '125th Street Congress' (which may be the first authentic hip-hop beat on record) and on two Shorter compositions, the lyrically haunting soprano sax showcase 'Manolete' and the throbbing closer 'Non-Stop Home'. Andrew White provides some tasty English horn on Vitous' exotic 'Will' then switches to electric bass and grooves in ultra-funky Motown fashion on Zawinul's percussive opener 'Boogie Woogie Waltz', a hypnotic 13-minute vamp which sets the template for all of Joe's future groove-meets-improv experiments from early Weather Report.
---
Mysterious Traveller
(Columbia) rel. 24 May 1974
With Weather Report heading down a more groove-oriented path, Zawinul became more interested in acquiring a funky bass player to hold down the bottom. Miroslav Vitous' inability to capture this kind of earthy, pared-down approach is what inevitably set the stage for Philly bassist Alphonso Johnson coming into the band in November of 1973.
The powerhouse lineup for that fourth Weather Report album (recorded at Devonshire Sound Studios in North Hollywood) also featured the drum tandem of Ishmael Wilburn (a cousin of Wayne Shorter) and Skip Hadden. More collaborative in nature than subsequent releases, Mysterious Traveller has Zawinul sharing composer credits with Miroslav Vitous (making his final recorded appearance with the band) on the lilting 'American Tango', with Johnson on the funky vehicle 'Cucumber Slumber' and with both Shorter and Johnson on the spacious and eerie soundscape 'Scarlet Woman'. Joe was particularly pleased with the direction of 'Cucumber Slumber', a piece that originated from a funky bassline that Johnson brought in and which Zawinul then orchestrated into a fully developed piece with clavinet and synths. Shorter is prominently featured here stretching on soprano sax.
---
Tale Spinnin'
(Columbia) rel. May 1975
The second studio album that Weather Report recorded at Devonshire Sound Studios in North Hollywood and the fifth overall is propelled by the crisp, power precision drumming of Ndugu Chancier and underscored by the bubbling, Mu-Tron-inflected basslines of Alphonso Johnson. In a departure from the much looser approach of Sweetnighter, the tunes here are more thoughtfully composed and deliberately arranged, as exemplified by Zawinul's ebullient opener 'Man in the Green Shirt' and his mercurial suite 'Between The Thighs' or Shorter's gradually evolving bolero 'Lusitanos'. Other highpoints include Zawinul's ethereal world beat anthem 'Badia' and Shorter's kinetic 'Freezing Fire', which features some extended expressions by Joe on synth and Wayne on soprano sax. Shorter's 'Five Short Stories' is an intimate duet that features his poignant tenor playing in the company of Zawinul's piano, organ and ARP 2600 synth string ensemble textures.
---
Black Market
(Columbia) rel. March 1976
A transitional album, it marks the changing of the bass guard from Alphonso Johnson to Jaco Pastorius. While Johnson had announced his intention to leave Weather Report by December 75 in order to join the Billy Cobham-George Duke band, he nevertheless recorded five tracks for this album. He cut Zawinul's 'Gibraltar', Shorter's 'Elegant People' and 'Three Clowns' and his own 11/4 excursion 'Hernandu' on a 22 December session and added Zawinul's ambient piece 'Black Market' in an early January 76 session. Jaco makes his debut with the band on 'Cannonball', Joe's poignant tribute to his friend and mentor Cannonball Adderley, who had died on August 8, 1975. Pastorius' fretless electric bass guitar work on 'Cannonball' and on his own funky original 'Barbary Coast' helped fuel the growing legend which had been unleashed earlier that year with the release of Jaco's astonishing self-titled debut on Epic Records. Shorter again relies on lyricon to fatten up the tracks in doubling Zawinul's synth lines. The album, recorded at Devonshire Sound Studios in North Hollywood, also introduces two new faces in the drum chair in Narada Michael Walden, who played on 'Cannonball' and the title track, and former Frank Zappa drummer Chester Thompson, who played on the remainder of the tracks. The percussionists were Peruvian Alex Acuna and Don Alias. For a Stateside tour, which commenced on April 1, 1976 at Hill Auditorium in Ann Arbor, Michigan, the new Weather Report touring lineup was Pastorius on bass, Acuna on drums and Manolo Badrena on percussion.
---
Heavy Weather
(Columbia) rel. March 1977
A breakthrough record for Weather Report, the group's seventh studio album launched them to a new level of record sales and visibility in the marketplace. The final piece of the puzzle was the addition of bassist Jaco Pastorius, who brought an unprecedented facility on his instrument along with a kind of showtime appeal, an earthy real-deal R&B sensibility he inherited from endless roadwork on the chitlin' circuit with Wayne Cochran & The C.C. Riders and a macho swagger to match Zawinul's own.
A natural extrovert as well as a gifted groovemeister, Jaco used his unprecedented technique to thrill other musicians while relying on his showtime skills to entertain audiences. With his wild stage antics and South Florida beach bum persona, Jaco struck a demeanor that was decidedly outside the suit-and-tie realm of the conservative jazzbo. And yet, he was as well-versed in the music of Charlie Parker, Duke Ellington and John Coltrane as he was with the funk of James Brown, Wilson Pickett and Sly Stone, the rock of Jimi Hendrix and The Beatles or the reggae of Bob Marley. And not only would Jaco entertain audiences with his outrageous behavior on stage but he would also invariably open some ears to new sounds, providing a bridge between the rock and jazz camps.
Recorded in December of 1976 and January of 1977 at Devonshire Sound Studios in North Hollywood, it instantly grabbed ears on the strength of Zawinul's catchy, radio-friendly hit single 'Birdland' (Joe's ode to the legendary New York jazz club from the heyday of 52nd Street). Shorter's Latin-tinged 'Palladium' (his ode to another legendary New York nightclub, located just across the street from Birdland, which was the focal point of the burgeoning latin jazz scene of the 40s and 50s) would become a powerful Weather Report set-opener on tour. Pastorius makes a startling impression with his haunting tone and melodic approach on Zawinul's beautiful ballad 'A Remark You Made' and then rips it up on his own turbo-charged 'Teen Town', a kind of electrified updating of a chops-busting bebop riff set to a disco beat. It was the beginning of a new era in the band's history - the Jaco years.
---
Mr Gone
(Columbia) rel. early September 1978
The commercial success of the gold-selling Heavy Weather set the tone for an even more electrified phase of Weather Report, which was played out to its crossover conclusion on Mr Gone. Acerbic critics and other wags opined that the album title was a reference to Wayne Shorter, who seemed to have faded into the background of a synth-layered sheen that permeates the arrangements. Even Zawinul himself, who clearly dominates this studio project (recorded in February and June of 1978, once again at Devonshire Sound Studios in North Hollywood) admits in retrospect that the album was an experiment.
What it was was a collection of well-crafted confections like Jaco's discofied 'River People' and Zawinul's blatantly buoyant 'Young And Fine' and the cloying ballad 'And Then' featuring some pleasantly soulful vocals from Denise Williams and Earth, Wind & Fire's Maurice White. Shorter's atmospheric composition 'The Elders' seems more like moody filler here while the band's stylised remake of Wayne's classic 'Pinocchio' crackles with juggernaut intensity for a clipped 2:25. Zawinul's walking synth bass line that dominates the title track makes Pastorius' presence moot. Jaco does make his inimitable presence felt, however on 'Punk Jazz', an aptly-named Pastorius anthem that brilliantly showcases his unparalleled bass virtuosity. Shorter also gets in some lyrical tenor licks at the intro of 'Punk Jazz' before switching to soprano and wailing during the (dated) discofied middle section. The revolving drum chair for this studio project rotated from Steve Gadd to Tony Williams to Peter Erskine, who would join the band that summer of 1978 for tours of Japan and Australia and then throughout South America and Europe that fall. An interesting note: Jaco is credited as co-producer for the first time.
---
8:30
(Columbia) rel. September 1979
From the outset, Weather Report had always been a phenomenal band in concert, which can be readily heard on the live sections from I Sing The Body Electric. This live recording captures some exhilarating moments on the road with the fearsome and flexible foursome of Zawinul, Shorter, Pastorius and new drummer Peter Erskine. One can sense both the camaraderie and friendly competition between the players on urgent, go-for-the-throat renditions of Jaco's 'Teen Town' or Zawinul's 'Black Market'. Both Jaco and Wayne project with a depth of emotion on Joe's tender ballad 'A Remark You Made', and Jaco goes into heavy showtime mode on 'Slang', his standard solo segment in which he engages the audience in a clap-along to his funky looped bass motif before stomping on the distortion box and launching into quotes from Jimi Hendrix's 'Third Stone from the Sun' and 'The Sound Of Music', then inevitably lying his bass guitar face up on the stage and leaping onto it from atop his Acoustic 360 amplifier. A gentle duet rendition of Zawinul's 'In A Silent Way' with Wayne on soprano sax and Joe providing orchestral synth accompaniment lends a brief bit of breathing room before a loose, lively shuffle rendition of the crowd favorite 'Birdland'. Elsewhere in the live segments, Shorter delves into a rare unaccompanied solo tenor sax showcase on a cubist extrapolation of Bob Hope's longtime theme song, 'Thanks for the Memories.'
---
Havana Jam/Havana Jam II
(Sony Japan) rel. June 1979/November 1979
These two compilations captured a historic meeting of American and Cuban musicians who came together on March 2, 3 and 4 of 1979 at the 5,000-seat Karl Marx Theatre for an extended weekend of jazz, latin and pop music. The brainchild of Bruce Lundvall, then president of CBS Records, it involved transporting a number of artists on CBS's roster at the time, including Dexter Gordon, Stan Getz, John Mclaughlin, Tony Williams, Hubert Laws, Eric Gale and Weather Report along with popsters Billy Joel and Kris Kristofferson, Stephen Stills and Bonnie Bramlett to Havana to share the bill with such Cuban all-stars as Orquesta Aragon, Irakere and the Cuban Percussion Ensemble.
---
Night Passage
(Columbia) rel. November 1980
Zawinul's swinging, boppish title track, paced by Pastorius' insistently walking basslines and Erskine's ride cymbal groove, opens this powerful outing, immediately setting the tone for what is easily the 'jazziest' of Weather Report's Jaco-era recordings. Tracked on 12 and 13 July at George Massenburg's The Complex sound stage before a live audience, it features the addition of a fifth man in percussionist Robert Thomas, Jr., whose syncopated approach to hand percussion is decidedly more bebop than AfroCuban. Again produced by Zawinul and with coproducing credit going to Pastorius, it also features Shorter in a far more prominent role. Night Passage is also distinguished by some of Jaco's most emotionally wrenching and technically astounding bass playing on record. Shorter plays quite expressively on both tenor and soprano on Zawinul's mournful ballad 'Dream Clock' before bearing down on tenor and blowing in unrestrained fashion on his own highly-charged composition 'Port of Entry', which also turns Jaco loose for an explosive bass solo against Erkine's driving backbeat and Thomas' percolating conga work. Zawinul's 'Forlorn' is an affecting tone poem while his aggressive, synth-laden orchestration of Duke Ellington's 'Rockin' In Rhythm' is his heartfelt ode to a lifelong jazz hero. Shorter blows with more unbridled tenor conviction on Zawinul's aptly-named 'Fast City' - a mad burner fuelled by Erskine's brisk ride cymbal sizzle and Jaco's blazing bass lines - than on all of his contributions to Mr. Gone and 8:30 combined. Pastorius' gorgeous, bittersweet waltz ballad 'Three Views of a Secret' (perhaps his most profoundly affecting composition ever) and Zawinul's ominous suite 'Madagascar' round out what is ultimately Weather Report's strongest statement since Mysterious Traveller.
---
Weather Report
(Columbia) rel. January 1982
Recorded on July 13 at the Power Station in New York and on 14 August, 1981 at Sunset Sound in Hollywood, this offering marks the last appearance of Jaco Pastorius and Peter Erskine, who announced their intentions to leave Weather Report shortly after these recordings. Jaco would go on to form his Word of Mouth big band, of which Erskine played a significant part, before the onset of his manic-depressive condition would take him on an increasingly downward spiral toward doom. Jaco's swan song with Weather Report is unique for his relatively scaled back input. Gone was Jaco's coproduction credit and, more tellingly, he contributed not a single composition to the proceedings, though he plays his ass off on Joe's opening burner 'Volcano For Hire' and throughout Zawinul's three-part 'N.Y.C.' suite while also demonstrating his hauntingly beautiful, 'singing' fretless approach on two affecting Zawinul ballads, 'Current Affairs' and the evocative 'Speechless'.
---
In Performance at the Playboy Jazz Festival
(Columbia) rel. 1982
In the beginning of their summer tour, Weather Report had a stop at the Hollywood Bowl on 19 June as part of the Playboy Jazz Festival. Their performance with a new lineup included 'Volcano For Hire', a medley of '8:30/Black Market/Elegant People/Badia/A Remark You Made' and 'Fast City'. For an encore of 'Birdland' they were joined, unannounced, by the Manhattan Transfer, who had recorded a vocalese version of the song a few years earlier.
---
Procession
(Columbia) rel. February 1983
By June 1982, Zawinul and Shorter had revamped the band, recruiting drummer Omar Hakim, percussionist Jose Rossy and 22-year-old Philly bassist Victor Bailey for a brief Stateside tour. In July and August 1982, the new edition of Weather Report went into the Power Station in New York to record material for Procession. Additional recording took place at The Music Room in Pasadena, Fantasy Studios in Berkleley, Sound Castle in Los Feliz and Lion Share Studios in Los Angeles. What they inevitably came up with was a formula that dealt with the bass in a bottom-heavy, groove-oriented role rather than Jaco's soloistic approach and allowed for less of the interactive group dynamic that the band had been founded on. This more tightly orchestrated concept can readily be heard on Zawinul's title track and his big production number 'Where The Moon Goes', which utilises the heavily effected voices of the Manhattan Transfer and features some explosive give-and-take between Hakim's drums and Zawinul's synths. Shorter stretches out a bit on Joe's 'Two Lines' and also on his own poignant 'Plaza Real', named for a memorable spot in Barcelona, Spain.
---
Domino Theory
(Columbia) rel. February 1984
Retaining the same lineup from their previous album, Weather Report went into the studio in July of 1983 to record Shorter's 'Predator' and 'Swamp Cabbage' along with Zawinul's 'Domino Theory' and the sentimental ballad 'Can It Be Done', composed by New Orleans pianist Willie Tee and featuring vocalist Carl Anderson. The real show-stopper here is a live performance of Zawinul's surging 'D-Flat Waltz', which features some intense drumming from Omar Hakim.
---
Sportin' Life
(Columbia) rel. Aprii 1985
A groove-oriented affair that also featured a wealth of world beat influences, Sportin' Life was recorded in August and September of 1984 at The Music Room in Pasadena and also at the Crystal Room in Hollywood. Weather Report's 14th album is distinguished by the vocal daring of special guest Bobby McFerrin on a few tracks as well as some healthy stretching by Wayne Shorter. Zawinul's surging drum machine-fueled closer 'Ice-Pick Willy' is a portend of things to come from Joe. Subsequent to its release, there was no follow-up tour as Zawinul and Shorter declared that Weather Report was 'on hiatus'. A month later, Zawinul and Shorter each went back into The Music Room to begin work on their respective solo projects. Meanwhile, drummer Omar Hakim signed on for a tour with rock star Sting while bassist Victor Bailey joined Mike Mainieri's band Steps Ahead.
---
This is This
(Columbia) rel. 1986
Contractual obligations forced this 15th and final Weather Report album, which was recorded during Christmas tour breaks at the end of 1985. Predictably, it sounds largely like an afterthought, despite the presence of Carlos Santana laying out blistering, toe-curling blues-rock licks on Zawinul's title track and his funky 'Man With The Copper Fingers.' The album includes a quirky bit of world beat funk in 'Face The Fire' and Mino Cinelu's 'Jungle Stuff, Part I.' Bassist Victor Bailey contributes the lovely ballad 'Consequently' which features his expressive bass soloing. Joe delivers a melodramatic ballad in 'I'll Never Forget You', dedicated to the memory of his parents, while his ferociously swinging 'Update' has all the forward momentum of a runaway freight train. The album is distinguished by the return to the lineup of drummer Peter Erskine, who receives a co-producer credit and swings his ass off on Zawinul's 'Update' (that title being a portend of things to come). It is further distinguished by the glaring lack of any Wayne Shorter composition and his decided non-participation in a couple of the synth-dominated Zawinul productions like the meandering bolero 'China Blues'. Indeed, Wayne really was Mr. Gone on this one.
---
Live & Unreleased
(Columbia/Legacy) rel. September 2002
All the power and mystique that surrounded Weather Report concerts through the 70s and 80s is captured on this exhilarating two CD set. Produced for release by Zawinul, his son Ivan and longtime Columbia archivist and reissue producer Bob Belden, Live & Unreleased spans Weather Report's glory years from 1975 to 1983 and includes previously unissued performances culled from concert halls around the world. Rather than proceeding in chronological order, Live & Unreleased plays like a two-hour Weather Report show, following the typical flow of tension and release that the band was noted for in concert. CD One opens with Shorter's 'Freezing Fire', a regular Weather Report concert-opener, circa 1975. Buoyed by Alphonso Johnson's bubbling basslines underneath and propelled by Chester Thompson's ferocious drumming, this surging number highlights some soaring, unbridled soprano sax work by Shorter. This tension sets up for the release of Shorter's poignant ballad 'Plaza Real' with the rhythm tandem of Bailey on bass and Hakim on drums and featuring Jose Rossy on concertina. From the sublime to all-out burn, the 1980 band featuring Pastorius, Erskine and Thomas then kicks into high gear on Zawinul's boppish 'Fast City', which features some heroic stretching from Wayne on tenor sax. Release next comes in the form of Pastorius' stunningly beautiful unaccompanied showcase 'Portrait of Tracy', a landmark piece of bass virtuosity from his 1976 self-titled solo debut on Epic.
An intense reading of Shorter's 'Elegant People' takes the excitement level up a couple of notches in a 1977 performance with Pastorius on bass, Acuna on drums and Badrena on percussion. Again, Shorter stretches liberally on this throbbing vehicle, which takes on an infectious rumba flavor in concert. The 1975 touring band hits a serious groove on 'Cucumber Slumber', Alphonso Johnson's funky contribution to the band, while an explosive live version of Pastorius' anthemic 'Teen Town' is a mad, macho sprint to the finish line. And CD 1 closes in ebullient fashion with Zawinul's 'Man in the Green Shirt'.
CD 2 opens with some dramatic stretching from Shorter on tenor in a spirited, calypso flavoured rendition of Zawinul's 'Black Market' featuring Pastorius on bass, Acuna on drums and Badrena on percussion. Next up is a scintillating version of Joe's 'Where The Moon Goes' which features an explosive duel between Omar Hakim's drums and Zawinul's synths. This track also marks Joe's early use of vocoder, which he would explore in more depth on his 1986 solo outing, Dialects, and subsequently with his Zawinul Syndicate band. A swaggering rendition of Jaco's 'River People' highlights the pared down quartet of Shorter, Zawinul, Pastorius and Erskine in peak form in late 1978. Shorter showcases more Herculean tenor work on Zawinul's 'Two Lines' while his mellow, never-before-heard composition 'Cigano' is the rarest addition to the collection.
The formidable quartet of Zawinul, Shorter, Pastorius and Erskine then reaches back to a jazz landmark for an evocative reading of Zawinul's 'In A Silent Way', the title track of Miles Davis' 1969 album and a piece that Joe had previously recorded on his third solo outing, 1971's pivotal, pre-Weather Report album entitled simply Zawinul. Two blistering renditions of 'Night Passage' and 'Port of Entry' showcase the quintet of Zawinul, Shorter, Pastorius, Erskine and percussionist Robert Thomas while Alex Acuna and Manolo Badrena engage in an animated percussive conversation on 'Rumba Mama', a regular concert attraction from the 77-78 tour. And the collection closes on a wistful note with the 1975 band featuring Johnson, Thompson and Acuna covering Zawinul's classic 'Directions.' Taken as a whole, this retrospective set shows precisely why Weather Report was regarded as the premier fusion band of the 70s and 80s.
---
And don't forget...
Weather Report: The Legendary Tapes – 1978-1981
(Colombia/Legacy) Rec. 1978-1981
On paper the titles here are very familiar, with numerous live releases covering the 'Jaco Pastoius years', and yet there's never been anything quite like this. Covering the three-year period just after drummer Peter Erskine joined the band, and up to when Pastorius left, he, Joe Zawinul and Wayne Shorter set about a ferocious game of creative one-upmanship. Curated and produced by Erskine from his private soundboard tapes, recorded by Weather Report's longtime mixing engineer Brian Risner that had only ever been heard by the band, they are of a consistently high quality throughout and run as selected highlights from the period, not as a single concert per disc.
One always suspected that there were nights when the adrenalin-soaked musical sparring between Zawinul and Pastorius would take on Raging Bull proportions, but rarely has it ever sounded as febrile as it does when Jaco drops an almighty double-time bassline bomb halfway through the 10-minute 'Badia/Boogie Woogie Waltz', tipping disc one into overdrive. This soon spirals into a twister of a Zawinul solo, the band dropping dramatically to a low simmer, before building to a distorted bumblebee bass onslaught with Erskine going positively death metal with a thunderous bass drum barrage. Is this the same band that was so sensitively swinging through 'Three Views of a Secret' just minutes earlier?
Further highlights include Jaco's Osaka solo spot that, while containing his characteristic take on Hendrix's 'Third Stone from the Sun' and The Beatles' 'Blackbird', is suddenly joined by Zawinul's synth in a beautiful, if brief, micro-symphony. There are vast chasms of space too on an extended yet consistently exciting version of 'Madagascar', Pastorius delivering a spicy solo out of the blue, Shorter wandering bluesily, Zawinul interjecting with some synth-fuzz while Erskine and Thomas percolate subtly in an enthralling ever-shifting on-the-fly arrangement. Every track is packed with unexpected twists and turns, and an impeccable sense of dynamics that range from the poetic to the profane. This is a magical motherlode of must-have music from one the great jazz-rock bands at the peak of their powers. Mike Flynn
---
Never miss an issue of Jazzwise magazine – subscribe today