Alex Hitchcock/Tom Barford Quartet's Twin Tenor Frontline Fires At The Verdict
Tuesday, February 6, 2018
The twin tenors tradition has a long history, stretching back to the cutting contests of Dexter Gordon and Wardell Gray and frequently revived by promoters with an eye to cashing in on the swaggering, macho appeal of the format.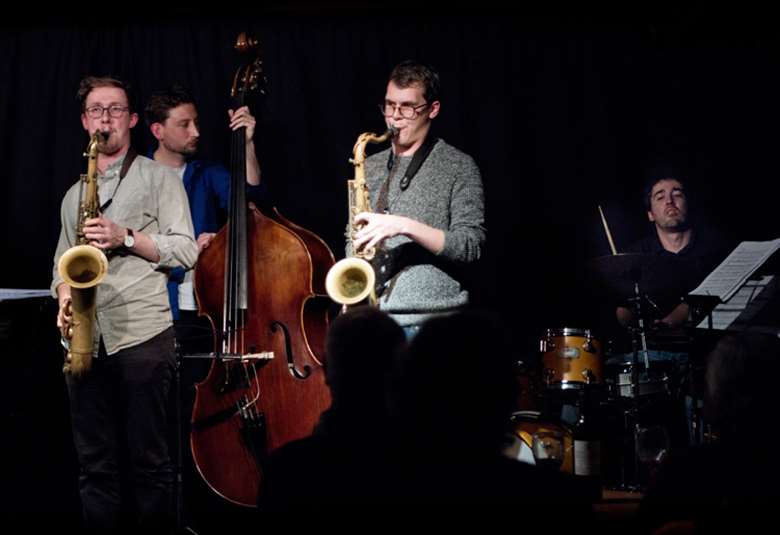 Twin tenors in a quartet, with no harmony instrument and only bass and drums backing, requires a collaborative rather than competitive mindset – tonight's gig is an object lesson in how two high-output creative minds can operate in the same sonic bailiwick without getting in each other's way.
'Hitchcock and Barford' may sound like the name of a respectably conservative gent's outfitters, but this is adventurous, risk-taking music. With no chordal instrument to tie them down, the twin frontliners are free to roam at will, pushing hard against the shifting rhythmic and harmonic boundaries sketched out by the endlessly creative team of Fergus Ireland on bass and James Maddren on drums – the latter's presence in a project seems increasingly to guarantee that something unusual will be going down. Both frontmen look so similar on the Verdict's dimly lit stage that the phrase 'twin tenors' might almost be taken literally, especially as they both seem to patronise the same optician, but when they take off to solo on a deconstruction of Jimmy Heath's 'CTA' the differences are as striking as the similarities. Hitchcock has the softer, more romantic tone – he moves effortlessly in and out of lightning fast, double-time runs, up into the highest register and out again, breaking the flow with short twisting phrases against the beat, reminiscent of, but not beholden to, the style of Mark Turner; Barford's tone is flintier, more unyielding, projecting out into the room; he slips between bop language and modernist abstraction like a true polyglot, his timing and phrasing always impeccable. It's a fascinating echo of the tough/tender tenor dichotomy that stretches back to Rollins/Coltrane, Young/Hawkins and beyond.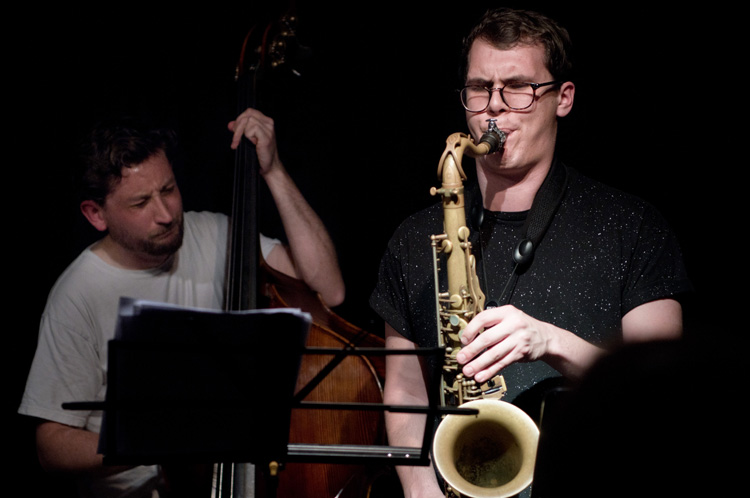 There are a number of questingly melodic originals by Hitchcock (above left) - 'A38' features the kind of loose-limbed polyrhythmic backbeat that Maddren specialises in underneath a striking, declamatory melody – and one by Barford (above) – 'The Highly Strung Trapeze Artist' – more austere, but no less rewarding, by contrast. Fergus Ireland on bass contributes a ballad suggestion – Nat Coles' 'Beautiful Moons Ago' – and his playing throughout illustrates why he's so in demand; with a simply awesome if unorthodox technique put in the service of a powerfully individual musical imagination, simultaneously grounding the harmony and sending it into unexpected directions, he's an inexhaustible creative powerhouse. 'Blues For JC' makes the expected venture into Ornette-ish territory, but what's striking about this band is the level of relaxed, good-humoured communication that's present to temper the tropes of the avante-garde – there'a a warm, inclusive spirit at work that doesn't compromise the fierce artistic vision, but permits a mellow, reverent reading of 'This I Dig Of You' that captures the lightness of the original, and a beautiful closing take on 'My Ideal'. Hitchock is busy leading his own band, and Barford has recently been in Real World Studios recording with Iain Ballamy in producer's chair, but let's hope that they both find time to reconvene this project in the studio some time soon.
– Eddie Myer
 – Photos by Lisa Wormsley