Baron Browne: 5 March 1960 – 2 September 2021
Michael West
Friday, October 8, 2021
The highly-respected virtuoso bass guitarist, best known for his powerful playing with numerous top jazz fusion artists, including drum stars Steve Smith and Billy Cobham, has died age 61 after a long battle with cancer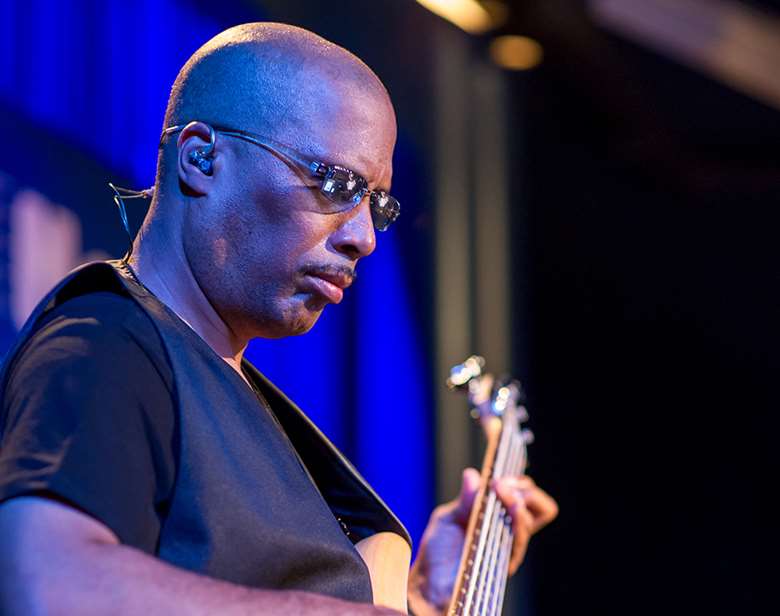 Baron Browne, an important bassist in the jazz world, died on 2 September at his home in Randolph, Massachusetts after a long battle with cancer. He was 61.
Browne was profoundly accomplished in a variety of styles, enabling him to work with a diverse cast of musicians, from Tom Jones to Brian McKnight to Andrea Bocelli. However, he made his most indelible mark in the realm of jazz-rock-fusion.  
Baron LeRonn Browne was born and raised in Brunswick, Georgia. In 1978, Browne attended Boston's Berklee College of Music. In 1983, he was hired by Jean-Luc Ponty, making five albums with the violinist. At the same time, he was touring and recording with drumming giant Billy Cobham.
In the 1990s, Browne entered his most diverse period, touring with Tom Jones, Brian McKnight, the R&B band Exposé as well as Ponty and Steps Ahead. In 1998, he joined drummer Steve Smith's Vital Information. Smith was so impressed with Browne's abilities that he would also employ the bassist in his acoustic ensembles Buddy's Buddies and Jazz Legacy.
"Baron's extreme versatility and seasoned professionalism made him my first call bassist," said Smith. "With Baron on the gig, I could relax and knew he would take care of business. He was a great reader, creative improviser, deeply funky, and could play any style."

Violinist Jean-Luc Ponty also paid tribute to Browne, "We lost a great musician and one of our best friends," while guitarist Dean Brown, a bandmate of Browne's with Cobham, stated: "The most underrated bassist in history. A brilliant musician and a dear friend."
Offstage, Browne was a very private person who preferred to spend his time between gigs quietly at home, or golfing, with his wife of 20 years, saxophonist Gail McArthur-Browne, a teacher at Berklee College of Music in Boston.