Internationally acclaimed bassist, vocalist and composer Avishai Cohen is gearing up for an epic year of globetrotting to mark his 50th birthday as he performs 50 gigs in 50 countries throughout 2020.

Born in Israel on 20 April, 1970, Cohen's multifaceted musical identity was forged in a defining period of his life in New York City in the late 1980s. Toughing it out working construction jobs and busking on the streets to survive, the young bassist absorbed the Big Apple's melting pot of sounds.

Playing all types of jazz, funk and fusion, it was Cohen's affinity for Cuban and Latin jazz that led him to meet Danilo Pérez and eventually in 1996, Chick Corea, when he got the call to join the pianist's Origin band. Since then he's forged one of the most influential sounds in contemporary jazz, with his driving bass-led originals, mostly within a piano trio, matching complex time signatures, hard-hitting grooves and impassioned Mediterranean melodies, with his agile vocals adding a powerful emotional dimension to his music.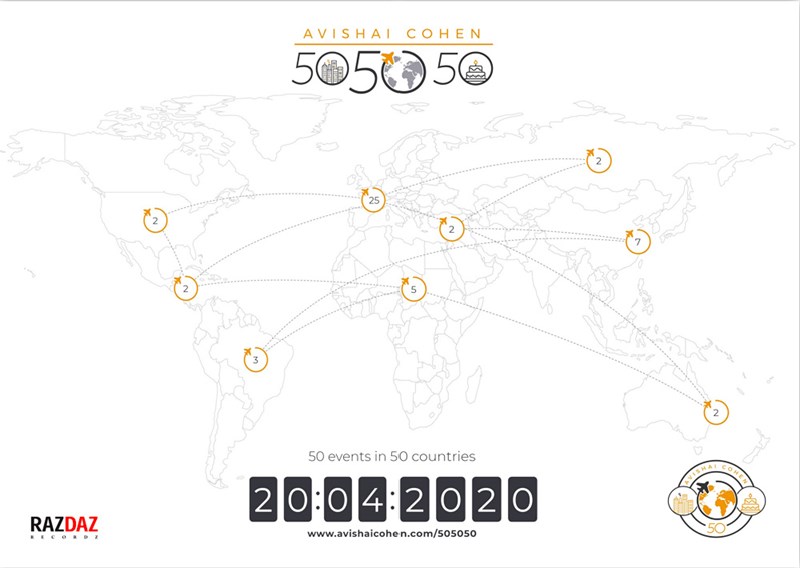 The 505050 world tour will feature a variety of line-ups including his own Trio, the Gently Disturbed band with Shai Maestro and Mark Guiliana, special orchestral concerts and a run of UK shows in the autumn. Jazzwise is media partner for the 505050 world tour.
Jazzwise magazine is delighted to be a global partner of the Avishai Cohen 505050 project - to coincide with the tour we're offering Avishai Cohen's acclaimed new album Arvoles for free if you subscribe to Jazzwise for a year, for print or digital - click here for more details: www.magsubscriptions.com/505050


To follow Avishai Cohen's's progress and see all his international concerts on an interactive world map here www.avishaicohen.com/505050/