Boogie at the Bandstand - Love Supreme's festival within a festival
Friday, July 6, 2018
With an abundance of big names on the larger stages, Eddie Myer rounds up the stars of tomorrow who lit-up the Bandstand and Arena Love Supreme Jazz Festival's six-year existence has run concurrently with the most recent revival of interest in UK jazz, and both seemed to have weathered the storms and be basking in the glorious sunshine last weekend.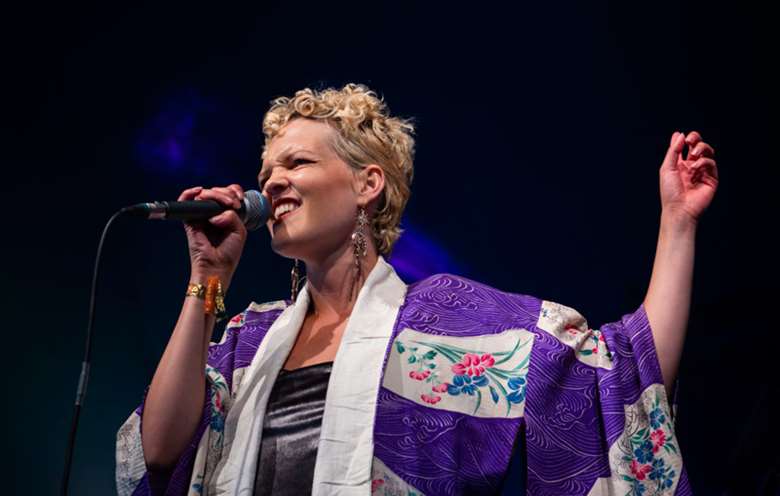 The
Bandstand
, programmed by New Generation Jazz in association with the Verdict Jazz Club, has been a small but vital part of things since the festival's inception; described as "the jazz conscience of the festival", its remit is to act as a platform for a range of artists who aren't as widely known as they deserve, and over the years they've given acts like Nerija, Nubya Garcia, and Ezra Collective their first Love Supreme showcases.
Friday night is New Generation Jazz night at Love Supreme, as they programme not only the Bandstand but also the Arena stage to welcome the first flood of festival goers. Kicking off the latter stage in style, Yakul brought a 10-piece band and a tight and powerful set of nu-soul and broken beat with echoes of Jose James and Dilla/Madlib, as frontman James Berkeley impressed with his confident charisma and floral leisurewear. French rockers Saults gave a powerfully energetic performance that rather missed its mark with the audience; the crowds returned for Abi Flynn (above) and her Jill Scott-influenced set of punchy contemporary soul; Flynn movingly breaking off her set to share her ongoing battle with cancer. Next up The Alex Hitchcock Quintet dazzled with a display of collective virtuosity, demonstrating that challenging acoustic jazz can hold it's own, and retain the crowds, in the midst of a backbeat-heavy lineup. By the time trombonist Tom Green's Brass Funkeys band came on the entire tent was packed to the back and heaving to their well-choreographed mayhem.
Over on the Friday Bandstand, sunny afternoon vibes prevailed as local stars Three Little Birds presented their swingingly-hip three-part jazz vocal arrangements and The Paul Richards Trio laid out immaculately summery nylon-string guitar flavours á la Charlie Byrd. A presentation by the Brighton Jazz School and a delirious dance-funk set by Giwha and the 1618 closed the stage.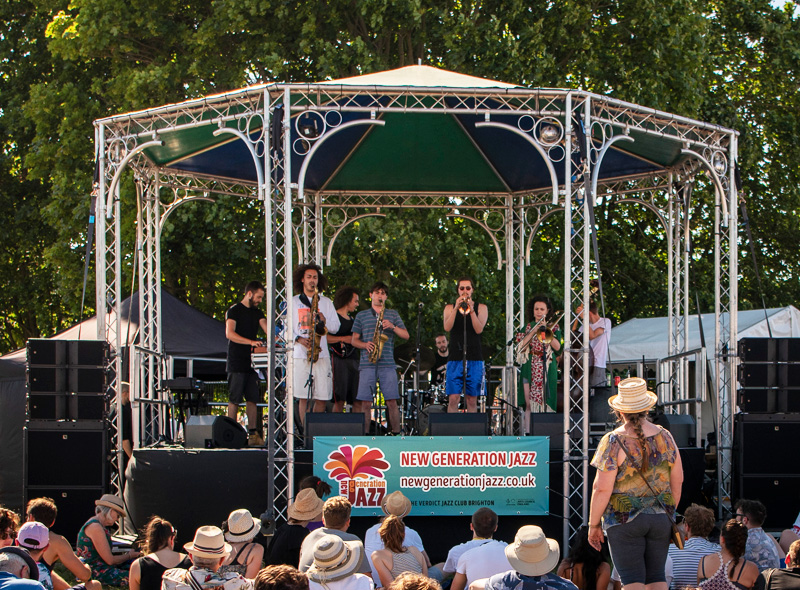 Saturday started on the jazz tip as Sonnymoon For Three gave an updated vision of the classic Rollins trio with dazzling interplay between Riley Stone-Lonergan on tenor and veteran sticksman Spike Wells. Multi-intrumentalist Charlotte Glasson delighted with a set of gently upbeat, sunny originals, with features for Mark Bassey on trombone and for the bandleader herself on musical saw; then South London collective Where Pathways Meet (above) laid out some lush cosmic jazz, their powerful grooves driven by Jake Long's drums and spiced with bubbling electronics and strong solos from the frontline that included Rosie Turton and James Mollison. Representing another strand of young UK jazz, the Rory Ingham Quartet showed their effortless virtuosity in a set of complex but accessible compositions originally written by JazzFm Rising Star award-winner Ingham for the Ronnie's Late Show. The faint strains of Level 42's thunderous pop-funk from the main stage did nothing to distract the crowds from pianist and elder statesman Roy Hilton's storming quintet set of classic hard bop arrangements, with impassioned solos from trumpeter Jack Kendon and Johnny Griffiths on tenor closing off the evening.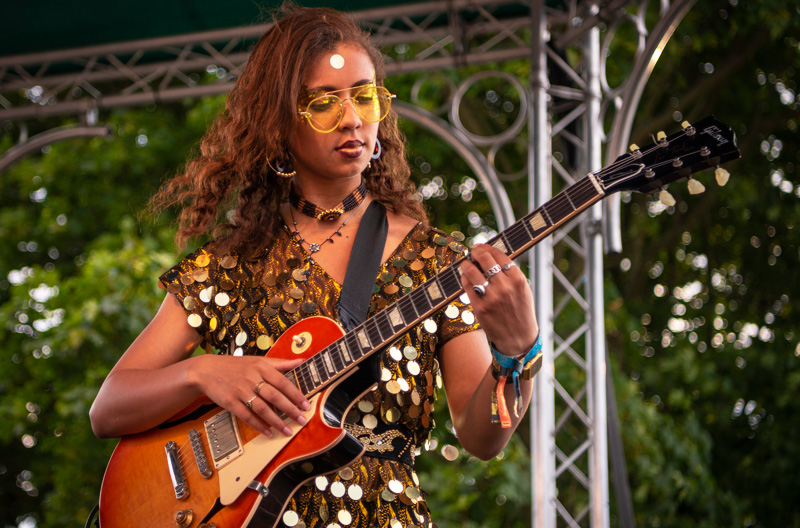 SEN3 kicked off the early Sunday slot and drew an appreciative if somewhat hung-over audience for their free-ranging psychedelic jazz-rock under clear blue skies, with drummer Saleem Raman looking remarkably refreshed after his late-night slot at Jazz In The Round. Meg Cavanaugh followed with delightfully laid-back, intimate Americana; then Jonny Mansfield's Elftet crowded their 11-strong cohort around the Kenny Wheeler prize-winning leader's vibes and captivated the large crowd with their intricate arrangements, energetic solos and general air of boundless enthusiasm. Visiting US-based tenorist Peter Fraize joined forces with local keys supremo Terry Seabrook with a set of progressive but supremely funky organ jazz; drummer Peter Adam Hill took to the stage fresh from his sideman duties with Alfa Mist to lead his own intriguingly genre-blending quintet, featuring a memorable Bon Iver reworking in the setlist; and stage-closing honours went to Tomorrow's Warriors Female Frontline (guitarist Jelly Cleaver pictured above).In front of a field full of enthusiastic dancers of all ages, the colourfully clad band ripped through a set of groove-friendly modern standards, reaching out and connecting to the multi-generational crowd and sending a message of positive empowerment into the fading summer sky.
– Eddie Myer
- Photos by Lisa Wormsley