Cécile McLorin Salvant, Shepp & Moran and Yazz Ahmed added to EFG London Jazz Fest programme
Mike Flynn
Monday, July 5, 2021
More big names are confirmed for the full return of the UK capital's huge citywide jazz event in November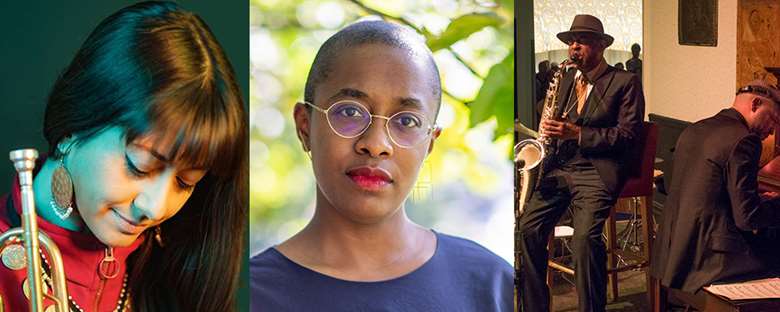 The programme for the EFG London Jazz Festival, which runs from 12 to 21 November, continues to swell with more top-flight international names. These include the powerful pairing of iconic saxophonist Archie Shepp and pianist Jason Moran who perform songs from their acclaimed recent album Let My People Go, (Barbican, 12 Nov), Israeli bass star Avishai Cohen (Barbican, 16 Nov) and Grammy winning vocalist Cécile McLorin Salvant (Cadogan Hall, 16 Nov) who will appear with her new Quintet of guitarist Marvin Sewell, pianist Glenn Zaleski, percussionist Keito Ogawa and alto saxophonist Alexa Tarantino.
Two newly announced shows emphatically blur boundaries between classical and jazz sensibilities with 'London Third Stream' presenting several new commissions by Shabaka Hutchings, Cassie Kinoshi, Elliot Galvin and Laura Jurd, with each soloist backed by the London Sinfonietta (QEH, 17 Nov), while trumpeter Yazz Ahmed struts her symphonic stuff with the BBC Concert Orchestra (QEH, 21 Nov).
Newer names are intertwined between the established talents with a double bill of punk-jazz sounds, heavy riffs and free improv from Robocobra Quartet and Archipelago (Kings Place, 13 Nov). By contrast south London collective Steam Down let rip with their extended groove-based songs at The Albany (17 Nov), while the mind-expanding power of the Lisbon Underground Music Ensemble will fire up the Purcell Room (14 Nov). Two current bass stars also appear at the Purcell Room with soul and funk inflected sounds from Daniel Casimir (12 Nov) and Jasper Høiby's politically potent Planet B trio (18 Nov), while half Chinese, half Icelandic Boston-based cellist/singer Laufey Lin brings her sublime mix of old jazz standards and self-penned material to the fest for the first time (Purcell Room, 13 Nov).
Further new additions to the programme include a dance-fuelled session in the QEH Foyer from Black Midi and Moor Mother; Kurdish singer and musician Aynur (Barbican, 14 Nov); renowned oud and piano duo Marcel Khalifé and Bachar Mar-Khalifé (Barbican, 15 Nov); Damon Locks Black Monument Ensemble (EartH, 15 Nov); lauded ECM signed pianist Shai Maestro (Cadogan Hall, 15 Nov); Mike and Kate Westbrook's The Westbrook Blake (Cadogan Hall, 19 Nov);  Jason Yarde's ACOUTASTiC BOMBASTiC (Purcell Room, 19 Nov); Soweto Kinch & London Symphony Orchestra: The Black Peril (Barbican, 19 Nov); Calabashed (Kings Place, 19 Nov); Charles Lloyd Quintet (Barbican, 20 Nov); Matthew Bourne (Kings Place, 20 Nov) and Brad Mehldau Trio (Barbican, 21 Nov). Jazzwise is festival media partner.
See the official festival website for more details and tickets www.efglondonjazzfestival.org.uk