David Crosby: 14/8/1941 – 18/1/2023
Jon Newey
Friday, January 20, 2023
One of the most inspired, enigmatic and outspoken singer songwriters of the past half-century, David Crosby, who existed at the deep intersection of folk, jazz and rock, has died age 81 on Wednesday 18 January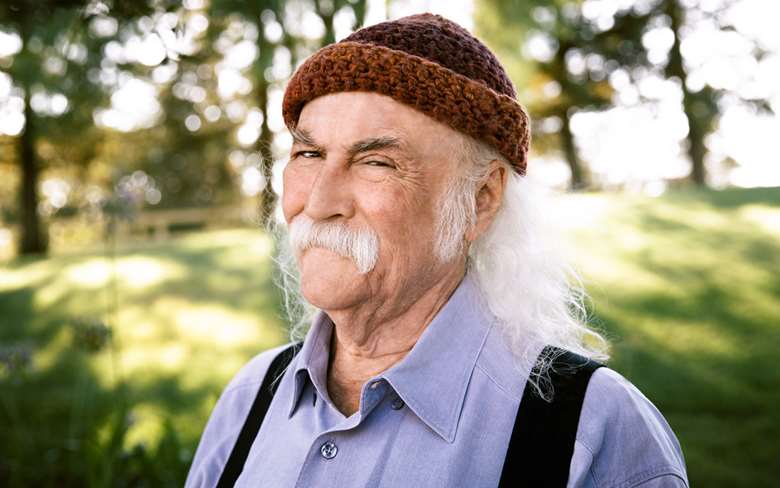 Best known for his work with folk-rock pioneers The Byrds, Crosby, Stills, Nash and Young and a lengthy solo career, and writer of such counter-cultural generation anthems as 'Wooden Ships', 'Long Time Gone', 'Guinevere' and 'Almost Cut My Hair', one of David Crosby's first loves and enduring passion from the late 1950s onwards was jazz, which informed his work in unique and captivating ways. His imaginative, beguiling vocal phrasing and harmonies, minor chords, alternate guitar tunings and love of improvisation led to collaborations with Wynton Marsalis, Snarky Puppy, Donald Fagen, his own jazz-fusion band CPR, and having 'Guinevere' covered by Miles Davis in 1970. He also discovered and produced Joni Mitchell's debut album, Song For A Seagull in late 1967.
When I spoke to him in Summer 2020 where he talked at length about his jazz influences for the first time in what proved to be one of his final interviews (reprinted below), he was fully aware that with numerous health issues, including a liver transplant and heart surgery, his time was running out. "I don't know how long I've got, man" he said more than once in our conversation as he contemplated reaching 80. The past decade however had seen a purple patch in his lengthy musical career with a huge hunger and drive to keep composing, recording and playing live, in many ways fuelled by the jazz leanings of his keyboardist son James Raymonde and Snarky Puppy's multi-instrumentalist founder, Michael League.
He released six critically acclaimed albums since 2014, four of them involving League, including his latest, David Crosby & the Lighthouse Band Live At The Capitol Theatre, which was released in late December 2022, mere weeks before his death. He had already booked at show at the Lobero Theatre in Santa Barbara (a beloved venue of his friend, saxophone giant Charles Lloyd) for 22 February 2023, billed as David Crosby and Friends, and was talking of starting a new band. As ever he was active on Twitter too right up to the final hours of his life, posting about his hatred of hard right-wing politics, the brutal treatment of environmental campaigner Greta Thunberg and his choice of song for a rainy day, 'Eleanor Rigby'.
He even touched briefly on his thoughts on heaven. In the 2019 documentary film about his life and music, David Crosby: Remember My Name, made by acclaimed director and former music journalist Cameron Crowe, Crosby spoke with typical frank honesty about the life he had left: "Time is the final currency. What do you do with the time you have left?" In the final years of his life Crosby answered that question in the most profound and only way possible. 
Below is the interview David Crosby did with Jon Newey for Jazzwise which first appeared in the September 2020 issue
As a 20-year-old tearaway around the early 1960s bohemian folk, jazz and poetry hotspots in Los Angeles and New York's Greenwich Village; a founder member of both The Byrds and Crosby, Stills, Nash & Young; and composer of some of the most memorable anthems of the late 1960s 'Woodstock generation' – 'Long Time Gone', 'Almost Cut My Hair' 'Guinnevere' and 'Déjà Vu' – singer-songwriter David Crosby has been inspired as much by jazz, as he was by the counter-cultural, social and music revolution of the late 1960s.
Perhaps, in some ways, he's lived what used to be termed a 'jazz life' too, with drug problems and a drugs-related prison term behind him in the 1980s, and, despite trousering a Grammy Award, numerous Grammy nominations and being twice inducted into the Rock and Roll hall of Fame, he lives some distance from the monied life of a number of his high-rolling contemporaries. He's articulate and outspoken on civil rights and environmental concerns, has played numerous benefits for the Democrats and he's not afraid to compose righteous, establishment-skewering throwdowns such as 'What Are Their Names', 'They Want It All' and 'Don't Dig Here'.
The jazz interest was sparked early on courtesy of a jazz-loving elder brother who played bass. Crosby started playing duo performances with Terry Callier in Greenwich Village in the early 1960s ("We were folkies, but we were writing our own songs as well and knew about jazz," says Crosby in his autobiography), and made his recording debut in 1963 covering Ray Charles' 'Come Back Baby'. Across his lengthy career Crosby's harmony expertise and vocal phrasing, which is still in majestic shape, and his use of minor chords and alternate guitar tunings often pushed his music towards a jazz curve, and he became one of the very few rock musicians to have a song covered by Miles Davis. Since the mid-1970s he has led his own groups, often working with jazz-fusion players, and for the past five years has undergone a rare, late-career renaissance, collaborating with Snarky Puppy's bassist and leader Michael League on the albums Lighthouse, which League co-wrote and produced in 2016; Sky Trails produced by his son, jazz keyboardist James Raymond in 2017; and Here, If You Listen, also produced by League in 2018.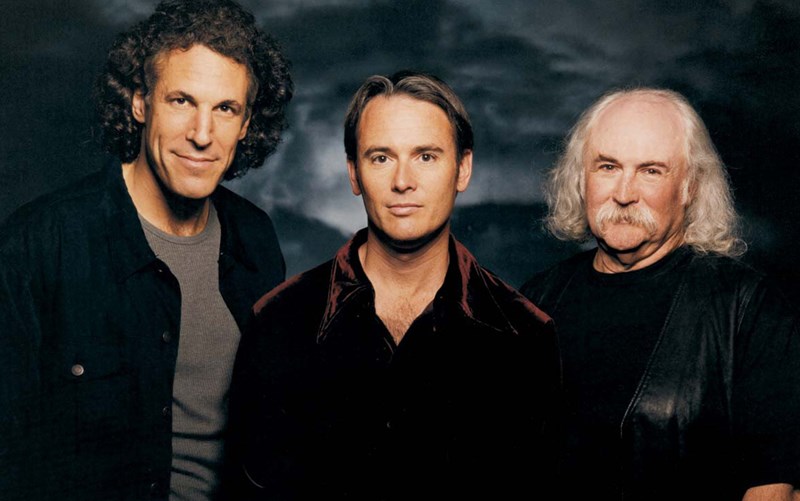 Pevar, Raymond & Crosby
Back in 1998 Crosby put together a new, jointly-led band, CPR (pictured), with jazz-influenced guitarist Jeff Pevar, and Raymond, who produced two superb studio albums, CPR (1998) Just Like Gravity (2001), and two live recordings, CPR Live at Cuesta College (1998) and CPR Live at The Wiltern (1999). Never released in the UK and out of print for years, these superb examples of Crosby's compelling, compassionate song writing, evocative, soulful voice and the band's imaginative arrangements, occupy a not dissimilar orbit to Steely Dan, particularly on CPR, including 'Rusty and Blue' and 'Time Is The Final Currency' and Just Like Gravity's 'Darkness' and 'Kings Get Broken', while Live at the Wiltern combines the newer material with jazz-orientated interpretations of songs from CSN. Now remastered and released on BMG this month with new sleeve notes, they can be seen as a natural bridge and progression to his re-energised, high-calibre work with Michael League.
Turning 79 this August and having to manage long term health issues as well as tendonitis problems, he recently suffered the tragic loss of his biological son, Becket Cypher (born to and brought up by singer/songwriter Melissa Etheridge and her partner Julie Cypher), who succumbed to opiate addiction complications. The Covid-19 lockdown has not exactly been kind to Crosby either, including three tour projects cancelled with the loss of much needed income. But he's excited about the CPR reissues, itching to get back on the road, earn his keep and to finish his next album, which will include a new, jointly composed song with Donald Fagen. On this sunny morning in mid-June on the phone from his home in Santa Ynez, just outside Santa Barbara, he gives Jazzwise a rare insight into his jazz inspirations and influences, and where he'd like to take them next.

There are distinct echoes of Steely Dan that come across on the CPR albums. How did their music affect your direction?
My son James has a jazz group and he's listened to a lot of jazz, classical and world music, and I do that too. Steely Dan has long been my favourite group. Becker and Fagan probably encouraged me to listen to my own desire to ply stuff that was jazz influenced and to go ahead and give into it more than anybody else because their writing was so obviously jazz influenced, and so good. They're a band that really listened to jazz. Walter and Donald are two of the best writers and Donald one of the best singers.
How did you first get into jazz?
My brother Ethan was a musician and he was discovering late 1950s jazz, Brubeck, Mulligan, Chet Baker and he turned me onto it and all roads eventually lead to Miles and Coltrane. I saw Coltrane and it was an absolutely thrilling experience. It was the early 1960s at McKie's Club in Chicago. He had two bass players plus McCoy Tyner and Elvin Jones and it was killer. I was extremely high and when it got to Elvin's solo, it was so intense that I got up to lean against the back wall. Then I went into the men's room because I was spaced and trying to gather my wits, when suddenly Coltrane kicks the door open and walks into the bathroom still playing the solo that he had been playing when he walked off the stage, he just never stopped. He was killing it and I just slid down the wall and kept listening as he looked at me before walking out still playing. It was beyond belief.
During 1965 you played Coltrane's Africa Brass and Ravi Shankar's music to The Byrds on the band bus…
That's how we wound up with the 'Eight Miles High' guitar solo from Roger McGuinn. The results are plainly evident. It was brand new ground, no rock musicians had been there before.
In early 1970 Miles Davis recorded a 21 minute indo-jazz interpretation of 'Guinnevere' which came out later on Circle In the Round. The opening three notes you sing on 'Guinnevere' seem to reflect Miles' opening motif on 'Concierto de Aranjuez. Was that in your mind when you composed it?
No, but I had listened to 'Concierto de Aranjuez' a number of times. Sketches of Spain was my first Miles Davis record and I listened to it a lot, and also to Porgy and Bess and I've listened to almost everything that Miles has done. I didn't think Miles' interpretation of 'Guinnevere' was very good back then, but that was because I didn't know what I was listening to, and I wasn't in a good place and there were other complications that made me unhappy at that point. I didn't really speak to Miles about it that much. But now I'm completely honoured that he did it and I love it and I think it's beautiful. A story that almost nobody knows is that Miles is the reason that The Byrds were on Columbia Records. In the late 1950s and early 60s he was the biggest guy on Columbia right then. So they played him The Byrds and they said 'What do we do Miles?' and he said: 'Sign 'em'. He was the one that told Columbia to sign The Byrds. I didn't find out until later. It's an honour.
Wynton Marsalis plays on your album Croz from 2013 and you played at Lincoln Center with him…
Jazz At Lincoln Center reaches out to other artists who can do interesting work to widen their scope, and that's what Wynton brings to that. He's a wonderful bandleader and he thinks up great stuff for them to do. We treasure them, they are one of the great big bands of all time and I'm very happy to call him my friend. We did 'Guinnevere' and 'Déjà vu' among others and it was videoed and recorded.
Snarky Puppy and Michael League in particular have been a big inspiration in recent years, playing with, and producing you. How did you hook up?
It's a really good story. A bass player friend of mine, Kevin McCormack, turned me on to the bass player website No Treble; and he said, 'you gotta hear this band that's on there that's run by a bass player'. I listened and it was really good. This is when Snarky Puppy had We Like It Here out. And it was spectacularly good music and I fell in love with them, they're wonderful musicians and they were having a blast, and that's irresistible to me. Somebody told Michael League I was talking about them and praising their music on Twitter. He sent a message to me on Twitter saying is there a chance we could talk, so I gave him my phone number. He called me from Singapore, told me he liked my music and said to me "The reason I wanted to get hold of you was…." and I said 'Yes'. He said, "I haven't asked the question yet" and I said, "I know what the question is and you are going to do another benefit record and you want me on it and the answer is yes, I'd love to.'
I went to New Orleans to sing on Family Dinner and they were a joy to work with, they were a really lovely family of people and they were doing the music for the reasons I do it for, not for the giant paycheck. It convinced me I wanted to work with Michael League. Any musician who's been with him for longer than half an hour wants to be in a band with him, if they can figure it out.
He's just a terrific musician, on any instrument, on all kinds of music. He's connected to the note. And Bill Laurance, isn't he a wonderful keyboard player? That solo he plays on Sylva they did with the Metropole orchestra is some of the best piano playing I've heard.
Going back to Steely Dan, you have recently started writing with Donald Fagen.
It takes time to build a friendship, so it took a while for Donald to trust me enough to give me some lyrics, but he did! This one (and I hope it's the first of many) is called 'Rodriguez Tonight'. It's about a bandit... well no... it's about a guy who wants to be a bandit for just one night.
The harmonic structures and time signatures of some of your songs could work really well in a contemporary jazz setting. Have you ever been tempted to record an album with jazz musicians and arrangements, like Joni Mitchell [Crosby produced her debut album] has done?
Yes I have, and I think it would be a fruitful meeting. My stuff is tilted in that direction anyway and I think some of it is ideally setup to be music for a big band. If you take the stuff where I did vocals with no words, basically what I'm doing is being a horn stack with my voice and what I would love to hear is a band with a really good horn section doing those tunes that way, but with the horns doing the voice parts. I'm still trying to make this happen. I need a band with a really spectacular horn section who have some time on their hands. I'm looking, I'll figure it out.
See the video below for David Crosby's 'Holding On To Nothing' with Wynton Marsalis from the 2014 album Croz.
---
Never miss an issue of Jazzwise magazine – subscribe today
Watch