Don Cherry Tribute, AZIZA, Rosie Frater-Taylor Big Band and Guy Barker Concertos announced for EFG London Jazz Festival
Mike Flynn
Monday, August 1, 2022
The EFG London Jazz Festival line-up continues to grow with some big name additions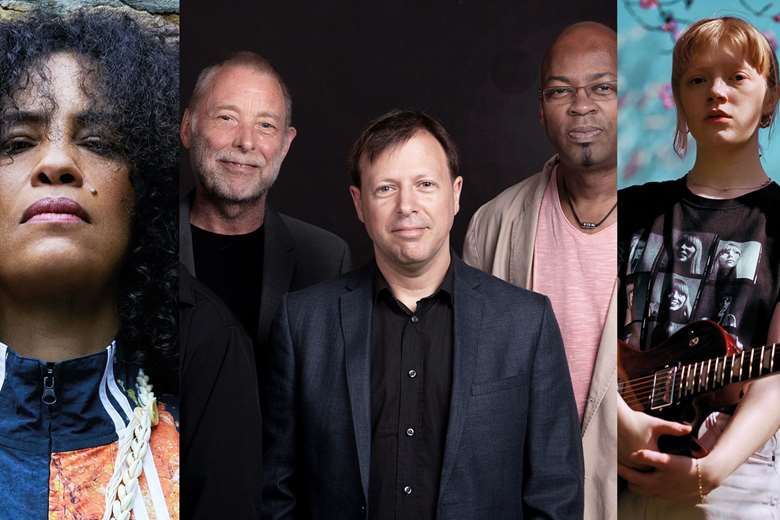 A third wave artists have been announced for this year's 30th anniversary edition of the EFG London Jazz Festival that runs from 11 to 20 November at venues spanning every corner the capital. These include a special Don Cherry Tribute at the Barbican on 20 November with work presented by Kahil El Zabar Ethnic Heritage Ensemble, who will be joined by special guests, legendary LA jazz singer Dwight Trible, keyboardist and son of Don Cherry, David Ornette Cherry, singer Neneh Cherry and more guests from the incredible musical family. Cuban pianist, composer and arranger Chucho Valdés celebrates his 80th birthday with his new composition 'La Creación', and selected pieces from his vast body of work for the closing night of the festival at Royal Festival Hall.
Elsewhere, acclaimed trumpeter/bandleader/label boss Mark Kavuma brings an all-star cast of musicians and special guests to Milton Court on Friday 18 November, to celebrate the launch of his Banger Factory Records imprint, while there's an all-star line-up of Dave Holland, Chris Potter, Lionel Loueke and Eric Harland, a.k.a. jazz supergroup AZIZA, who perform at Cadogan Hall on 16 November. BBC Young Jazz Musician of the Year winner in 2018, saxophonist Xhosa Cole, presents his new album IBEJI with percussionist Hamid Drake at Café OTO on 13 November, and djembe player Yahael Camara Onono plays Milton Court on 15 November, while there are further concerts from leading UK names such as Zoe Rahman, Rosie Frater-Taylor, DoomCannon and Nadeem Din-Gabisi.
There's also a premiere of two new works from composer/arranger/conductor Guy Barker, who first talked about them in his interview with Jazzwise in 2020. He will conduct the 46-piece Southbank Sinfonia and a jazz rhythm section who will be joined by Hong Kong's most recognised jazz musician, guitarist Eugene Pao, in the soloist seat, taking inspiration from Pao's music in a new orchestral suite, reconstructing his compositions to create a new work for a large orchestra. The second premiere comes in the form of Barker's new Clarinet Concerto, performed by clarinettist Giacomo Smith, with pieces performed for the first time 17 November at Cadogan Hall.
The festival also announces a new project taking inspiration from the Anatolian Psychedelia (or Turkish psychedelic rock) phenomenon: Air Anatolia. Featuring key members of the scene like Cahit Berkay and Taner Öngür from pioneering Turkish rock group Mogollar, producer and sound-artist Veyasin known for his projects Mode XL and Hey! Douglas and founder of influential psych group Islandman, Tolga Böyük, all appear in a wide-ranging line-up at the Royal Festival Hall on 18 November. More details will be announced on this International Collaboration project, supported by the British Council. Once again, EFG London Jazz Festival will be hosting the BBC Young Jazz Musicians Final with the participation of Deschanel Gordon, winner of the 2020 award.
These names join the first wave of acts announced, including Abdullah Ibrahim, Melody Gardot, Jan Garbarek Group, Dianne Reeves, Makaya McCraven, Fatoumata Diawara, Lady Blackbird, Melanie Charles, Ron Carter, Emma-Jean Thackray, Henry Threadgill and Anthony Braxton.
Newly announced shows are: Friday 11 November: Jas Kayser (91 Living Room).
Saturday 12 November: Rosie Frater-Taylor Big Band (Woolwich Works); WOOM (EartH Theatre).
Sunday 13 November: Bill Laurance (Kings Place, Hall One); Xhosa Cole IBEJI live feat. Hamid Drake (Cafe OTO); Nadeem Din-Gabisi with Melanie Charles (Lafayette);
Tuesday 15 November Native Rebels presents: The Brother Moves On, Chelsea Carmichael, CoN & KwAkE (EartH Theatre); Yahael Camara Onono (Milton Court).
Wednesday 16 November: Dave Holland, Chris Potter, Lionel Loueke, Eric Harland: AZIZA (Cadogan Hall); Tarek Yamani Trio (Kings Place, Hall One); Horse Lords (Moth Club);
Thursday 17 November: Guy Barker's Guitar and Clarinet Concerto with Southbank Sinfonia, Eugene Pao and Giacomo Smith (Cadogan Hall).
Friday 18 November: Mark Kavuma presents Banger Factory Records (Milton Court, London); Sinfonietta: Changing Standards (Purcell Room); Daniel Herskedal Trio (Kings Place, Hall Two)
Lady Blackbird plus DoomCannon (Barbican); Air Anatolia with Cahit Berkay and Taner Öngür (Mogollar), Veyasin (ModeXL, Hey Douglas), Tolga Böyük (Islandman) and many more (Royal Festival Hall).
Saturday 19 November: BBC Young Jazz Musician Final (Queen Elizabeth Hall); Sebastian Rochford and Kit Downes (Elgar Room, Royal Albert Hall); Black Top – Orphy Robinson and Pat Thomas with special guest Mariam Rezaei (Vortex, Dalston); Zoe Rahman Trio supporting Dhafer Youssef (Barbican).
Sunday 20 November: Don Cherry Tribute: Kahil El Zabar Ethnic Heritage Ensemble, Dwight Trible and David Ornette Cherry (Barbican); Chucho Valdes 'The Creation' with the Yoruban Orchestra and Hilario Durán & John Beasley (Royal Festival Hall); Hidden Orchestra (Queen Elizabeth Hall); and Eiko Ishibashi (Kings Place Hall One).

Jazzwise is festival media partner. For the full line-up and tickets visit efglondonjazzfestival.org.uk/