Don Weller – 19/12/1940 - 30/5/2020
Peter Vacher
Monday, June 1, 2020
Peter Vacher pays tribute to the great British jazz tenor saxophonist who has died aged 79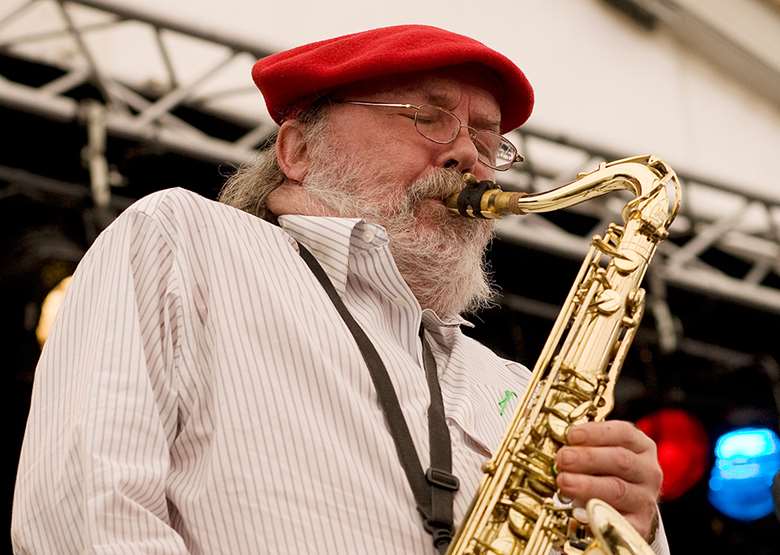 Famously laconic and never one for self-promotion, or likely to stand out as the snappiest dresser on the scene, the great British tenor-saxophonist Don Weller, who has died aged 79, found a way to play that marked him out as one of the most distinctive of local jazz voices. Writing in 1998, the late Jack Massarik described him thus: "This gruffly spoken, barrel-chested South Londoner is a world-class performer but would be the last to tell you so. He imitates nobody yet swings as hard and plays as soulfully as any American icon could."
A festival favourite, notably at Appleby where he responded to a 1996 Arts Council commission and created the superb seven-part Pennine Suite for his all-star big band, Weller also appeared there and at Brecon as one of 'The 3 Tenors', alongside his long-time friend Art Themen and their youthful counterpart Mornington Lockett, making music packed with incident and startling creativity. The archetypal jazzman, he lived to play, an inveterate sitter-in and happy to carry on long after closing time. I can recall him dropping in to the Lord Napier in Thornton Heath to join the swing-minded Mike Daniels Big Band's wrap-up set when ostensibly due home after his own gig.
Born in Croydon, Donald Arthur Albert Weller studied classical clarinet as a youngster and played in the Croydon Orchestra, before opting for jazz with local trad bands. Hearing Stan Getz on record drew him to the tenor. Largely self-taught and now enamored of Hawk and Rollins, he put aside his job as a panel beater and turned professional aged 30, taking in Butlins seasons and dance band jobs. Always open to new possibilities, he achieved some success with his jazz-rock group Major Surgery in the 1970s and formed an association with Stan Tracey that endured well into the 1990s. In his co-led quintet with Themen, each man sparked the other, Art's fire matched by Weller's deceptive Dexter Gordon-ish vigour. "If music's a strain, it's no good for me. I like everything to be easy," he told writer Brian Case. Their drumming friend Spike Wells spoke of the 'extrovert and infectious delight' of the two men's music and that seems right to me.
There were other varied associations and festival sessions, some like Rocket 88 linked to R&B; a highlight was when he toured the UK with Gil Evans [substituting for the absent Michael Brecker] and another with his quartet tour with drummer Bryan Spring and guest trumpeter Hannibal Peterson. Don composed for both his quartets and big bands; his pieces mostly given short, banal titles but full of melodic enterprise. Happily for posterity, Weller bassist Andy Cleyndert's Trio label became something of a latter-day recording safe haven for him. Less often heard recently due to illness, Don Weller said it all, when he told Case, "If I couldn't play jazz. I might as well not be living. Got to play jazz." Not any more sadly: no longer flows the Don.