Frank Sinatra's Capitol years to be celebrated with 70th anniversary box set
Kevin Whitlock
Wednesday, September 13, 2023
The 70th anniversary of Frank Sinatra's signing to Capitol Record will be celebrated with the release of Frank Sinatra Platinum, a Capitol-era spanning set with newly remastered audio plus rare and previously unreleased tracks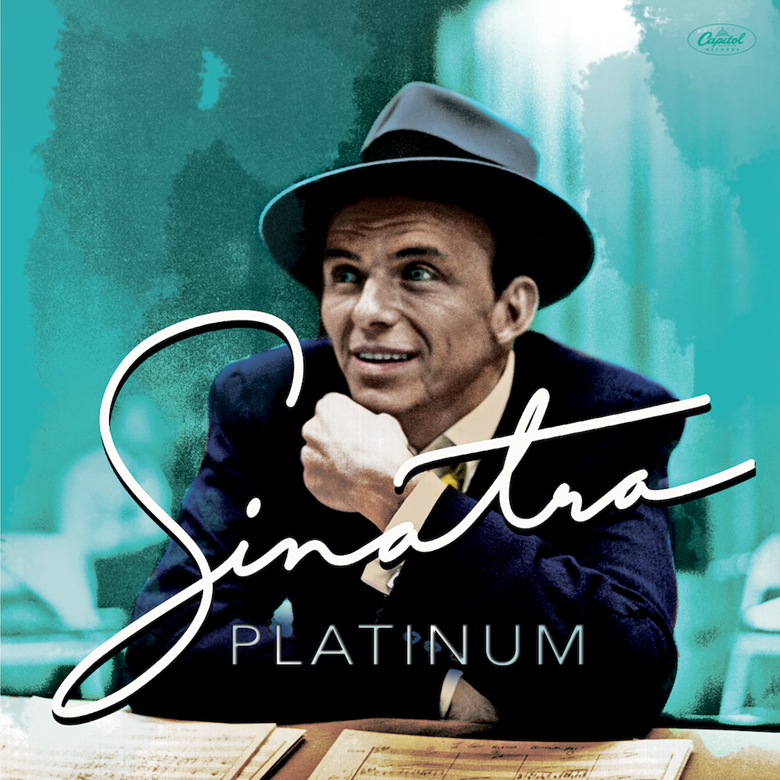 To celebrate the 70th anniversary of Frank Sinatra's signing to Capitol Records, a moment that transformed his career and solidified his standing as one of the greatest interpretive singers of all time, Universal Music Enterprises (UMe), in conjunction with Frank Sinatra Enterprises, announces the 27 October release of Frank Sinatra Platinum, a Sinatra Capitol-era spanning set with newly remastered audio plus rare and previously unreleased tracks. 
Available as a 4LP or 2CD set, as well as on digital and streaming platforms, the 44-track collection features a cross-section of Sinatra's best-known songs and sought-after or previously-unreleased rarities: from the swinging 'I've Got You Under My Skin' and that ebullient hit 'Come Fly With Me' to 'Moonlight in Vermont' and torch song 'Only The Lonely', the set also includes previously unreleased tracks culled from the Capitol vaults along with alternate takes, a test track, radio spots and session takes that reveal Sinatra's in-studio artistry. An exclusive deluxe 4LP edition and new signature items will be available exclusively at Sinatra.com. 
From 1953-1962, Sinatra recorded more than 300 songs for Capitol Records, often in collaboration with arrangers Nelson Riddle and Billy May and some of the best musicians, recording engineers and producers of the era; most of these recordings were included on the landmark concept albums he pioneered. His tenure at the label set him apart from all other vocalists of the 20th century  making it the finest body of recorded work in popular music. 
On 23 September 23, the highly anticipated World Premiere of Sinatra The Musical, based on his life and career, will debut at Birmingham Rep, in Birmingham, and runs through October 28; purchase tickets here. The spectacular new musical features 20 actors and 17 musicians performing over twenty-five of Sinatra's most legendary songs. 
For two months beginning in mid-October, digital radio station SiriusXM's Siriusly Sinatra will air a Frank Sinatra Platinum radio special hosted by daughter Tina Sinatra. 
The full track listing of Frank Sinatra, Platinum is as follows:
CD1/LPs 1 and 2:
Lean Baby — April 2, 1953 / Heinie Beau -(Billy May- Alfred Roy)

I've Got The World On A String — April 30, 1953 / Nelson Riddle - (Ted Koehler-Harold Arlen)

I Get A Kick Out Of You — November 6, 1953 / George Siravo - (Cole Porter)

Young At Heart — December 9, 1953 / Nelson Riddle – (Carolyn Leigh-Johnny Richards)

Just One Of Those Things — April 7, 1954 / Nelson Riddle – (Cole Porter)

I Get Along Without You Very Well — February 17, 1955 / Nelson Riddle (Hoagy Carmichael)

In The Wee Small Hours Of The Morning — February 17, 1955 / Nelson Riddle – (David Mann-Bob Hilliard)
Learning' The Blues — March 23, 1955 / Nelson Riddle – (Dolores Vicki Silvers)
Love And Marriage — August 15, 1955 / Nelson Riddle  - (Jimmy Van Heusen-Sammy Cahn)
(Love Is) The Tender Trap — September 13, 1955 / Nelson Riddle – (Jimmy Van Heusen-Sammy Cahn)
You Make Me Feel So Young — January 9, 1956 / Nelson Riddle – (Mack Gordon-Josef Myron)
I've Got You Under My Skin — January 12, 1956 / Nelson Riddle – (Cole Porter)
I Couldn't Sleep A Wink Last Night — November 1, 1956 / Nelson Riddle – (Harold Adamson-Jimmy McHugh_
The Lady Is A Tramp — November 26, 1956 / Nelson Riddle – (Richard Rodgers-Lorenz Hart
Night And Day — November 26, 1956 / Nelson Riddle – (Cole Porter)
Oh! Look At Me Now — November 28, 1956 / Nelson Riddle – (Joe Bushkin-John De Vries)
Where Are You? — May 1, 1957 / Gordon Jenkins – (Harold Adamason-Jimmy McHugh)
Witchcraft — May 20, 1957 / Nelson Riddle – (Carolyn Leigh-Cy Coleman)
All The Way — August 13, 1957 / Nelson Riddle – (Jimmy Van Heusen-Sammy Cahn)
Moonlight In Vermont — October 3, 1957 / Billy May - )Karl Suessdorf-John Blackburn)
Come Fly With Me — October 8, 1957 / Billy May – (Jimmy Van Heusen-Sammy Cahn)
Only The Lonely — May 29, 1958 / Nelson Riddle – (Jimmy Van Heusen-Sammy Cahn)
Something's Gotta Give — December 9, 1958 / Billy May – (Johnny Mercer)
All My Tomorrows — December 29, 1958 / Nelson Riddle – (Jimmy Van Heusen-Sammy Cahn)
CD 2/LPs 3 and 4:
Here's That Rainy Day — March 25, 1959 / Gordon Jenkins – (Jimmy Van Heusen-Johnny Burke)

A Cottage For Sale — March 26, 1958 / Gordon Jenkins – (Willard Robison-Larry Conley)

High Hopes — May 8, 1959 — Nelson Riddle – (Jimmy Van Heusen-Sammy Cahn)

You Go To My Head — March 1, 1960 / Nelson Riddle – (J. Fred Coots-Haven Gillespie)

The Nearness Of You — March 2, 1960 / Nelson Riddle – (Hoagy Carmichael-Ned Washington)

Nice 'N' Easy — April 13, 1960 / Nelson Riddle – (Alan Bergman-Marilyn Keith-Lew Spence)

River, Stay 'Way From My Door — April 13, 1960 / Nelson Riddle – ( Harry M. Wood-Mort Dixon)
September In The Rain — August 31, 1960 — Nelson Riddle – (Harry Warren-Al Dubin)
Blue Moon — September 1, 1960 / Nelson Riddle – (Richard Rodgers-Lorenz Hart)
Day By Day — March 20, 1961 / Billy May – (Axel Stordahl-Paul Weston-Sammy Cahn)
When The World Was Young — September 11, 1961 / Axel Stordahl – (M. Philippe Gerard-Johnny Mercer)
I Gotta Right To Sing The Blues — March 6, 1962 / Skip Martin – (Harold Arlen-Ted Koehler)
Here Goes (session takes) — March 3, 1958 / Billy May – (Otto Cesana-Sammy Cahn)*
Guess I'll Hang My Tears Out To Dry (alternate take) — May 5, 1958 / Nelson Riddle – (Sammy Cahn-Jule Styne)
Lush Life (session takes) — May 29, 1958 / Nelson Riddle – (Billy Strayhorn)
One For My Baby (test track) — June 24, 1958 / Nelson Riddle – (Harold Arlen-Johnny Mercer)
Just In Time (alternate take) — September 30, 1958 / Billy May – (Jule Styne-Betty Comden-Adolph Green)
A Hole In The Head (radio spots) — May 14, 1959 / Nelson Riddle – (Sammy Cahn-Jimmy Van Heusen)*
I've Got A Crush On You (session takes) — March 3, 1960 / Nelson Riddle – (George Gershwin-Ira Gershwin)
Memories Of You (session takes) — September 11, 1961 / Axel Stordahl – (Eubie Blake-Andy Razaf)*
*previously unreleased