Jazz-funksters Tristan (pictured top), Amsterdam-based Korean drummer Sun-Mi Hong, Instant Composers Pool Orchestra stalwart, trombonist Wolter Wierbos and theatrical improvisers Ikarai play UK dates in October and November as the Jazz Promotion Network's three-year Going Dutch project enters its final phase.

Funded by Dutch Performing Arts and administrated by JPN, Going Dutch has showcased the depth and variety of the jazz scene in the Netherlands, bringing musicians ranging from sharp-end improvisers to groovy dance-floor fillers to play at events including London, Bray, Glasgow, Manchester and Hull jazz festivals and to appear for jazz promoters on both sides of the Irish sea.

Among the project's most successful achievements has been bringing musicians together from the visiting and host nations to create bands with potential to last beyond the Going Dutch initiative's lifespan. The Dutch-Scottish sextet LoLanders, who debuted at Celtic Connectionsin Glasgow in January this year, has gone on to tour the UK and play at famous Dutch locations including the Bimhuis in Amsterdam and Jazz International in Rotterdam. The Both Sides of Africa collaboration between instrumentalist and singer Nani Noam Vazana and the UK's Abel Selaocoe launched at this year's Manchester Jazz Festival and is due to tour in 2020.

"It's been great to introduce audiences over here to an incredible range of bands including Tin Men and the Telephone, who use mobile phone technology in a very creative and entertaining way, and to remind people of the personality, creativity and quality of longer-established ensembles such as the Instant Composers Pool Orchestra," says Nod Knowles, the experienced promoter who has coordinated Going Dutch for the JPN.

Knowles is optimistic that connections made through Going Dutch will continue to create opportunities for programmers in the UK and Ireland to draw on Dutch talents and for doors to be open to musicians from the UK and Ireland to perform in the Netherlands. "LoLanders has been a terrific example of how musicians can work together very quickly to create a viable and inspiring unit," he says. "Watching them rehearse over two days, play a major festival like Celtic Connections to rave responses from the audience and reviewers and then go on to tour successfully was a real thrill."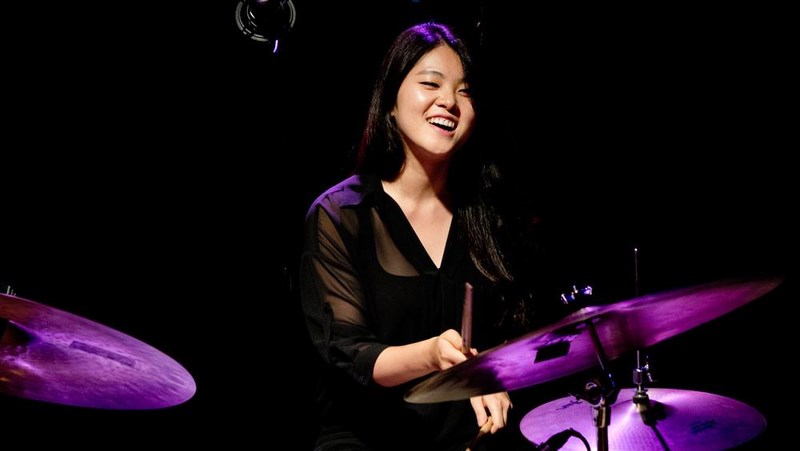 Tristan, whose fanbase has grown considerably through the band touring for Going Dutch over the past two years, return to play music from their latest album, The Spice of Five, at Hampstead Jazz Club (2 Oct), before going on to Zeffirellis, Ambleside (3 Oct), The Brook,
Southampton (4 Oct), The Garage, Swansea (5 Oct), and Colchester Arts Centre (6 Oct).
Drummer Sun-Mi Hong (above) leads her international quintet at The Spotted Dog, Birmingham (8 October) and at Ronnie Scott's (9 -10 Oct), with a Spice of Life set also slotted in (9 Oct). Trombonist Wolter Wierbos teams up with local improvisers at Marsden Jazz Festival (12 Oct) and the Bridge Hotel, Newcastle-upon-Tyne (13 Oct), and Ikarai, who turn the stage into a boxing ring as they combine original composition, improvisation and soundtracks of 'The Greatest', Muhammad Ali, bring their unique presentation to The Stables, Milton Keynes (13 Nov), Hull Jazz Festival (14 Nov) and The Vortex as part of London Jazz Festival (15 Nov).

"We're already seeing benefits for bands touring for Going Dutch beyond the project's lifespan as both Tristan and Under the Surface, the amazing voice, guitar and percussion group, have concerts lined up in 2013," says Knowles. "So what we've achieved so far looks like it's proving to be a launch pad for much more activity in future."

For more info on Going Dutch and the bands and projects it has encompassed can be found at www.jazzpromotionnework.org.uk/goingdutch