John Cumming – 30/09/1948 –17/05/2020
John Fordham
Friday, May 22, 2020
John Fordham pays tribute to one of the most important and much-loved figures in British and European jazz, John Cumming, who died this week after suffering with cancer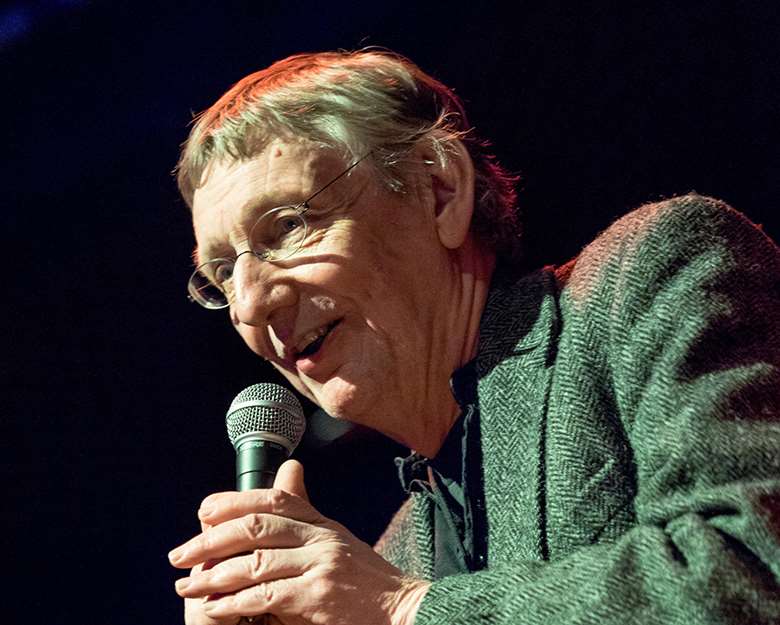 If John Cumming had only made his mark on the world as a brilliant freethinking producer and enabler of all manner of live music, the news of his death from cancer on Sunday May 17 would certainly have been greeted with respectful dismay by performers and arts organisers everywhere. But if the price of being a high achiever of immense energy can sometimes mean consigning conviviality to the back-burner, John was the polar opposite – his warmth, wit, and generous admiration for creative artists from unknowns to global celebrities means that many who had the pleasure of knowing him will hear the news as a personal loss, as if he were family. 
As indeed he was – to that global family of habitual admirers of unexpected and non-mainstream sounds, genre-busting collaborations, and all-round celebrations of that most famous description of jazz as 'the sound of surprise'. John, and an increasingly creative group of colleagues over the years, staged shows that could span the most jubilantly communal music and the flintiest free-improv, the most youthfully contemporary forms alongside the most traditional. Into the bargain, they built balances of gender, ethnicity, fame and obscurity, taste and age in the work of the Serious production company John co-founded as if nothing could be easier or more natural. 
I first met him in the 1970s, not long after he had come south from his Edinburgh birthplace, where he had worked as a director and lighting designer in fringe and experimental theatre after his university years – co-founding the Pool Theatre and its innovative lunchtime programme in the city in 1971. Taking up a job at the South Hill Park arts centre in Bracknell, John then applied his teenage passion for jazz to founding the Bracknell Jazz Festival – which, within a very few years, was presenting international artists of the stature of Gil Evans and Ornette Coleman alongside local heroes like Stan Tracey, Elton Dean, and Chris McGregor's fiery South African ensembles. Some purist fans in those days could be snooty about what jazz was supposed to eternally be, but John was open to all its mutations, which often made Bracknell's programming divertingly more eclectic than the era's star-packed tours by American legends trotting out their hits. But despite the responsibilities of planning and running such an ambitious venture, John Cumming always seemed to have time for a chat and a glass at the bar, and no unforeseen calamity ever seemed to dislodge his broad and quirky smile. He continued in that light-touch manner as programmer of the Camden Jazz Week in the same period, booking artists of the class of the Art Ensemble of Chicago, Charlie Haden's Liberation Music Orchestra, and Art Blakey's Jazz Messengers (the latter memorably jamming with such emerging London stars as Courtney Pine and Steve Williamson) into Camden's Roundhouse and Shaw and Bloomsbury theatres.  
John liked road life too, in the 1980s joining the creative role of a producer to the hands-on practicality of a tour manager for many leaders, including Charlie Haden and Carla Bley, and the first visit to the UK by the visionary American composer George Russell, whose Anglo-American Living Time Orchestra was hand-picked from local and US players for the trip. He also relished the absence of affectation and the sheer childlike delight in spontaneous playing exhibited by his favourite musicians, many of whom became lifelong friends. Discussing the life of the great drummer Paul Motian with John at the time of Motian's death in 2011, I recall him chortling at the memory of a Liberation Music Orchestra gig on which he was crouching onstage beneath the drummer, fixing a rickety borrowed kit with a hammer and nails in mid-show. Throughout this exercise, Motian unconcernedly drove the wailing big band on while keeping up a private interrogation with John about which hotel they were booked into, and whether the restaurant looked any good. 
In those early freelance years of the 1980s, Cumming was distinguishing himself as a fast-rising producer with a theatre-schooled sense of how to stage attention-grabbing gigs – but his thoughtful perceptiveness about jazz's place in the arts economy, its potential for collaboration with other performing genres, and the future for public/private funding deals, was also an indicator of the force in British culture he would become. He was an articulate and energetic figure in the steering group working to bring a National Jazz Centre to life in a repurposed Covent Garden building in that decade, and though the project eventually foundered, John prophetically told me in an interview at the time: "you have to remember that jazz as an art form appeared only this century, and already its influence on other arts has been immense. The Centre should take a lead to draw all that together".
The Centre quickly became history, but something much more durable replaced it, and reinvigorated its intentions. In the mid-1980s, John Cumming co-founded the Serious Productions company with the late John Ellson, and began to manage leading UK jazz artists including John Surman, Andy Sheppard and Orphy Robinson as well as run performances and tours. And when David Jones (another music-loving producer with theatre and wider performing-arts connections) joined and the company became Serious Speakout in 1992, John's biggest project and most creative achievement was spawned – the London Jazz Festival was launched the following year. With the arrival of Claire Whitaker at the helm of Serious's fund-raising in 1996, the LJF quickly grew to become one of the most exciting and diverse contemporary music festivals in the world – a triumph, among many, that brought John Cumming accolades from the BBC Jazz Awards to the Parliamentary Jazz Awards, and an OBE for Services to Jazz in 2014.
With a little luck, you can run across a few people in a lifetime who shed a completely new light on a landscape you already think you know. My list would be a dozen or so, but around the top of it would be the writer and photographer Val Wilmer (for making me see sense about jazz and race in the 1970s), the late Derek Bailey (for an inspiringly non-judgemental openness and often very funny insights into all kinds of improvisation) – and John Cumming. John's early embrace of the creativity of post-1960s European jazz (he was a founder-member of the European Jazz Network), his outreach and youth-mentoring work through Serious, the eager energy with which he steered very dissimilar artists toward common ground, and his encouragement of women in both performing and organisational roles, all stretched the envelope of possibility. He was a great creative force, and great company too. But maybe my most abiding memory of John Cumming was a kind of amiable impatience about how to make the next fascinating piece of live art happen fast. I'll always see him bustling onstage to the microphone at a packed Barbican or South Bank Hall as many long-term attendees at Serious gigs will remember him – as casually attired as if he'd just hopped off a lighting rig, welcoming the audience, catching the essence of the coming show in a briskly appreciative sentence, and leaving the stage as if he was as keen as the crowd to see the gig get rolling. He's an irreplaceable loss, but he left Britain's and Europe's music culture permanently changed. 
John Cumming (September 30 1948 - May 17 2020) is survived by Ginnie, his life-partner from student days, and their daughter Katie.