Laura Jurd brings her Human Spirit to Brighton's Verdict
Thursday, February 5, 2015
Laura Jurd is often described in the press as a rising star, but Verdict boss Andy Lavender introduced her as 'already risen' to an eager sell-out crowd.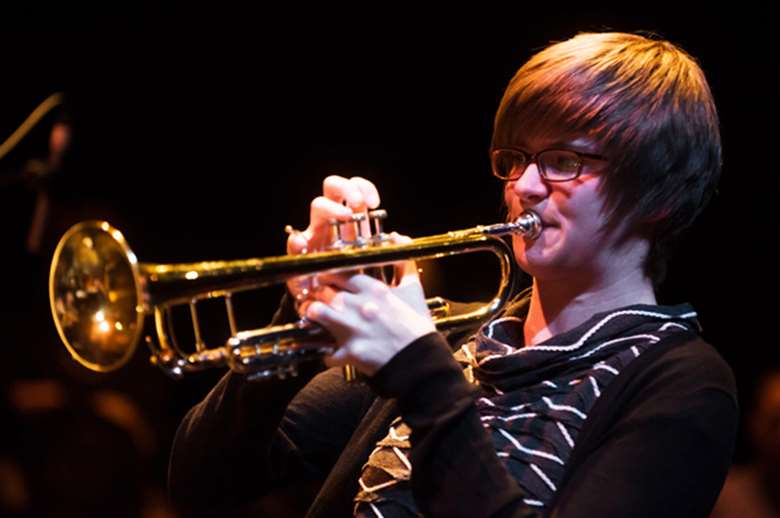 Her seven-piece band crowded onto a stage already dominated by Mick Foster's bass saxophone and launched into the first salvo of 'Opening Sequence' - the massed brass sounded impressive in the packed intimate venue, and Jurd's imperturbable calm at the helm of this unusual ensemble indicated that the hype might be justified.

The follow-up, 'She Knew Him' featured her incisive, agile and controlled soloing through an electronic effect, power chords from Alex Roth's guitar and a beautifully lugubrious solo from the bass sax; then 'Brighter Days' started with a duet between veteran trumpeter Chris Batchelor and vocalist Laura Kinsella in which the latter's repertoire of vocal tics and effects strayed towards the area bordering between music and performance art associated with Meredith Monk, before veering off into a tight, off-centre groove – there's an impressive range to Jurd's musical vision which makes it impossible to guess what's going to happen next, and her superb band nail the long, multi-faceted compositions and complex arrangements. As the set moved on, through a duet between clangourous drummer Corrie Dick and the vibrato-less clarion of Jurd's trumpet, to the guitar employing rubbery, squelching acid-house effects, to impassioned solos from Batchelor and trombonist Colm O'Hara over ever-shifting rhythms, a certain pastoral, very British identity started to become apparent.

The band's unusual textures and adventurous spirit was akin to contemporaries such as Sons Of Kemet or Roller Trio, but Laura Kinsella's decisively English accented, clear but soft voice evoked memories of 1970s jazz-folksters Pentangle, while the odd-number time signatures and multi-part compositions were reminiscent of the same era's experimentalists at the meeting point of jazz and rock, such as Ian Carr's Nucleus or Soft Machine. A self-deprecating humour and quirkiness in the spirit of Robert Wyatt saved the performance from pomposity. Yet at first, for all its structural unpredictability, the music sometimes seemed a little too careful to really engage emotionally.


Jurd herself is an unassuming but convivial presence, and the second set warmed up considerably, with a beautiful duet with her former tutor Batchelor leading into triumphant versions of 'More Than Just A Fairy Tale' and 'Closing Sequence', and the crowd response indicating that this star had certainly risen to the occasion.

– Eddie Myer