Makaya McCraven, Ashley Henry RE:ENSEMBLE and Theon Cross Trio unite Chicago and London for International Anthems
Friday, September 15, 2017
Some of the most exciting names from London and Chicago's resurgent jazz scenes are set to come together for two nights under the banner CHICAGOXLONDON on 18-19 October at the Total Refreshment Centre in North London.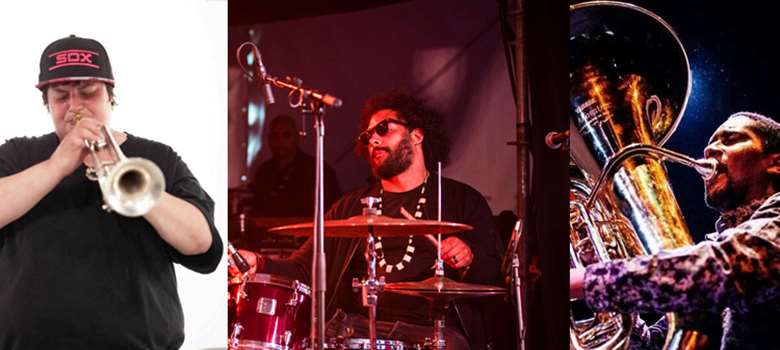 The Windy City's native scene has been given a boost by the aptly named International Anthem label, whose activities in the last couple of years have raised the profiles of newcomers such as sonically adventurous drummer Makaya McCraven and artfully-edgy trumpeter Jaimie Branch, while also shining new light on the prolific solo career of Tortoise guitarist Jeff Parker. Its distinct approach accentuating the rawness and experimentation that's been a hallmark of jazz from Chicago for the last century. This boldness is also mirrored in the current crop of UK-based artists who've been winning over a new generation of listeners with a refreshing mix of spiritual jazz, experimental electronica and hard-hitting grooves.
Things kick off on 18 October with McCraven lining up with a number of yet to be announced UK artists in an exclusive ensemble. Tuba player Theon Cross co-headlines with his trio featuring drummer Moses Boyd and saxophonist Nubya Garcia, while trumpeter Jaimie Branch presents a rare London showing from her Fly Or Die Ensemble with Tomeka Reid (cello), Jason Ajemian (bass), and Frank Rosaly (drums). The second instalment of this mini-fest on 19 October promises more fireworks as McCraven presents another exclusive London outfit, co-headlining with rising star pianist Ashley Henry and the RE:Ensemble. They will be previewing material from the band's upcoming release, with a stellar line up of saxophonist Binker Golding and bassist Dan Casimir and more.
– Mike Flynn
Click here for more info and tickets visit