Maria Schneider and Ensemble Denada meld mystery and drama with McCaslin at Molde
Friday, August 3, 2018
Molde might be a small coastal town in western Norway, but it has multi-storey cruise ships arriving each day, preparing for fjord explorations.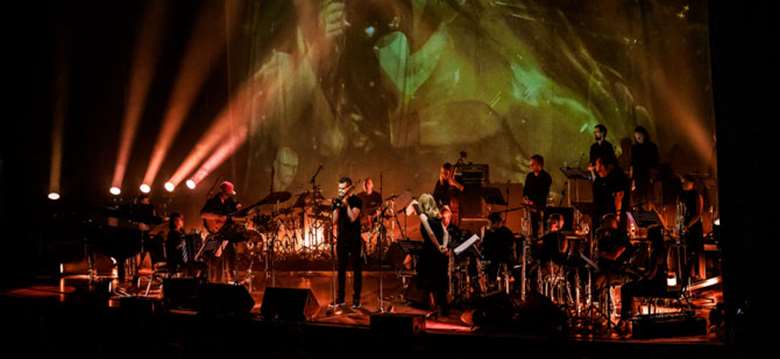 Its modern shopping streets are bordered by slopes full of quaint wooden houses, and there's also a surrounding scenic abundance of small islands and large mountains. All is perpetually lit by the midnight sun. Molde is also significant for hosting one of the world's oldest jazz festivals, running since 1961. All of its gigs are within easy walking distance, ranging from open-air park locations to the intimate Storyville Jazz Club, located in the Plassen cultural centre, which also boasts a medium-sized theatre. Over six days, the calendar was full (but not overly so) with big name Americans, set beside a roster of frequently more alternative Norwegian artists.
Composer Maria Schneider was this year's artist-in-residence, leaving behind her Stateside orchestra and working with Ensemble Denada from Oslo. Many of her works became darker and deeper, assisted by a stage-spanning video backdrop, populated by real-time close-ups of soloing players. Subtle electronic washes infiltrated, and her newer piece 'Data Lords' took on a dramatically mysterious hue, with Schneider appearing possessed by the doomy accumulations of Denada. This continued into the premiere live performance of 'Sue (Or In A Season Of Crime)', with guesting saxophone cohort Donny McCaslin and his current vocalist Jeff Taylor. This piece from David Bowie's Blackstar continued the brooding vein of narrative noir jazz.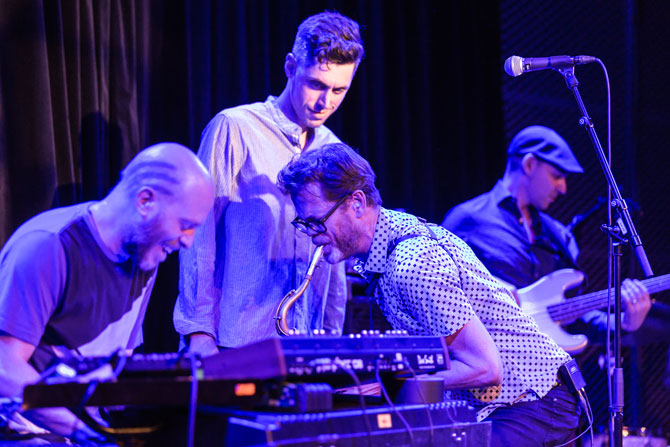 The following night saw McCaslin's own band (pictured above) pin our tender bodies to the walls of Storyville, as the quirky Taylor provided vocals on a fresh songbook, inbetween extensive freak-outs from Jason Lindner's corner of extreme electro-blanketed keyboards, as he shifted from acoustic piano purity to knob-twiddling bleeds. This band strides higher every time, and is lately operating at peak power, with drummer Nate Wood's whipping funk scatters and bassist Jonathan Maron's dense low-matter suspensions. The leader stalked the stage, striking stick insect poses as he urged his combo on by blowing directly in each player's direction, as a form of conduction. McCaslin's own windswept solos were loaded with reverb-expansion. The band climaxed with more Bowie, ending with that Lodger's lesser-heard 'Look Back In Anger', in a singalong and soloing extravaganza, this outfit now operating on a gigantic, authoritative scale.
Two nights later, the Norwegian drummer Paal Nilssen-Love presented his Extra Large Unit, enlarging an already sprawling crew. An extraordinary fusion emerged from the anticipated abstract extremity, with a pair of guesting Brazilian percussionists, a sextet of Ethiopian singers, dancers and instrumentalists, as well as troublemaking guitarist Terrie Ex, from the Dutch angular rock outfit The Ex. Perhaps surprisingly, this mega-orchestra managed to jump-cut between its chosen forms, highlighting the affinity between rampant noise and ritualised groove. The combination was stunning, with the Ethiopians eager to head for the extremes, and the Norwegians enjoying a previously unheard rhythmic propulsiveness. It was surely the best Ethio-free-Nordic-Brazilian freak-out in the world, beginning at 12.50am and hurtling way past 2am, with zero dawdling on the way.
As it fast approaches 60, the Moldejazz festival presented one of its strongest Stateside line-ups in recent memory, but its European part of the programme (mostly Norwegian artists) included much music that thrilled via a precarious relationship with expectation, delivering the element of intensified surprise.
– Martin Longley
– Photos by Thor Egil Leirtrø (Maria Schneider/Ensemble Denada) and Ole Bjørn Steinsvik (Donny McCaslin)