Norah Jones, Bill Frisell, Immanuel Wilkins and Gregory Porter for Blue Note Leonard Cohen tribute
Mike Flynn
Thursday, July 28, 2022
A star-studded line up of vocalists including Peter Gabriel, Gregory Porter, Sarah McLachlan, Luciana Souza, James Taylor, Iggy Pop, Mavis Staples rework gems from the iconic singer songwriter's back catalogue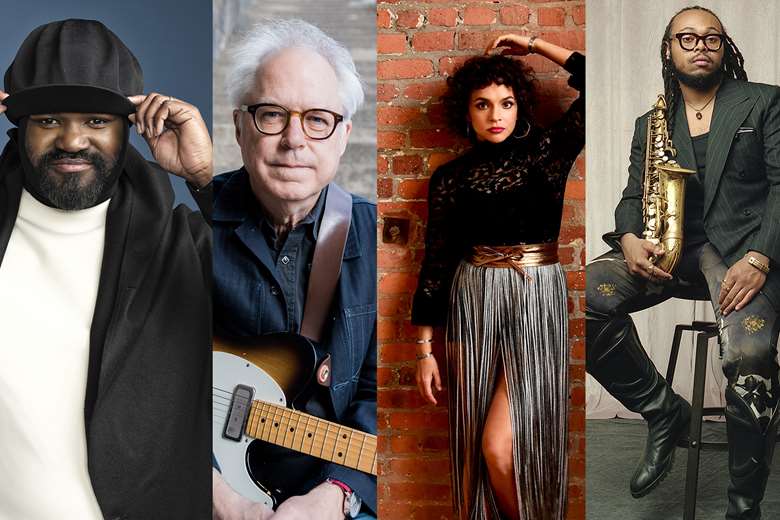 An all-star cast has assembled for Here It Is: A Tribute to Leonard Cohen that's set for release on 14 October on Blue Note. The project is produced by acclaimed producer/bassist Larry Klein whose illustrious career includes winning four Grammy Award and ten nominations, producing albums such as Turbulent Indigo by Joni Mitchell and Tracy Chapman's Our Bright Future; and as a top-level jazz bassist such greats as Freddie Hubbard and Wayne Shorter and writing songs with the likes Warren Zevon and Bonnie Raitt. Notably this project directly echoes his production of Herbie Hancock's 2007 album River: The Joni Letters, which won the GRAMMY Award for Album of the Year (and on which one of the featured singers was, in fact, Leonard Cohen).
Thus, Here It Is seeks to match such lofty standards with a core band led by guitarist Bill Frisell with pianist Kevin Hays, bassist Scott Colley, drummer Nate Smith (plus additional contributions from Greg Leisz on pedal steel guitar and Larry Goldings on organ) and rising star saxophonist Immanuel Wilkins, who along with Frisell, has his own instrumental track on the album. The headline grabbing list of singers Norah Jones, Peter Gabriel, Gregory Porter, Sarah McLachlan, Luciana Souza, James Taylor, Iggy Pop, Mavis Staples, David Gray, and Nathaniel Rateli­ff, on this wide-ranging, heavily jazz-informed tribute.
Klein set out to create a more "conversational" musical setting for Cohen's lyrics explaining: "What I was endeavoring to do was to not get in the way of the poetry," he says, "because that was something that bothered Leonard about a lot of the covers that were done of his music, and even with his own versions of the songs. So I was approaching it with the musicians in a way that hopefully served as more of an underscore, more cinematically, and not something that would obscure or in any way take attention away from the poems."
The track listing is as follows: 1. 'Steer Your Way' – Norah Jones; 2. 'Here It Is' – Peter Gabriel; 3. 'Suzanne' – Gregory Porter; 4. 'Hallelujah' – Sarah McLachlan; 5. 'Avalanche' – Immanuel Wilkins; 6. 'Hey, That's No Way to Say Goodbye' – Luciana Souza; 7. 'Coming Back to You' – James Taylor; 8. 'You Want It Darker' – Iggy Pop; 9. 'If It Be Your Will'– Mavis Staples; 10. ' Seems So Long Ago, Nancy' – David Gray; 11. Famous Blue Raincoat - Nathaniel Rateliff and 12. Bird on The Wire – Bill Frisell.
For more info visit www.bluenote.com