Nubya Garcia, Georgia Mancio and Norma Winstone among Parliamentary Jazz Awards 2021 winners
Mike Flynn
Monday, July 26, 2021
Leading women jazz musicians win big across all major awards categories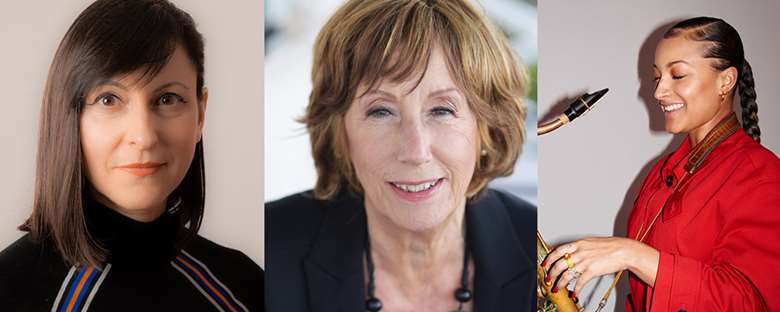 The winners of this year's Parliamentary Jazz Awards were announced on Monday 26 July at a virtual ceremony supported by PizzaExpress Live with many of the categories honouring the increasing number of high-profile women involved in the UK's jazz scene.
These include singer Georgia Mancio who won Jazz Vocalist of the Year; saxophonist Nubya Garcia who won Jazz Instrumentalist of the Year (and who's also been nominated for this year's Mercury Music Prize); vocalist Claire Martin's collaborative album with trumpeter/arrange Callum Au Songs and Stories which won Jazz Album of the Year; and hugely successful group KOKOROKO that features the powerful horn section trumpeter Sheila Maurice-Grey, saxophonist Cassie Kinoshi and trombonist Richie Seivewright, who won Jazz Ensemble of the Year. Exciting 24-year-old drummer Jas Kayser won Jazz Newcomer of the Year; not-for-profit organisation Women In Jazz Media won the Jazz Media Award for their work helping to support and create "an equal, diverse, safe and healthy jazz industry", while revered singer Norma Winstone MBE, was presented with the prestigious Services to Jazz Award.
There were further wins for the Nottingham-based Peggy's Skylight for Jazz Venue of the Year; the Cardiff-based The Original UK Summer School took home the Jazz Education Award, and live music venue The Globe in Newcastle upon Tyne was the recipient of the Lockdown Innovation Awarded as the first bar and music venue in the UK to be owned by a cooperative committed to music with over 225 people buying shares and keeping live music going during the pandemic.
And there were two All Party Parliamentary Jazz Appreciation Group (APPJAG) Special Awards that went to two esteemed figures from the UK scene: Digby Fairweather, the celebrated trumpeter and cornetist who's also the founder of the National Jazz Archive and subsequently the  Jazz Centre UK in Southend-on-Sea, Essex – and Lord Tony Colwyn – the peer, dentist and politician and second longest standing  member of the House of Lords, who was instrumental in the formation of the All Party Parliamentary Jazz Appreciation Group and was co-chair until March 2021.
Chi Onwurah MP, Deputy Chair of APPJAG: "This has been another really strong year for the Parliamentary Jazz Awards in terms of talent and nominations. The well-deserved recipients are a veritable who's who of names that have made a real impact on the music and helped make the UK one of the world's leading jazz territories".  

For more information visit appjag.org/