Royal Conservatoire of Scotland students honour Art Blakey
Rob Adams
Monday, November 16, 2020
Students on the Royal Conservatoire of Scotland's jazz course pay tribute to the iconic hard-bop drummer with their The Magic of Art Blakey concert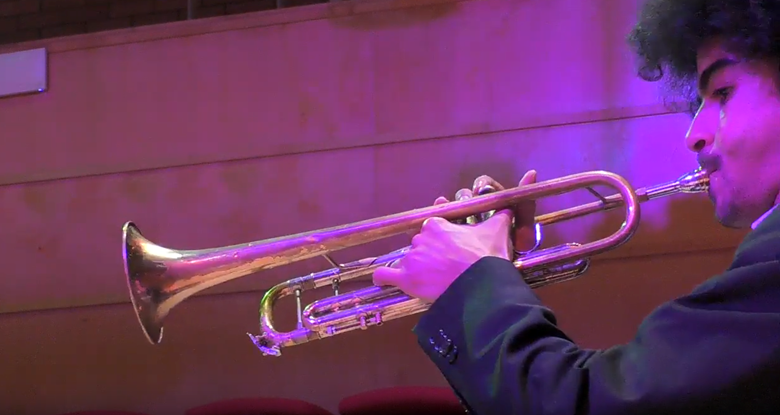 Art Blakey, who died aged 70 in 1990, was synonymous with promoting emerging talent for almost forty years. Among the dozens of musicians who passed through the drummer's band were saxophonist Wayne Shorter, who went on to play with Miles Davis before forming the hugely popular Weather Report with keyboardist Joe Zawinul, and the Marsalis brothers, Wynton and Branford.
Other former Jazz Messengers who made a big impact include the trumpeters Freddie Hubbard, Lee Morgan, Kenny Dorham, Donald Byrd and Woody Shaw, the saxophonists Benny Golson, Hank Mobley, Jackie McLean, Johnny Griffin and Bobby Watson and the pianists Chick Corea, Cedar Walton, Keith Jarrett and Bobby Timmons, who wrote one of the Jazz Messengers' hits, Moanin'.
As pianist Pete Johnstone, who has become the first student on the RCS course to return as a teacher and is musical director of the concert, says: "Although he was a unique and innovative drummer and an incredible bandleader whose music will live on long into the future of jazz, what's particularly special for me is the way Art Blakey was able to pass on his incredible passion for the music and his love of band leading. The experience these musicians gained from working with him gave them the drive and motivation to continue making original music and ultimately to pass on the passion that Blakey helped to instill in them."
With dozens of Blakey albums available, it was no easy task for Johnstone to select the half dozen tunes that the students will be playing. 
"There are so many classic and important compositions his discography but we only have an hour, so that helped in a way," he says. "In the end I just picked some of my favourites, so I hope the students agree with my choices!"
The RCS jazz department, which was founded in 2009 by Tommy Smith and is still led by the saxophonist, has become known for its ability to develop talent in a similar way to Blakey. As well as Johnstone, who progressed to playing with Smith's quartet and with the Scottish National Jazz Orchestra, players including the multi-award-winning pianist Fergus McCreadie and Young Scottish Jazz Musician of the Year winners, guitarist Joe Williamson and bassist David Bowden are all graduates of the course.
Johnstone's charges in the octet which will honour Blakey's legacy include the trombonist Anoushka Nanguy, who won the Rising Star title at the recent Scottish Jazz Awards and the saxophonist Matt Carmichael, a BBC Young Jazz Musician 2020 finalist.    
 "I know all of the musicians involved well and they are all extremely passionate about the music they make," says Johnstone. "It's a lunchtime concert and although it will be available to view afterwards, if people can watch it as it's happening they'll not only hear music from jazz's history played by musicians who represent jazz's future, they'll experience the special connection that being there with the musicians in the moment brings."

Watch the live concert on the video below
Watch