Tony Allen – 12/8/1940 – 30/4/2020
Jane Cornwell
Friday, May 1, 2020
The sudden death of Ghanaian/Nigerian master drummer Tony Oladipo Allen in Paris on Thursday April 30, aged 79, has sent shockwaves across the music world, and social media into mourning.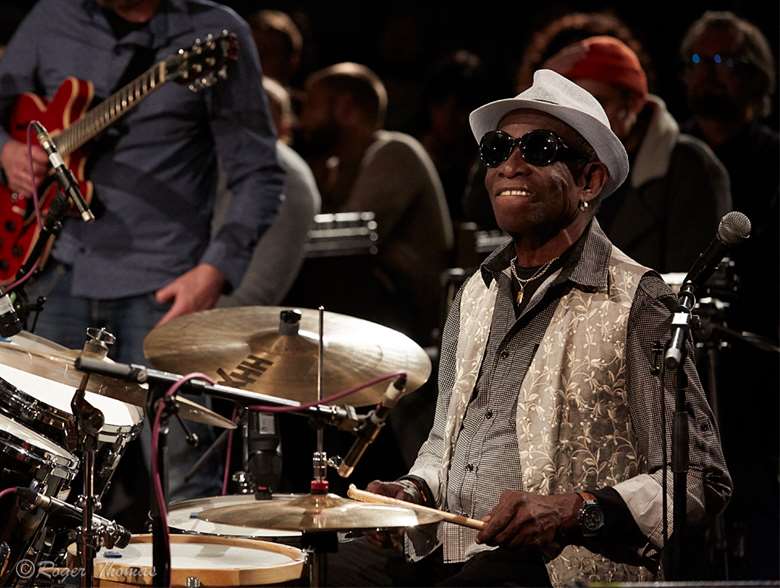 Allen was pivotal to the development of Afrobeat, having come up with the fiercely tricky, deceptively simple-sounding rhythm that underpinned the genre. He was in the chair – seated low, calmly firing on all cylinders – for Fela Kuti's highlife-jazz and Afrobeat bands over 15 years, a partnership Allen's biographer Michael E. Veal likened to those of Coltrane and Elvin Jones or Miles and Philly Joe Jones. "Without Tony Allen there would be no Afrobeat," reckoned Fela of his powerhouse timekeeper. When Allen left Africa 70 in 1979, it took no fewer than four drummers to replace him.
Modest and quietly confident, Allen was an 18-year-old electrician when he took up playing kit drums, inspired by heroes including Art Blakey, Max Roach and Ghanaian drummer Guy Warren (later Kofi Ghanaba) and building a vocabulary of rhythmic patterns with roots across West Africa. A string of solo albums in the Seventies paved the way for a move to Europe and a hybrid post-Fela sound that cracked open Afrobeat with inflections from electronica, dub, R&B and rap. Allen's 13th release, 2006's Lagos No Shaking, saw him re-stake his claim in Afrobeat, recording Secret Agent in 2009 and wielding his Midas-touch magic on projects variously helmed by Damon Albarn, Oumou Sangaré and techno DJ Jeff Mills. Allen's most recent release, Rejoice, his collaboration with late South African trumpeter Hugh Masekela, was reviewed in Jazzwise issue 251.
Allen fully re-embraced jazz in 2017 with instrumental album The Source and an Art Blakey tribute EP (complete with Afrobeat reworking of 'Moanin'), both on Blue Note. By this time Allen had long settled into his status as cultural icon and beloved elder statesmen: selfie-strewn stories of his largesse as mentor and collaborator, of his own-brand of wry humility, enliven Facebook posts. Memories – such as those surrounding his final, triumphant London gig at Hackney's Church of Sound in March – are vivid, and bittersweet. A pioneer.